"Beyond control" — the art of enameling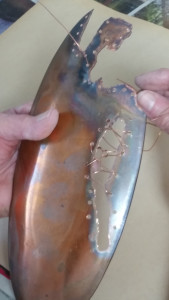 Evidently, you are one of a small group of people worldwide who call themselves enamelists. What is it about enameling that perhaps makes it so difficult to master?
There are really several answers to this question but the initial fallacy is that the medium is hard to master. It has that reputation because of the fussiness of some of the techniques, all of which have French names. Techniques such as cloisonné, champlevé, grisaille, etc.
On the other hand, someone can learn to enamel in a few hours. It's the ability to learn the material and control it that leads to being able to express oneself creatively. The ability to create goes beyond technique for this medium, but techniques form the basis.
There are very few people who understand the science behind the medium and therefore are able to control it consistently.  I pride myself on being someone who has learned the properties of her materials and therefore can go beyond control.
How did you come to enamel as your primary medium?
I was a Ph.D. candidate in comparative literature at Indiana University. Before moving to the west coast and trying to find my way after deciding not to write my dissertation, I accidentally fell into the street artist scene in San Francisco and from there began enameling. I was self-taught until I met other enamelists and was able to take workshops. I then went to City of College of SF where I studied metal-smithing, drawing, painting, printmaking for eight years. It took me a very long time to be able to call myself an artist. Now I will probably die without knowing whether I am a good artist.
[dropcap]I[/dropcap] accidentally fell into the street artist scene in San Francisco…
You specialize in wall pieces and vessels. But you also have been commissioned to do installations. Can you tell us a little bit about these installations?
The installations are commissioned as  exterior work for housing projects in southern California. The original commissions were to cement my relationship with the enamel industry, sometimes called the porcelain enamel industry.
The enamel industry is largely unknown to artists as a means to produce exterior installations that are long-lasting, weather and graffiti impervious, and as a way to do one-of-a-kind creative functional objects for interior and exterior furnishings, architectural elements, garden and building design, as well as repurposing already enameled objects such as signage and cookware.  It has been a long time since the enamel industry in the US has generally opened its doors to artists.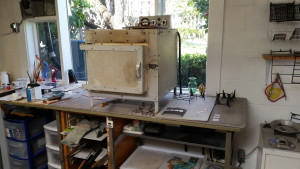 In the 1980's, I felt the need to be able to work larger and had planned on studying at San Diego State University which, at the time, had the only large scale enamel program in the US. It was also the only degree program for enameling in the US.  Unfortunately that program closed before I could get there.
In 1993, I got a commission to make a porcelain enameled steel sign for a house in Oakland, CA. The name of the house was "Villa Renoir," and I was asked to capture the essence of a Renoir painting for the piece. The sign was over 40" long and it was an exhilarating feeling to do it.
Shortly before I made the sign at a small firm in Oakland, I spent two weeks working in the large-scale facility at Kent State University, which was also exhilarating.  In late 1993 I connected to Fireform Porcelain in Santa Rosa, CA, which morphed into KVO Industries a few years later.  I am proud of the relationship I have with this small industrial firm and of their relationship with working artists.
A delightful way to renew my painting "chops"
You refer to your wall installations as "paintings." Did your enamel methods evolve originally from actual painting? Or from sculpture?
Working with porcelain enameled steel is the closest I have been able to get to pure painting with the medium. I can use oil-based finely ground silk screening enamels as I would use oil paints.  There are of course some technical limitations but it is a delightful way to renew my painting "chops" periodically. To work large in enameling, you need a large kiln that can fire big pieces. My partnership with KVO really is about using industrial materials to make paintings.
Working the medium has never been the same as being able to paint or draw with 2-D media. The medium has determined how I paint. Initially, the way I work was influenced by a book by the late Fred Ball, "Experimental Techniques in Enameling" (1972).  What I put into practice from reading that book formed the basis of how I work the medium today. The idea of using the vessel form as sculpture came gradually.
[dropcap]I[/dropcap] conceive of my work as a series of contemporary artifacts that are narrative in nature. Much like actual artifacts, pieces are sometimes missing from the whole and the archaeologist needs to do some creative reconstruction to determine overall meaning.
How has your work perhaps changed in the past few years?
I find myself wanting to explore more sculptural iterations of form, including how narration can be implied through negative space. I conceive of my work as a series of contemporary artifacts that are narrative in nature. Much like actual artifacts, pieces are sometimes missing from the whole and the archaeologist needs to do some creative reconstruction to determine overall meaning.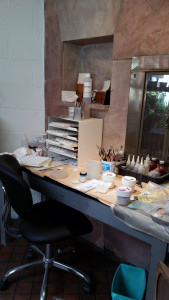 What kind of allowances do you make in your work for experimenting with enameling?
Right now, I have taken time off to work on the non-profit I started, the Center for Enamel Art. I try to get into my studio three hours per day and have allowed myself a whole year to experiment. I am open to wherever that experimentation takes me.  Although it would be nice to actually sell some of my work.
What other artists' works do you have or wish you could have displayed in your own home?
I frequently go to the Palace of Fine Arts in SF to connect to my "old friends," the Grisaille and Limoges enamels from 14th and 15th century France.  They are a reminder of my roots in the medium.
The other work that for a long time now has captured my admiration is the work of Camille Fauré. The book Impossible Object by Cork Marcheschi is a treasure. Cork lives in SF, and I have seen his Fauré collection up close and personal. When I visited the British Museum a few years ago, an arrangement was made for me to see and handle one of their larger Fauré pieces in their permanent collection.
My non-enamelist loves always harken back to German painting of the early 1900's: Kandinsky, Marc, Nolde, Klee, etc. Living in CA, I can't help but be under the spell of Diebenkorn and Rothko. I could think of nothing more wonderful than going to sleep every night with both of these artists' works on the wall at the foot of my bed. I would need a larger bedroom of course.
Judy Stone describes her work process
See more of Judy Stone's work in The Woven Tale Press Vol. IV #2