[dropcap]D[/dropcap]avid Gaffney comes from Cleator Moor in West Cumbria and now lives in Manchester. The Guardian says that "One-hundred-and-fifty words by Gaffney are more worthwhile than novels by a good many others." He is the author of several books of fiction and flash fiction, including Sawn-Off Tales (2006), Aromabingo (2007), Never Never (2008), The Half-Life of Songs (2010) and More Sawn-Off Tales (2013). He has also written "Buildings Crying Out," a story using lost cat posters (Lancaster LitFest 2009); 23 Stops To Hull, a set of stories about every junction on the M62 (Humber Mouth Literature Festival 2009); Sawn-off Opera, a set of operas with composer Ailís Ní Ríain (BBC Radio 3, RNCM, Liverpool Philharmonic and Tête a Tête festival London 2010); Destroy PowerPoint, stories in PowerPoint format for Edinburgh Festival 2009; The Poole Confessions, stories told in a mobile confessional box (Poole Literature Festival 2010); Station Stories, in which six writers linked to the audience with wireless headphones performed short stories in Manchester Piccadilly railway station (Manchester Literature Festival 2011); Boy You Turn Me, a sound installation (Birmingham Book Festival 2011); guerrilla writing project Errata Slips (Cornerhouse Manchester 2011), Men Who Like Women Who Smell of Their Jobs,  (Manchester Literature Festival 2014) a visual art exhibition with painter Alison Erika Forde, and The Three Rooms In Valerie's Head, (Lakes Comic Art Festival 2015)  a graphic novel with artist Dan Berry. He has written articles for the Guardian, Sunday Times, Financial Times and Prospect magazine  and was a judge for the 2015 Bridport prize. David is currently a visiting fellow at the University of Manchester. His new novel, All The Places I've Ever Lived, is due out on Urbane in Spring 2017.
---
Master of Flash Fiction
---
Interview by Woven Tale Press editor Jo Ely
---
Jo Ely: How do you go about making the time in your day for your writing, and where do you tend to write?
David Gaffney: I steal time from the gaps between things. Train journeys are good, as is the period between getting home and braising the giblets for the lizards, or at weekends when really I should be building a hen hut or changing the fuse in the foot spa. When I write at home I tend to sit in a little office we have and put on music, usually something instrumental so the words don't get in the way, currently electronic stuff like Helm, Jlin, and Boof, or maybe something classical like Rachmaninov's Vespers, and I type very fast, while also holding a pen for some reason, and lots of typos are produced. I have to have a window in front of me when I write and I try not to stop to research facts (although sometimes I am compelled to do so). I find it hard to write late at night but sometimes jot down ideas to incorporate the following day.
Jo Ely: I do that too, with the pen. Not the lizards. Which writers send you hopping to the bookstore, and what is it you like about their work?
David Gaffney: I love Magnus Mills, for his deadpan, drab comedies of power, loss and myth-making in the drudge-lives of the English blue collar underworld, and have recently been catching up on Paul Auster who I had missed out on, and I love graphic novelists like Adrian Tomine and Daniel Clowes. Comic book writers have a great way of structuring stories and using dialogue which we prose fiction writers can learn a lot from. Dianne Williams' recent flash fiction collection Fine Fine Fine Fine is amazingly good–she packs in so much texture and energy into tiny paragraphs of action, lickety-split dialogue, and buried emotional surges.
[dropcap]I[/dropcap] steal time from the gaps between things. Train journeys are good, as is the period between getting home and braising the giblets for the lizards…
Jo Ely: What one magic ingredient makes a great piece of flash fiction for you?
David Gaffney: For me the magical ingredient is a lack of surprise–which I know sounds odd because it's what many writers aim for–but I feel that if the small world you create is working correctly and has been built with care, every part should relate perfectly to every other part, and so walking through it should be an experience as smooth and as evenly balanced as moving through a Corbusier building. Nothing should feel like a shock, there should be no unexpected corners, walls or openings.
I make virtually nothing up
Jo Ely: There's a lot of humor and surrealism in your writing. Where do you find your inspirations?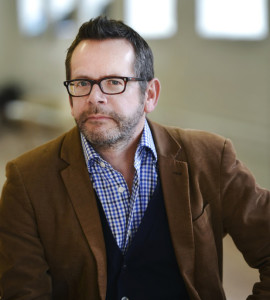 David Gaffney: I write everything down that I see and hear and I make virtually nothing up. For example. a few years ago I was on the train sitting opposite a man who was on his phone to his HR department arranging to make four men redundant. He gave their names to the HR person and all the men were called Mike or Michael. There ensued a discussion about whether this would be ok or would it look odd to sack all these men named Mike, and would they complain about some sort of victimization. He said it was coincidence and they couldn't change any of these decisions just because they all happened to have the same first name.This is in my notebook but has not yet made it through to a story. It has the draft title "The Sacking of the Four Mikes."
Jo Ely: Was there a pivotal moment when you knew you were going to be a writer, and what was that like for you?
David Gaffney: I started by writing songs and lyrics and there was something satisfying about it, as if I had at last found somewhere to put all these heavy and awkward objects I had been carrying around. It was like when you go into a supermarket for one or two things and then end up trying to balance a ton of stuff in your arms and the relief when you finally give in and get a hand-basket. That feeling. I then knew that I would always be a writer and that I would always need a hand-basket.
Jo Ely: What are you working on right now?
David Gaffney: I am working on a novel that comes out next year. It's about the ghost of a murdered teenaged girl who takes a teenaged boy into the future to try and prevent a mass killing, and it's called All The Places I've Ever Lived.
Master of the relatively recent story form, flash fiction
Jo Ely: I notice that Oprah-endorsed writer Roman Krznaric recently turned down a big publisher in order to crowdfund his next book. Do you think we'll be seeing more of this and is crowdfunding something you'd ever consider doing yourself?
David Gaffney: I feel crowdfunding only works when you already have a giant fan base you can contact easily. Otherwise it's like asking your mates for money. Self-publishing is a cool and very valid platform for comic book artists, but for prose fiction writers it's not so great. I think that you need to decide whether your book is a piece of merchandise to sell after performances, in which case, I think self-publishing is perfectly valid. But if the book itself is the main product, as opposed to a performance, then it needs the validation of third party industry experts and the production values of a skilled team of people.
[dropcap]…a[/dropcap] few years ago I was on the train sitting opposite a man who was on his phone to his HR department arranging to make four men redundant. He gave their names to the HR person and all the men were called Mike or Michael.
Jo Ely: I think we'll have to agree to disagree there; I think it's a democratizing and exciting development in publishing. I wouldn't help with crowdfunding a book because it was my mate's book, I'd do it because it sounded like a book that I wanted to read.
David, you are a master of the relatively recent story form, flash fiction. Do you feel like making any predictions about what Internet-friendly story forms are likely to emerge next? And what forms might future books will take? Will we all be writing immersive narrative apps in ten years?
David Gaffney: I don't really see why flash fiction is seen as internet friendly. I can see why it would be friendly for printing on crisp packets or paper cups, but the internet has no word limit as far as I know, so digital production seems actually better for very long pieces. Readers vote with their feet (or their eyes) and most kindle downloads are novels rather than short story collections.
As far as immersive apps go, there is still a long way to go. Most still rely on pages of text the way that books do, and although they might be presented in slightly different ways, or you might navigate differently, you are still experiencing what is basically a book in most cases.
I see the rise of clever well-made non-fiction podcasts as an interesting pointer towards the future, and I feel that the way poetry, short fiction, stand up comedy, theatre, and live art are all melting together in some places could produce some interesting audience experiences that could be quite unclassifiable
Jo Ely: Thanks David. I'm really looking forward to All The Places I've Ever Lived. Also to the story about the sacked Mikes.
---
Read two pieces flash fiction by David Gaffney in The Woven Tale Press IV:3
Visit David Gaffney's website
---