Fine Arts and Literary Book
The Woven Tale Press Selected Works
 By Editor-in-Chief Sandra Tyler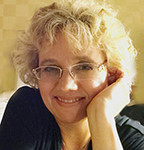 [dropcap]T[/dropcap]he idea for a selected works was generated last year, when we were collaborating with a gallery featuring Woven Tale Press artists. The intent of the book was similar to that of the exhibition: to present the diversity of fine arts and literary contributors to the magazine–rather than the "best," the eclectic.
The Press magazine itself is known for its monthly very selective, though eclectic, culling of the creative Web. The Woven Tale Press Selected Works, quite customarily then, features a wide range of visual arts, from three-dimensional felted sculpture to found-object collage, abstract and conceptual painting, paper sculpture, and artful photography. The literary contributions span the gamut from experimental, to poetry, short story, flash fiction, and creative nonfiction.
Our priority remains to promote the Press as an online entity. Nevertheless, the nature of the Web is essentially evanescent, and offering our readers a print representation of the talents we have culled there, is one way of honoring these talents in a more enduring form.
I want to extend a deep thank you to my associate, Michael Dickel, for playing an indispensable role in the evolution of this book. As well as an astute editor, he is a brilliant writer, and a great visionary– from practically its inception he has helped to shape and hone the The Woven Tale Press into what it is today, to differentiate it from any other fine arts and literary entity in cybersphere.
As editors, we look forward to future selected works Press editions, and to welcoming more talents culled from the creative Web into our Woven Tale family.
Please help to support our mission, by sharing the news of our first print edition of selected works, which is already garnering attention and reviews. Any and all proceeds from the sale of the book will go toward supporting The Woven Tale Press: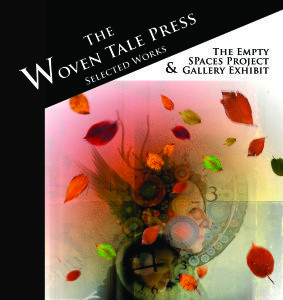 New York Times Notable Book author Tyler (Blue Glass, 2014, etc.) and her editorial team of artists and writers present an eclectic collection of artwork and creative writing… An engaging fusion of print and the Web, featuring works by experienced artists and  writers seeking a greater audience."  –Kirkus Review
In collaboration with the Empty Spaces Project, a nonprofit art gallery in Putnam, Conn., the editors of The Woven Tale Press compile favorite images and writings (including poems, flash fiction, and creative nonfiction) from Woven Tale's online magazine. This multimedia offering is part exhibit catalog and part (printed) e-zine, and it successfully conveys these interdisciplinary efforts in book form."    –Publishers Weekly
You can see more published works, by some of our editors, in our bookstore.