Performance poetry and so much more
Guerilla Poetry Month was initiated in 2014 —street performance poetry by a group of artists from Zero Forbidden Goals (ZFG). Can you tell us a little about ZFG and how Guerrilla became an offshoot?
Well, ZFG started as a collection of hiphop artists who came together to perform in the Sacramento area, and beyond. Guerrilla isn't a brand, it's just a style of performing where you invade a public space that wouldn't normally be exposed to your work as a means of raising the public's awareness of the arts. It's done in a similar heart to flash mobs, and the-like.
How did you become involved in these movements?
I became involved with this group after going to one of there events (#TheMostOpenMicInTheCity), which would take place in a public space and support the store/restaurant where they gathered. The fact that this group of people weren't just giving back to the community, but were teaching others how to give back, really touched my heart. It's the sort of community work I've been wanting to do for a long time.
We forget how to be human, as we get caught up in our own lives. I love helping people remember they're still a part of something bigger than the bills we all pay and the jobs we all have or want. We are human beings, made to show love.
Aliens of Planet America
Tell us about how you came to make the video about bi-planetary culture?
Well, my father was an alien, born outside the atmosphere of Planet America, and I am his alienated son. He is Cuban, from Cuba. I am his son, who has always lived just outside of most peoples' social circles. I am discriminated against, I am disrespected, and I am discarded by both my Caucasian side and my Latin side. There are so many more people like me, stuck between worlds, as America slowly begins to actually live up to its "melting pot" moniker, who are forced to pick one side or the other. It's all bullshit.
We are human. Genetically, I am no different from you. I show love, no matter who you are, because I want to be loved and I know what it's like to be put aside because I'm not white enough, or brown enough, or tall enough or thin enough or masculine enough or feminine enough. These are all just lies we tell ourselves so we can believe we are different.
Certainly not all poets are drawn to performance poetry. Were you involved in performance before your evolution as a poet?
Absolutely. I credit my work as an improv teacher and performer with ComedySportz and That Plus Chips' group YesAnderson as being the keys to really pulling myself out of my shell and making me a comfortable and confident performer.
It's all poetry, people
How exactly do you go about "writing" your performance poetry? How much of it is actually written?
It's all poetry, people.
We are all just poets.
All of it. Every single word, aside from short, sudden additions during my poems (which I later write down and choose to keep or reject as-needed and as it comes to me), is written down. I write, I edit, I sculpt. No different than anyone.
It's all poetry, people.
We are all just poets.
The biggest disrespect I am given, by a lot of 'traditional' poets, comes with that question. There's an accusation that I am somehow more lazy than they are, because I take the time to also – on top of writing my work – learn the performance side that is appropriate to my words.
It's all poetry, people.
We are all just poets.
The piece that brought me to speak with you? That was edited and reshaped, and repeatedly completely rewritten over a 4-month period. The form is comes in, right now, was the final product of 3 days of me sitting down and hashing it out.
It's all poetry, people.
We are all just poets.
And, once in a long while, if I choose to improvise some words, I make it clear that I am doing so (because, since I have the improv background, why not use it?).
It's all poetry, people.
We are all just poets.
How does your process for performance poetry compare to that of your actual writing–how are they different but perhaps also similar? And as a poet which form of expression do you prefer?
I find that term "actual writing" to be a little on the offensive side. All love, and I'm not going to throw a temper tantrum or anything, but just so we're clear. (He smiles.)
The processes are the exact same, because they're all just writing. A good written piece needs a voice, just as much as a spoken piece needs an orator. And I write both just about the same amount.
How did you come to the poetic–have you always been writing poetry?
I've been writing since I was just about 11. It started as me throwing words into a journal, and reading Anne Sexton and Edgar Allen Poe as a way of coping with my depression.
"The B-Sides of Life"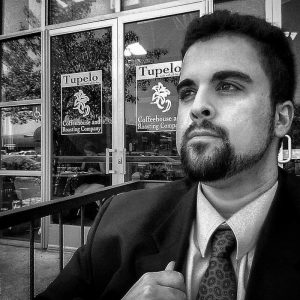 On your site, you offer "free" poems that you do not "fit in" to you poetry collections. Is this perhaps the beginning of a new collection?
Ah yeah, my "B-Sides of Life" series.
The thing is: I've noticed my work has been growing and changing. What I wrote when I originally put down "A-Man", for example, isn't who I am, anymore. That style has changed and grown.
So, in my way of celebrating that growth and change, I want to make volumes of free work that just didn't thematically fit into any of the books in their 'era'.
Not to say my old work is beneath me – I still go back and look it over. It's just my voice is always changing. Sometimes a singer can't always sing soprano, as they age. They have to change the tune.
And it's nice, because I always and looking for and finding new inspirations for my work – not just with the content but with how I approach it. ZFG opened me up to conscious, thoughtful hiphop, and I can tell they have already started to influence my work.
I may never perform hip hop, but that spirit is going to be in a piece of my work.
Anything else you would like to add?
Read the chapbooks. If you think I only do performance poetry, you'll be pleasantly surprised.
My roots are deep, I draw on sources from many different rivers. Punk, hiphop, beat poets, spoken word artists, plays, street prophets, and so much more.
Also, thank you for these questions.
---
Visit David de Loret's website.
See David de Loret's Guerrilla Poetry video.
---