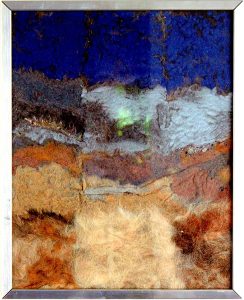 Lintscape —assemblage & sculpture
using non-traditional media, by Pam Erickson
[dropcap]P[/dropcap]am Erickson's assemblage and sculpture employ a wide range of non-traditional media. Some materials being quite personal: early family photos, hair from her cats and dogs, the shed skin of a pet iguana and bones from chickens fed to family and friends, etc, etc. Perhaps the most intimate being the threads, hair and the very D.N.A. tangled up in lint from the clothes dryer.
Always considering herself as "being entranced and amused by nature's variety" (along with being a voracious collector of all things curious) led her down this path of being compelled to reinvent and transform these artifacts.
Pam Erickson might be difficult to place in a genre, but she has categorized herself simply as a "Conceptual Crafter." Thus, this work, Lintscape.
---
See more of Pam Erickson's work in The Woven Tale Press IV:4.
See more of Pam Erickson's work at the Erickson Davis Gallery website.