"My audience is always smarter than me."
Interview by Jo Ely, Literary Editor
Sophia Blackwell was born in Newcastle. She read English at Oxford, where she started performing poetry with Hammer & Tongue. Now an established performance poet, her poetry has been anthologized by Bloodaxe, Nine Arches, The Emma Press, Sidekick Books and The Woven Tale Press. She is the author of one collection of poetry, Into Temptation (2009), and a novel, After My Own Heart (2012).
Jo Ely: How old were you when you started writing seriously, and is it possible for you to say what first catapulted you in?
Sophia Blackwell: I definitely felt as though I was catapulted in! I was twenty-one, I'd just finished University and my life felt a bit aimless. Then I saw performance poetry done properly for the first time, "Hammer and Tongue" in a basement bar on Cowley Road in Oxford.
I knew immediately that this was something I had to do. I became quite obsessed with the performance side of things—with competing in poetry slams, gigging in festival tents, holding forth on stage.
Throughout this, though, I also wanted to be a better writer, so about five years later—which seems like a long time, but bear in mind that I wasn't even into writing anything down in those days, it all had to be spoken—I started taking classes and trying to improve my work. It felt good to get back to basics.
Ely: In which genre do you feel happiest?
Blackwell: I'd have to say poetry. I loved writing my novel, After My Own Heart; it was a huge adventure for me, but a completely different discipline. No matter how clever or seamless you try to be in a novel, there's always something that feels workmanlike when it comes to getting characters from A to B, or explaining why they are the way they are. Poetry doesn't box you in like that. I'd love to write another novel, and to explore more non-fiction writing too, but in the meantime, poetry feels like the genre I'll always be most comfortable in. You can do the most eccentric things in it, for starters.
Ely: Performance poet Salena Godden talks about feeling as though the writer and the performer in her are two different people. Is it that way for you? And if so, which "you" do you prefer, the writer, or the performance poet?
Blackwell: I think she is right to say that, because the "writer" side of you is often introverted and contemplative, whereas the performer side can be frenetic and loud. One side of me can't exist without the other, but I'd have to say I prefer the performer. Without her being loud and bossy, the writer wouldn't have the impetus to keep going. She's like the bossy big sister who keeps dragging me out of my bedroom.
Ely: Do you find that performing your work lends a kind of discipline to your writing?
And are you aware of a particular audience as you write?
Blackwell: In answer to the first question, absolutely. An audience is the best editor you can ever have. When I perform poems to an audience, I know exactly which lines and even which verses I can cut. Sometimes those first or last two lines, or the punchline that you had in mind when you started the poem, can be the first to go, and that can be a difficult thing to realize but it nearly always makes the poem strongly. The audience gives me a discipline and a critical ear, it points me in directions where I wouldn't otherwise go.
Do I write for a specific audience? No, I don't. I used to think I wrote for teenage lesbians in Goth outfits, but now I don't even do that any more, and I'll tell you why. My audience is always smarter than me. It's a far more complex, unpredictable thing than a lot of performers think it is. I've had some of my best feedback from skinheads, churchgoing families, people I ordinarily wouldn't get the chance to speak to. I don't just write for people like me; I write for anyone who'll do me the honor of listening.
Ely: Where do you get inspired?
Blackwell: I'm very inspired by London, as a huge melting pot of people from all over the world, with different dreams and desires. I'm also inspired by tough, trailblazing women: The Fire Eater's Lover includes poems about Patti Smith, Frida Kahlo, Elizabeth Taylor and Amy Winehouse. It's been a real pleasure and privilege to imagine what it felt like to be these women at different points in their lives and to celebrate them on the page.
Despite not being a practicing Catholic by any stretch of the imagination, I'm also inspired by the religion I was raised in. You can see a lot of it in The Fire Eater's Lover, in its focus on prayers and liturgy. I'm also inspired by poets whose works praise and invoke the gods they believe in, and by the question of what you put in that space if you're not a believer in the conventional sense.
Ely: Reading The Fire Eater's Lover, I kept wishing I could put a copy of the book in every bullied or anxious gay teen's backpack. Does it ever occur to you that your work is brave? Or did you cross that Rubicon long ago?
Blackwell: That's a very interesting question. On one level, I don't consider me or my work to be brave; I have a very safe, sheltered life with my fiancee. But I was a gay kid, obviously, a gay teenager, and that was painful—and that pain never goes away, nothing can make it not have happened.
And so I do try to address it in my writing. I know there are places in the world where people don't enjoy the privileges that I do. In the poem, "I Died a Hundred Times"—which is, again, based on an Amy Winehouse lyric—three of the causes of death are, "In certain cities, I protested, kissed my lover, voted." My life is not at risk because of these things, but many people's lives are. And while they are under threat, so am I, and so are those gay kids who are dealing with the things I thought I'd left behind. So, yeah, could we do that "poetry book in the rucksack" thing? I think we could make that happen.
Ely: What does writing do for you, and how important is it to you to keep on making that space for it in your life?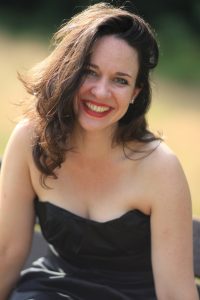 Blackwell: Writing hasn't just put me in touch with what matters to me, but it has given me a community of people who otherwise wouldn't have been in my life at all. It's easy not to make the space for writing, to make excuses, but I try to hold on to that enthusiasm I had when I was a child and I just used to write for the fun of it. You don't just need to carve out time to do the work, but you need to put work into casting off your inhibitions, to shouting down your fears and re-learning how to play. It isn't just a linear thing, but a process that can last for the rest of your life. So making that space isn't easy, but the rewards are immense; it's more important to keep evolving, changing and growing than it is to be perfect.
Ely: Thank you so much, Sophia, for talking to us about your electrifying new poetry collection, The Fire Eater's Lover, and for sharing your thoughts about poetry, being a performance poet, and life.
---
Visit performance poet Sophia Blackwell's website.
Read Sophia Blackwell's work in The Woven Tale Press IV:2.
Sophia Blackwell's The Fire Eater's Lover is out this month with Burning Eye Books.
---