Encaustic Method and the Art of Painterly Prints
By Pamela Caughey
See her work in WTP Vol. IV #5 and WTP Vol. VI #3
Not too long ago, while pondering what to do with all the excess encaustic wax that was scraped away from my paintings on panel, I came across a wonderful DVD by Paula Roland, entitled, "Encaustic Monotypes – Painterly Prints with Heat and Wax."  Of course, I had known about Paula Roland for a long time as a pioneer of the encaustic monotype, but decided it was time to watch her DVD and expand my awareness of what can be done with this technique.This 2.5 hour long DVD is phenomenal on so many levels and I highly recommend it. Paula is a gifted artist and instructor of all things encaustic, and in her DVD, she holds nothing back with regard to helping you learn how to make encaustic monotypes by using hot wax and a heated palette. (If you are interested in ordering her DVD or hotbox(es), be sure to visit HERE! )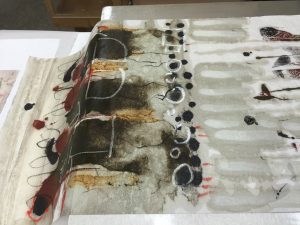 It is important to understand that, unlike other printmaking methods, the encaustic monotype is "one of a kind", and is a process which creates an original work of art.  It cannot be duplicated in any way, since the monotype is made by laying a thin piece of paper on hot wax. Once the paper is put down and pressed into the wax, the wax soaks into the paper, the exact design and thickness of wax never to be repeated again.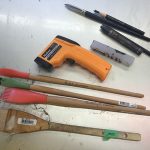 I started with a pretty small hotplate which I had been using for a long time, to experiment and see what this technique was all about. Pictured above, on the left, are just a few of the many tools you can use for this technique–drawing tools, an infrared thermometer to check the temperature of your hotplate, silicone tools, and a traditional hake brush. On the right are my handmade monotype waxes, which are very heavily pigmented.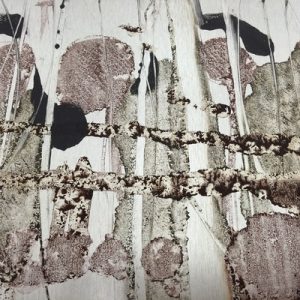 Above, you can see residual wax left behind on the hotplate after paper is removed from the hot wax–the residual wax can lead to lovely "ghost prints", similar
to traditional printmaking.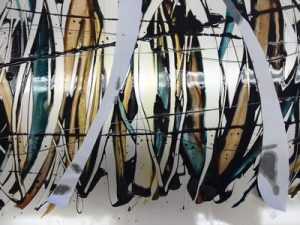 At left, is the opposite–thick, juicy hot wax ready to be transferred to a thin sheet of Japanese paper. I really like the Thai Kozo paper but have tried many other types of paper as well (and will continue to do so!).
While it is true that space is always hard to come by in any artist's studio, I decided to order Paula's Pro Hotbox set up because not only could I work larger with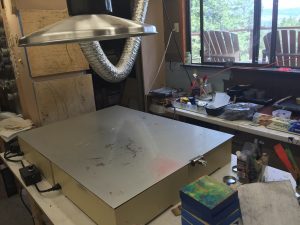 the encaustic monotypes, but it also serves as a fantastic palette for mixing encaustic paint. I also have used it to clean off my taped edges on larger work on wooden panels – always ready with thin Kozo paper to make use of the residual wax. (At right).
Monastery, encaustic monotype diptych on Thai Kozo paper, each panel is 47x13in (119x33cm); 2015: