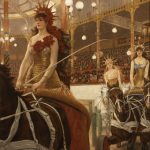 We spent the last few weeks touring the New England area and had the opportunity to visit the Bruce Museum in Greenwich, CT. The show on display was Electric Paris which explored how artists depicted nocturnal Paris by gas light and with the new electric light bulb.
There were about 50 works by artists such as Edgar Degas, Mary Cassatt, Pierre Bonnard, Edouard Vuillard, Henri de Toulouse-Lautrec and others.
Originally Paris was the center of ideas and the associated metaphoric illumination but with the advent of first gas light and then electric, the French capital strengthened the signature name philosophers gave this City of Lights. The exhibit runs till                                                   September and is worth a visit.