"Time is layered and not frozen into one single moment"
by Emily Jaeger, Features Editor
Leah Oates studied at the Rhode Island School of Design, the Art Institute of Chicago and is a Fulbright Fellow for Printmaking at Edinburgh College of Art, Scotland. In 2016 her series Transitory Spaces was featured in the MTA Arts and Design Light Box Project at 42nd Street. This year and in 2015 she has shown in the NYC area in group shows at The Pen and Brush, BRIC Media Gallery, Gallery Aferro, Pierogi Gallery, Moments Gallery, Nurture Art Gallery, The Center for Book Arts, Open Source, Associated Gallery, 440 Gallery, Islip Art Museum, and at several national venues. Oates has had over fourteen solo shows at venues such as The Arsenal Gallery in Central Park, The Brooklyn Public Library, and many others.
The hot, enclosed underground tunnels of the New York City subway might be the last place where one would expect to encounter tree crowns, budding branches, and crisp blue skies dappled with white clouds. However, the element of surprise is but one piece of the success of Leah Oates's "Park Windows," a panorama of light-box, multiple-exposure photographs on display at the 42nd Street and 6th Avenue station below Bryant Park. Part of a series, which Oates has dubbed Transitory Spaces, focusing on urban and natural spaces in transition, "Park Windows" astutely reflects the transitions of the passing commuters on their journeys.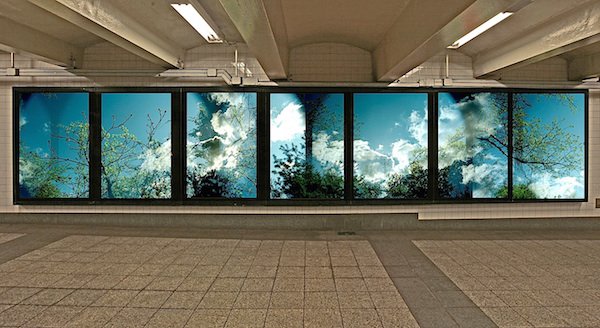 Growing up surrounded by family members in the arts, Oates, whose photographs are featured in WTP's May issue, began exploring multiple art mediums at a young age. She eventually transitioned to photography as her medium of choice due to allergies to paint chemicals. Now she photographs all of her work in 35mm film, using multiple exposures and light leaks to create her signature layered images of natural scenery from locations as diverse as the Bronx, Beijing, and Nova Scotia.
The multiple exposures in many of her images at first seem like repetitions—the same set of trees shifted slightly across the plain of the photograph. However, these exposures are not repetitions, but rather, a record of change over time: before, slightly before, after, slightly after. "I work with multiple exposures on film to get a more accurate record of how we remember time transpiring," Oates explains, "which is not frozen into a single moment but more nuanced and layered." The true feat of Oates's multiple exposures is, in fact, to endow a still medium, photography, with the ability to portray movement and the passage of time.
While examining temporality, Oates's photographs can serve as political commentary on the environmental. In a recent interview, Oates describes the fading "ghost" layers in her photographs from multiple exposures as a warning: "I think of this like how our memory works, or what may happen if we don't take care of nature and our green spaces." The photographs are "both beautiful and poignant as [they] represent something that is here now, but may not be tomorrow."
Over the years, Oates has also published multiple artist's books. Selections are available to view on her website, including from Paradura and a version of Transitory Spaces. While Oates's individual photographs emphasize trees and buildings, her books reveal more variety, with human figures and graffiti as subjects as well. Here, the transitory nature of her photographs suggests plot, an experience of change, loss, and memory, all which tie these works together.
Copyright 2017 Woven Tale Press LLC. All Rights Reserved.