"I am very interested in hybridity as tool for discovery"
by Emily Jaeger, Features Editor
Brianna Baurichter is an artist and curator currently based in the Midwest. Baurichter recently earned her MFA in Drawing from Kendall College of Art and Design, and has previously studied in Chicago, IL for her BFA and Visual Arts Management minor; Paris, France for fine arts; and Florence, Italy for art conservation. 
Baurichter, whose charcoal drawings appear in May's issue, arrived at her medium of choice through a roundabout path: "Early on, I was making other work that I thought I should be making, and charcoal was only a sounding board for momentum which I avoided for a while." Her perspective on this preliminary medium began to evolve as she incorporated into her visual art her background in dance.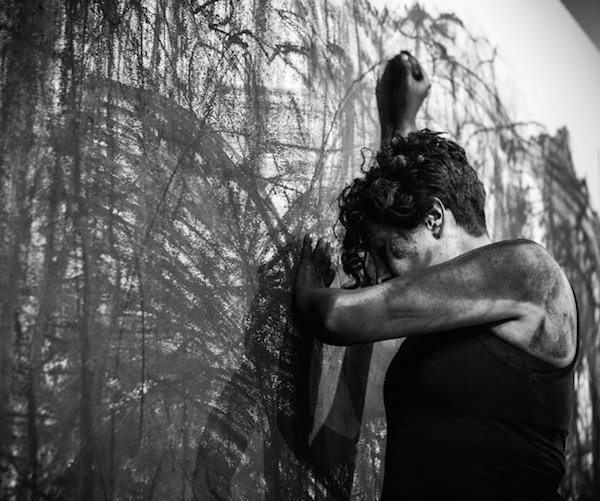 Charcoal's potential for portraying movement and its malleability—the ability to create and erase marks ad infinitum—led Baurichter to consider charcoal as its own independent mode of expression and an integral part of her artistic process. Baurichter's oeuvre also includes performance and video where charcoal moves from the page, to the artist's body, to the viewer, to erasure.
Viewing Baurichter's installation works is to truly experience them; to step into "Constant," a gallery-sized charcoal drawing by Brianna Baurichter, is to enter a subconscious realm. Cave-like, organic forms draw the viewer deeper into a world of merging opposites: vulnerability and violence, healing and tearing apart. Each stroke of charcoal is a remain of a highly embodied process—a drawing of this size requires a concerted effort from every part of the artist's body. And these very physical strokes can be interpreted as Baurichter's own questioning of the body and self: what is this hybrid form?
Baurichter writes:
I am very interested in hybridity as tool for discovery. Everything connects and layers to form something new if given the chance or seen from another perspective. In 'Cyclical' it became a matter of connecting my additive and subtractive drawing process with the physical nature of my mixed ethnicity. This isolated physical element of drawing acts as an entry point into the immersive layering of the evolving and overlapping identities I believe we all hold. By combining these various physical forms of art making, I am finding more comprehensive ways to think about and create dialogue about these hybrid themes."
However, these explorations of hybridity are not without cost. Many of Baurichter's works, such as "Against Self Sabotage," reflect on the inherent violence of digging deeper and the balance of self-expression with self-preservation. Her work with hybrid forms mirrors her examination of a personal history of mixed ethnicity.
For example, in one of her performance pieces, "Cyclical," Baurichter sponges a dark wall of charcoal and then squeezes the grey waters onto her own bare body. And in each piece, the demands on the artist's body are great: "I use my whole body to reach, crouch, stretch, jump, and stand on stools in order to cover the surface. As such my movements are larger and more aggressive, using more of my elbows, shoulders, knees, and hips than say, my wrists and fingers."
The ultimate goal is not self-destruction, but rather, the honest artwork and healing that comes from vulnerability: "moving through that uncomfortable and painful vulnerability is the only way to move closer to what you seek, even if by way of a futile task." Baurichter's work invites the viewer along on this harrowing but necessary journey of discovery: whether toward self-understanding or a new perspective on the constructs of race and identity. 
Copyright 2017 Woven Tale Press LLC. All Rights Reserved.