"I literally draw the lines and curves of each bowl,
with my hands and with the thread."
Interview by Jennifer Nelson, WTP Feature Writer
Barbara Bryn Klare is a San Francisco Bay Area artist who works primarily with rescued textiles, objects, works on paper, and installations. She was an artist-in-residence at the Icelandic Textile Center in Blönduós, Iceland, in November 2016. Her work has been exhibited in galleries and museums in San Francisco, Los Angeles, New York, South Korea, Canada, and the United Kingdom. In the 1990s, she worked as a freelance textile and surface designer in San Francisco and Los Angeles. She studied geology and art history at Oberlin College and is currently pursuing an MA in Fine Art at University for the Creative Arts/OCA in Barnsley, England.
Nelson: In "Memory of a Bowl" and "Memory of An Urn," both which appear in this month's issue, you trace the history of no-longer-in-use wooden bowls and broken artifacts. Can you explain the technique of creating these works using thread wrapped around the objects?
Klare: First, I should say I am fascinated with the blurring of the lines between contemporary art, craft, and design. These "Memory" works sit somewhere between them, in that loosely drawn area, incorporating a technique that could be called "craft" (threadwork) but that crosses over to contemporary art and design.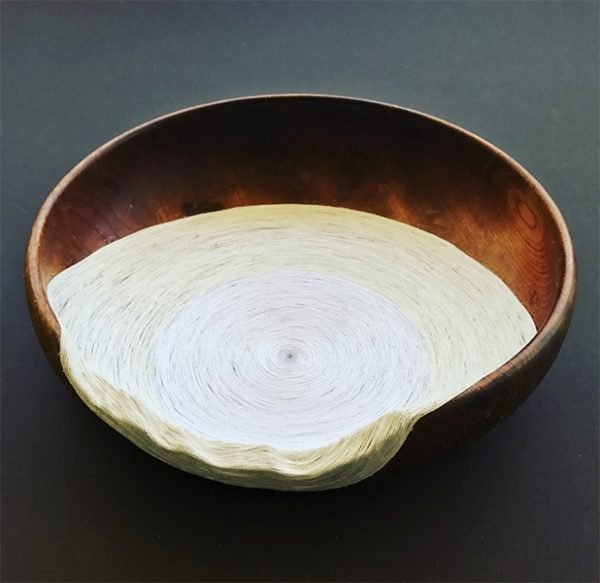 In these pieces, I literally draw the lines and curves of each bowl, with my hands and with the thread; in some cases, wrapping the outside and sometimes the inside. Social anthropologist Tim Ingold states, "We use the same verb, to draw, to refer to the activity of the hand both in the manipulation of threads and in the inscription of traces… the two are more intimately linked than we might have supposed."
Nelson: Where do you find these materials for your works, often discarded materials such as fabric, yarn, and thread?
Klare: For starters, the San Francisco Bay Area is full of great thrift stores, fabric and vintage stores, and reuse centers. I also find things in my daily life and in and around my studio, like an old canvas curtain or aged paper, which I like to use in my drawings.
Nelson: In your works, fiber seems to predominate, especially with the bowls and your textile series, but even in your works on paper, some that actually incorporate shredded shirts. How did you come to fiber as your primary medium? It's interesting that even in your pen-and-ink works, your subject still comes back around to fiber, as in your lovely nuanced thread drawings.
Klare: When I worked as a textile and surface designer, I rarely got to see where my creations ended up, and I never got to actually work directly with the fabric; the designs were done on the computer or in gouache on paper. I think this kind of distance creates longing. Does absence make the heart…?
When I was growing up, I sewed many of my clothes. Working with textiles in my art is comfortable, like coming home. I keep thinking I will be done with cloth, but then it draws me back in: the criss-cross of the weave, the feel of the drape, the frayed edges in my hands. There's still more to explore. At some point, I will devote myself to other materials. Art is endless.
Nelson: How did your residency in Iceland influence your artwork, in particular the ICELAND::blue installation, which included the piece "Wrapped Rams Horns?"
Klare: I still have materials from that residency, which I hoarded. Iceland is magical. Being in a remote part of the country, and so far north, was a treat and a challenge for me. The November light almost literally skidded across the paper when I was making cyanotypes. So different than California light. I traveled around by bus; it was a 360-degree winter wonderland. I got to stay in the studio of one of the professional local weavers, and at the end of the residency I stayed in Reykjavík just absorbing the contemporary art scene there, which is vibrant and alive. The solo show, ICELAND::blue, is a direct product of my time there.
Nelson: Your new works on paper, such as "Shredded Flag (Charlottesville)" and "Divide," offer political commentary. Why is it important for you to voice your opinion on issues of the Trump presidency?
Klare: During this presidency especially, I had to ask myself: How can I respond to these dramatic, rapid-fire events? What materials can I use to create a relevant and quick turnaround? Personally and as an artist, I am working on being fully awake and responsive during these times. Burnout can be an issue. I have been developing a series called Artist as First Responder and my first work was done around the time of the inauguration. It is crucial to speak out and be heard, and art can break open the issues, create dialogue and at best—a kind of catharsis.
Nelson: You've advocated community-based public art through such events as the Rapunzel Project in 2016. Over two days, twenty-five people created a foot-foot-long, five-stranded golden braid and hung it from the second story window of your studio at MOCA. Can you elaborate on the importance of these types of events for you?
Klare: There is something unique about coming together on a common goal, and working with fiber, in particular; it brings us back to a sense of community and to our ancestors sitting around leg rolling fiber for nets or spinning yarn for clothing. For me personally, it is a pleasure to conceive of and facilitate artistic projects like Rapunzel Project that come together so spontaneously and with so much participation. It reminds us that art is everywhere and everything: on the street, outside your window. Not just in a school or gallery.
Nelson: Evidently, your mother, who was a psychologist, professor and poet, a large influence on you—how exactly might she have impacted your work as a visual artist?
Klare: I was lucky in that my mother was my champion and a major supporter of my art. For example, she made sure I got to go to RISD summer session for high school students, which opened up my drawing style. I am still learning about my mother as I go through her poetry, working on the Secret Language Between Mother and Child series, which is a work-in-progress—much like our relationship, which endures even though she passed away over a year ago. I think that she was almost continuously writing poems in her head, which makes me feel closer to her. I understand what that is like.
Nelson: You were recently awarded a grant from the Center for Craft Creativity & Design to research the relevance of traditional Japanese "boro" (rag) textiles to contemporary art, craft, and design. Can you elaborate on what this work will mean to you as an artist?
Klare: This is a research grant (not an artist grant) so it is going to involve rigorous inquiry and investigation, not creation of artwork. That said, I will be going to see probably the most extensive boro collection in the United States, among other great and inspiring places, so I am sure it will be an influence on my art. 
Nelson: Where do you see your artwork going in the future?
Klare: I have several pieces that are ongoing about sexual harassment based on locations where harassment took place. I will keep developing works for the Artist as First Responder, because unfortunately there is so much violence and hate in the world. I have an idea on the back burner for that series that is a response to gun violence in America. I also plan to continue working on and promoting the use of sustainable textiles in art. There are definitely not enough hours in the day.
Copyright 2018 Woven Tale Press LLC. All Rights Reserved.