Sculpture Within Sculpture
By Richard Malinsky, Arts Editor
Margie Criner's site offers a broad spectrum of both her three- and two-dimensional works. These works, rich explorations into the complex interconnection between all living things, are strongly rooted in design, but with a healthy mix of play as she reshapes and distorts conventional expectations. And influences of everyday events, architectural forms, and industrial instruments abound throughout.
Her three-dimensional work is founded on her unique concept of a "sculpture within a sculpture," and clearly is an outgrowth of her varied background in textile and graphic design, woodworking, and her desire to combine materials. For instance, "1985 Record Store" is a miniature three-dimensional scene of an actual old-time record store, made from wood, wool, plastic, found objects, and LED lighting. The larger, outer-surrounding wooden sculpture is based on general sketches and seems to have evolved intuitively as it encases the miniature narrative tableaux. The completed piece, a beautifully crafted sculpture of exotic woods, is reminiscent of a grand piano base, with an embedded glass portal inviting peeks into its interior. Criner has created an Art-Trifecta: a high-concept sculpture within a sculpture, built with the masterly skills of a fine carpenter, but conceived with a kind of childlike delight in mind. Most surprising is that the entire piece is only 8 x 9 x 7 inches!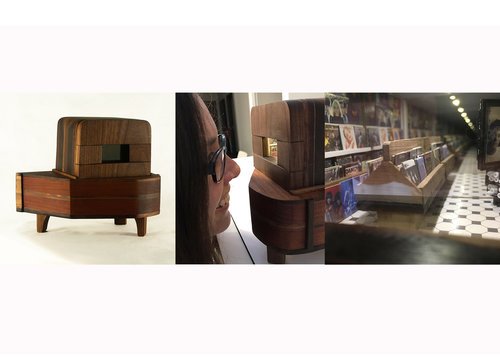 Another at once delightful but sophisticated piece is "The Space Between." Criner's narrative scene within this work seems to address how much of our lives are spent in transit on our daily commutes from one destination to another. She comments, "We often prioritize the goal, while disengaging as much as possible from what the transition may offer." The tightly packed series of wooden dowels, of varying length, that form the outer wooden sculpture are suggestive of a vast network of congested highways and link the outer and inner sculptures conceptually.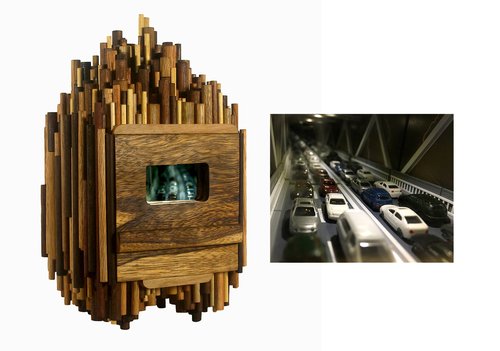 Criner's two-dimensional works are based on her sculptures, and her graphic design background is evident in these clean, hard-edged, geometric abstractions.
In her Satellite series, it's as if her sculptures have been opened up and flattened out into a diagrammatic style. "Satellite 12" combines shape, color, and line inspired by architecture and technical renderings. The sharp edges were achieved by masking, the large smooth areas painted with a roller, and acrylic pens most often used by architects, to create razor-sharp white lines.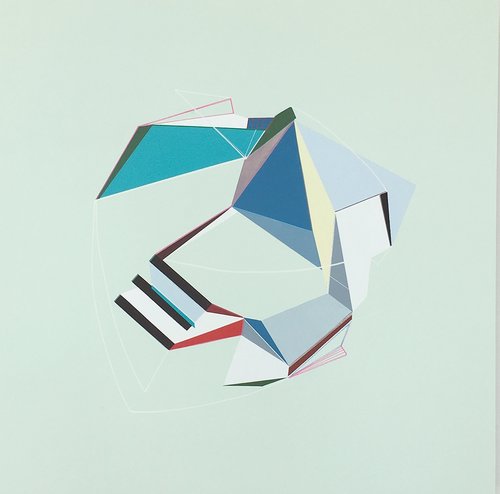 The Synthesis series seems to be more about gesture. Here the sharp white lines help define the movement and hold the hard edge forms together as a network in "Synthesis No. 4." However, her graphic work remains essentially static without the emotional character of her sculptures.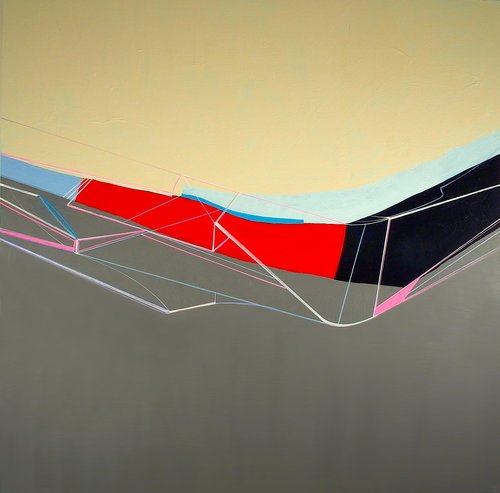 What unites Margie Criner's two-dimensional and three-dimensional work is her continued exploration of the different ways we visually perceive and define the relationships of the natural world by showing us there is always another way.
As you enjoy perusing her site, don't pass up the six short videos that help understand her process.
Copyright 2018 Woven Tale Press LLC. All Rights Reserved.