Comfort in the Contemporary Public Space
By Richard Malinsky, Arts Editor
Ea ten Kate is a Dutch artist living and working in Sweden. She is influenced by the rich and varied ritual vocabulary found in indigenous cultures and religious imagery. On her site, the overarching theme of comfort for the public space is explored within the context of contemporary textile arts and printmaking: "The questions that permeate my practice are, what gives us comfort? How do we use the things we see, read, and touch to find peace in a stormy world? How can public space be used as an instrument of solace?"
In light of these questions, her choice of textile as a medium seems natural and obvious—visual color and soft feel can be very comforting. However, she goes beyond the obvious when describing her choice of textile as "[h]armless, yet capable of transforming into uniforms, flags, and banners, becoming an intrinsic and powerful part of propaganda."
Exploring this site is an adventure in navigation. Magnifications change with every click and not in any particular order. I started with the series Textiles and immediately became fascinated by the little yellow creature labelled "I Dream The Sky."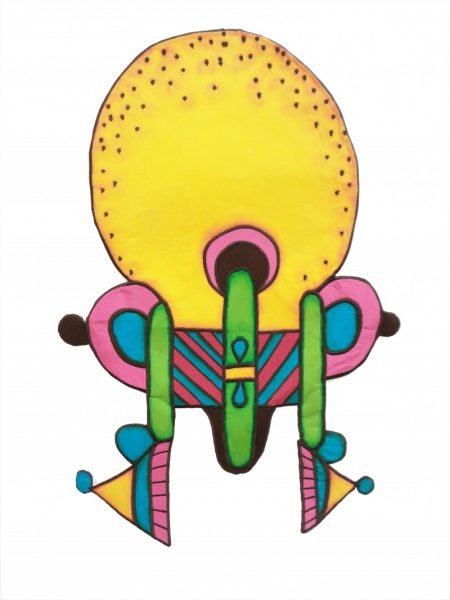 What I discovered three clicks later was "Big One," a small part of a large installation I Dream The Sky / Templar Phases XVII, based on visions from recurring dreams about a sky filled with a thousand magic ships. This space invites the viewer to relax and explore the totality of this fanciful work, one reminiscent of an astrological chart or gazing up at stars in the night sky: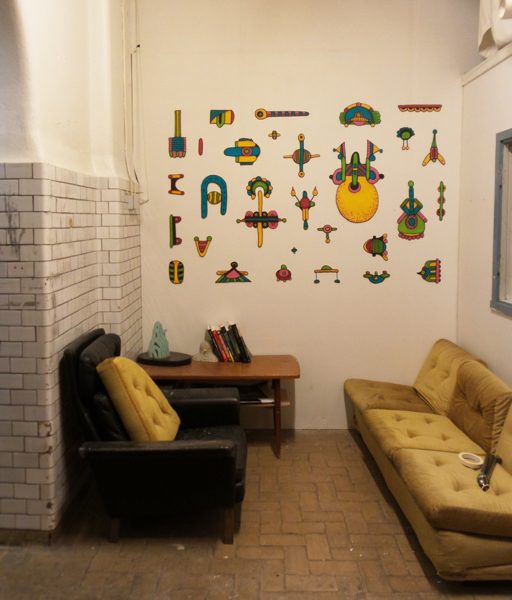 The concept of comfort and security found in a favorite item of clothing is explored in the iconic "Talisman Jacket," a work inspired by the jackets of the Ottoman period: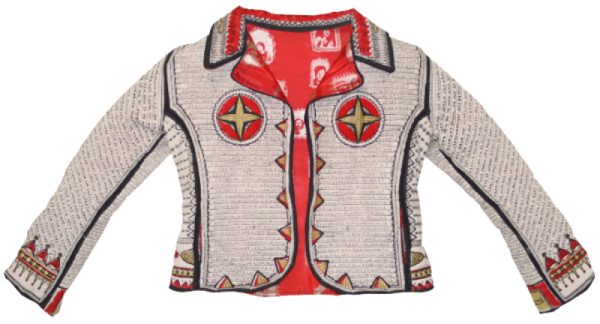 As a prolific printmaker, Ea ten Kate also works on paper, producing drawings, screen prints, linocuts, lithographs, and dry-point. In the Buildings series she mines emotional expressions of brutalism, researching the impact of shapes when read as buildings, and how to create shapes that are monumental.
Brutalist buildings are usually formed by repeating modular elements to represent specific functional zones, and she visualizes this concept in "Rib Flat – Drawing." However, I find this concept formulaic, depersonalized, and a bit off-message from her stated goal of comfort for the public space.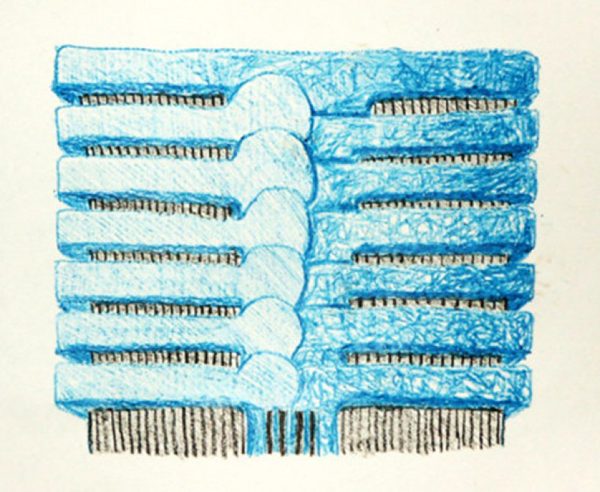 Last, but not least, I was delighted to discover Saint Augustine de Hippo is the patron saint of printmakers! She states, "Wanting to have someone to call upon when printmaking inevitably drove me mad, I researched and found there was indeed a patron saint of printmakers." This piece was site-specific for a niche at the printmaking school where she was studying.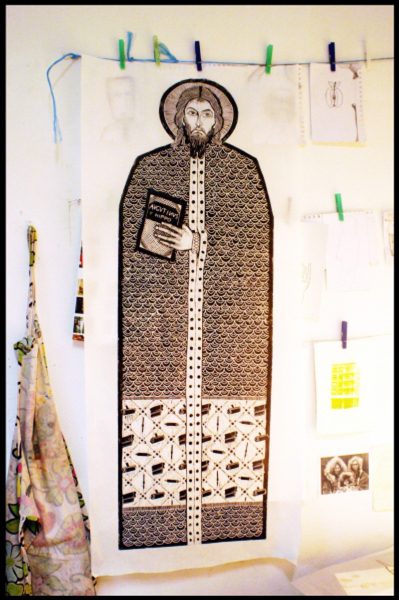 Ea ten Kate's artistic vision comments on human behavior and personal needs. Mixed with a touch of humor and executed with masterful technique, her unique work warrants attention.
Copyright 2018 Woven Tale Press LLC. All Rights Reserved.