Winter 2017 Highlights
By Emilia Dubicki, WTP Art Correspondent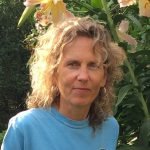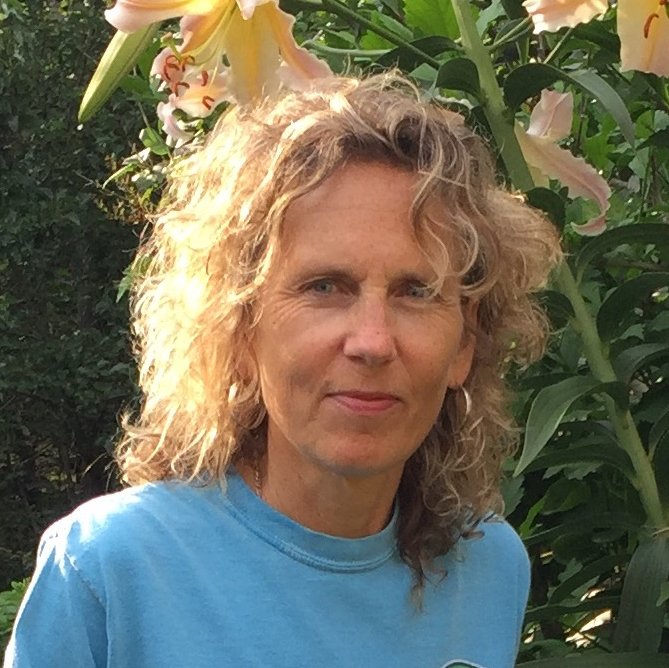 Four times a year, WTP art correspondents from around the country will report back on the previous season, with images from exhibitions you otherwise might have missed, and their own insights into these varied venues.
On a particularly cold but bright blue-sky February day, I walked from midtown, through Central Park, up to the Metropolitan Museum of Art. Entering the Met, I was happy to get out of the wind, but a bit less enthusiastic about the usual crowds. It was a gift to find that the show I was headed to see, Birds of a Feather, Joseph Cornell's Homage to Juan Gris, was in a smaller, windowed gallery. The exhibit features a dozen of Cornell's shadow boxes, inspired by Juan Gris's cubist collage painting "Man at the Café." Cornell saw the 1914 Gris painting at the Sidney Janis Gallery in Manhattan in 1953. This is Cornell's largest series dedicated to one person (in total he made eighteen boxes, two collages and one sand tray over the course of fifteen years inspired by Gris). The Met's placement of the boxes within several vitrines allows for the decorated backsides to also be displayed.
Within the boxes, the great white crested cockatoo is Cornell's main character, and he took its image from a nineteenth-century print. Why the Gris work spoke to Cornell so strongly probably has a lot to do with its balanced composition and structural elements that Cornell then applied in his boxes. The black shadow surrounding the man, surrounds the bird; the shape of white beer foam is the white bird; the imagery of a French newspaper—in Cornell's case, actual newspapers collaged into his boxes; Gris's faux wood grain repeats in Cornell's compositions too, as does the shape of Gris's café table, with Cornell's boxes themselves made of wood. Each box displays a play on "Man at the Café." What is appealing about this show is its limited focus, and the connections between two artists, but also how a single painting can influence a separate artist to create a series of works, inspiring the viewer to compare and contrast each work. This show is up until April 15.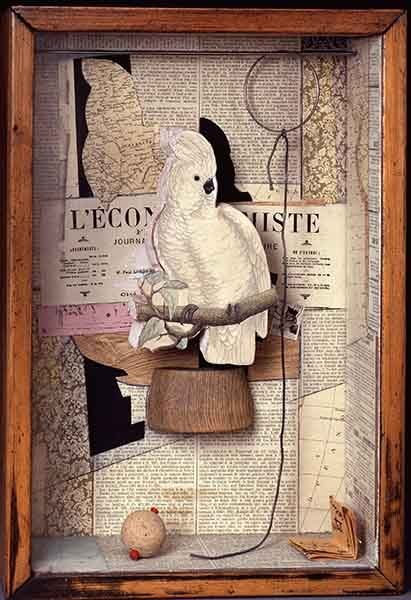 My next destination was the Met Breuer on Madison Avenue, to see the Edvard Munch Between the Clock and the Bed. This was an intense exhibit of forty-three works by Munch including sixteen self-portraits, some paintings never seen in the United States before, and some part of the artist's collection. The work was moody with reoccurring themes of storms, night, sickness, despair, jealousy, insomnia—an exhibit for the winter-weary soul.
Perhaps it was because I was still tossing around the Cornell/Gris imagery in my head that one Munch painting seemed to captivate me the most: "Sleepless Night: Self-Portrait in Inner Turmoil." The title conveys to the viewer what is happening—Munch is wandering around his house. His hands are in a position that makes me ask is his jacket coming off or going on? His foot casts a shadow on the floor, as if he might be stepping forward, out into the breaking light of dawn. He seems to be emerging from the earth tones of a windowed room, box -like, behind him. Blankets or clothes are strewn about and on a wooden table is a still life of bottles and containers. In "Self Portrait between the Clock and Bed," the aging painter, still in his room, is beside the bed in which he would eventually die. Munch reminds me of the white cockatoo trapped in his box. In another painting, "Self Portrait with a Bottle of Wine," with a pensive Munch seated at a restaurant table, he is the man at the café.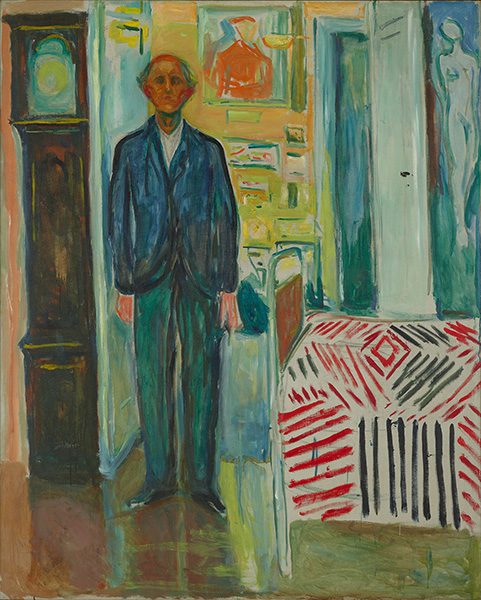 I was curious about Georg Baselitz 1977-1992 at the Michael Werner Gallery, also on Madison Avenue. The first space at Michael Werner I walked into was occupied almost entirely by just two large works, "Birnbaum (Pear Tree)" in four panels filling one wall, and the other painting, "Akt und Flasche (Nude and Bottle)," a diptych, taking up a good amount of the opposite wall. Baselitz began inverting his imagery in 1969, seeking, according to the show's press release and the artist's own words, "to liberate representation from content." I was immediately immersed in Baselitz' upside world.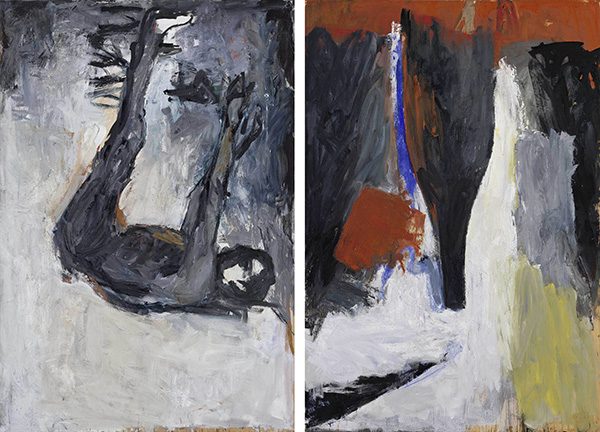 The paint colors, their expressive application, and the forms in these large, impactful works are the characteristics I noticed first, before registering the imagery's actual subject matter: a figure, easily recognizable, and seeming to be falling, tumbling, but then the bottle on the table top and the pear trees. Here we have a still life and a landscape but not quite; abstraction and not abstraction. The wood supports of these panels we can see in profile, and the paint sits boldly on the wood's surface: red, blue, black, gray, yellow, and rust. Other work in the show included the large abstract oil on canvas "Serge" from 1990 and smaller works on paper.
Louise Nevelson Black & White at Pace Gallery in Chelsea brought together twenty of the artist's painted wood sculptures, wall reliefs, and installations from the late 1950s through the late 1980s. The dramatic black-and-white installation began as you entered the gallery, with a wall-sized portrait of the artist to the left, a timeline of her career on two right-hand walls, and a black wall sculpture on the center wall. From here the show continued into galleries painted matte black, featuring black painted works whose shapes and forms emerged more clearly as the eyes adjusted to the low light. These dim galleries seemed a cross between a well-organized dark garage with collections of furniture parts, wood scraps, and tool pieces, and a sci-fi world, as I had the feeling of being watched by the looming black sculptures, including the eighteen-part "Untitled (Sky Cathedral)," which measures over eight feet wide and eleven feet tall. Nevelson arranged found objects, repurposing wooden detritus, to form larger cohesive works with many non-moving parts. It is the way the surfaces absorb and reflect light and our view of it that changes.
Further into the exhibit, the gallery walls shifted to gray, with the introduction of white- then black-painted works, culminating with the all-white work of "Dawn's Presence – Three" at over ten feet in diameter, and comprised of ten elements rising up like a delicate wooden garden.
The thing is, once you reached this nirvana, to exit the exhibit you had to actually backtrack through the darkness, back onto the street to be immersed once again in the chaos of everyday life, which sometimes I wish I could, like Nevelson, arrange and organize in a way that makes sense.
Still in Chelsea, I continued down to the Garth Greenan Gallery to see Victoria Gitman: Taktisch. Gitman's subject matter is fur that she copies meticulously, strand by strand from vintage handbags. We don't see the actual shapes of the bags, only abstracted sections of their fur patterns tightly cropped, painted edge-to-edge on small panels. From a distance they read as geometric patterns. The awe sets in when you get up close. Gitman's paintings are amazingly realistic and greatly concentrated in their scale—ranging between around five inches and nine inches—as if a swatch of fur itself was framed and hanging on the wall. There is a blending of the natural, illusion, and abstraction.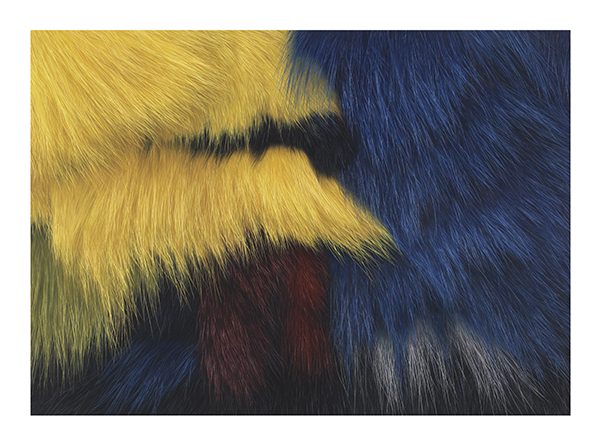 Quoting from the gallery's press release: "Taktisch can at once signify 'tactile,' 'tangible,' 'palpable,' or 'textural,' as well as 'tactical.' It implies an intimate exchange with art objects, an intermingling of the experiences of seeing, feeling, and knowing through sensory perception." You really do want to touch the paintings, to pet them, just to make sure the fur isn't soft and real—a rather fascinating dichotomy perhaps, this representation of something tactile when it finally is not. And the amplification of such detail finally resonates of the abstract as much as the realistic. This exhibit was nicely installed, the eight small paintings well-spaced, allowing the viewer to focus on the fine details without distraction from competing works. Gitman's previous exhibition at the gallery included paintings of the entire purses, like portraits, another magical example of how connected and committed she is to her subject matter and creative process.
Shanghai-based Zhang Enli's current show The Garden at Hauser & Wirth on West 22nd St (up through April 7), brings together large-scale paintings depicting the natural world. Earth tones, vegetation, birds, fish, and water imagery take over the gallery. Loose expressive paint strokes and swathes of color applied in washes and thin layers bring an honesty to the work—there is nothing to hide behind here. Zhang Enli freely paints his feelings and responses to his surroundings. What he also does is magnify aspects of his subjects so what we see is an enlargement of a much bigger environment. With the "Grey Parrot" we have a canvas full of breathing room, room for the bird to flap its wings and fly. In the "Gold Arowana" the fish can easily be imagined moving underwater.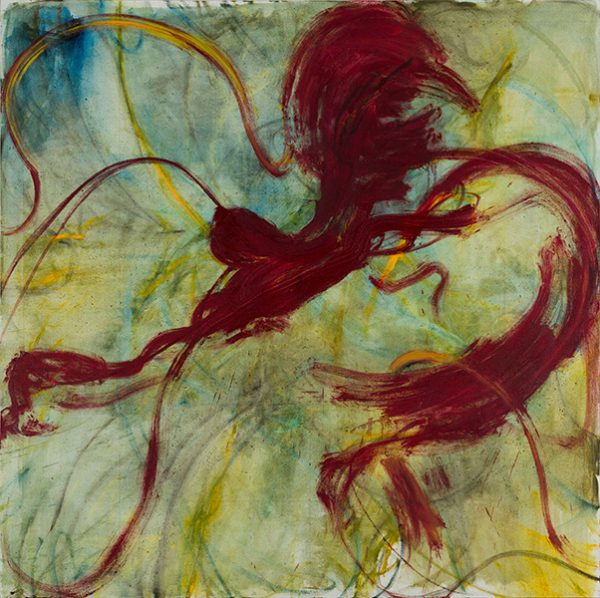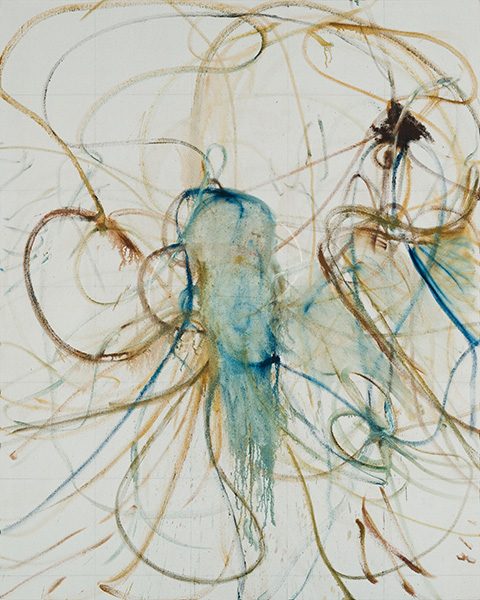 Visible beneath each painting is what appears to be a grid-like support system, a metaphor perhaps for the city of Shanghai, from which the natural world in its wildness departs. As an abstract painter of the natural world myself, I identify with Zhang Enli capturing the essence of a place, painting his emotional responses to his environment.
I think again of Cornell's white cockatoo motionless in his box of a world, so unlike Zhang Enli's wild parrots; how far I've journeyed viewing these art shows, from cafés to Norwegian nights, upside down, into the darkness, into the light, from realism to abstraction in the garden…and it all happened with the New York City grid as its the structure.
If you are interested in becoming an art correspondent for WTP, please inquire at wtp@thewoventalepress.net
Copyright 2018 Woven Tale Press LLC. All Rights Reserved.