Winter 2017 Highlights
By Emily Nimptsch, WTP Art Correspondent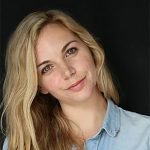 Four times a year, WTP art correspondents from around the country will report back on the previous season, with images from exhibitions you otherwise might have missed, and their own insights into these varied venues.
With its ever-expanding network of celebrated contemporary art spaces and institutions strewn across the city, Los Angeles has officially emerged as a world-class art destination. Over the past few months, the city has witnessed a dizzying array of much-anticipated exhibitions. While several featured the work of beloved, internationally-renowned artists, others were much more intimate affairs, but equally gripping. Below is a smattering of my personal favorites, the exhibitions that broadened my horizons on issues of society and the psyche, as well as the ones that produced a lump in my throat as I shared in the artist's emotional trauma across the divide of space and time.
This season, Anat Ebgi, one of Culver City's most popular galleries, presented Sunset, a suite of Scottish-born, London-based multimedia artist Caroline Walker's latest paintings and works on paper, depicting the opulent lifestyle of a fictional aging actress. These works intimately portray her daily routine as she exercises, lounges in the pool, and brunches at the famed Beverly Hills Hotel. Although these portraits ooze with glamour and sophistication, one cannot help but notice that the subject is alone in almost all of them. Yes, sometimes the viewer can spot a pool boy or hairstylist, but she is not depicted interacting with them in any meaningful way. Her eyes seem glazed, and we long to know what she is thinking about. This heartfelt exhibition examined the inner life of a woman in the sunset of her career as she contemplates a future without purpose and floats adrift in the pool.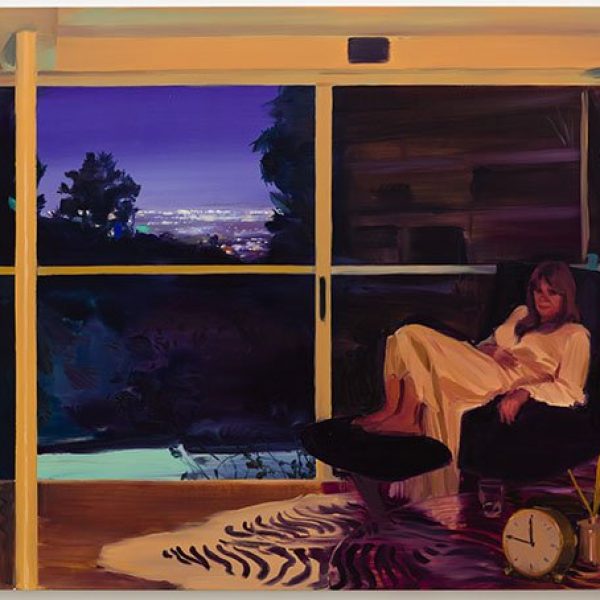 Downtown, renowned as an artist of haunting psychological fortitude, Louise Bourgeois is currently the subject of Red Sky, a posthumous retrospective at Hauser + Wirth Los Angeles. Delving into the last few years of her life, these watercolor and colored-pencil etchings on paper reflect on her childhood anguish. For over a decade, the artist's father carried on an affair with her English tutor. We feel her fury in the youthful flowers, bubbles, and rudimentary scrawlings, all painted in a blood red hue, but also her desire to overcome this trauma in the paper panels with depictions of human cells and flora accompanied with inscriptions. One of the most powerful read, "I cannot help this need in the morning. This need to grow. It is stronger than hunger or thirst."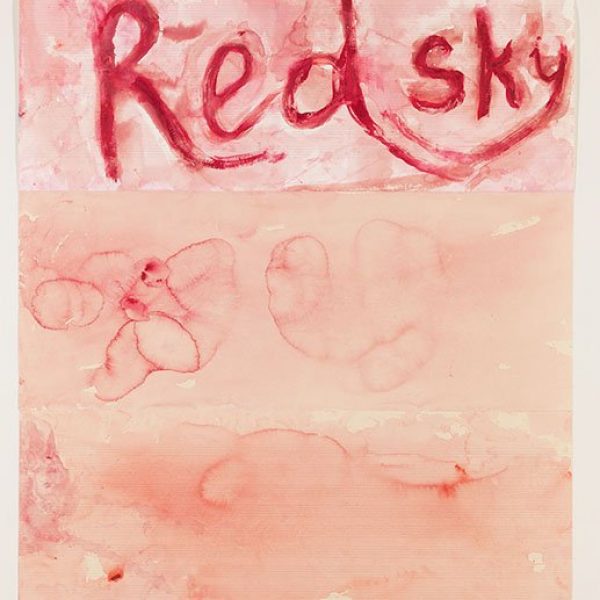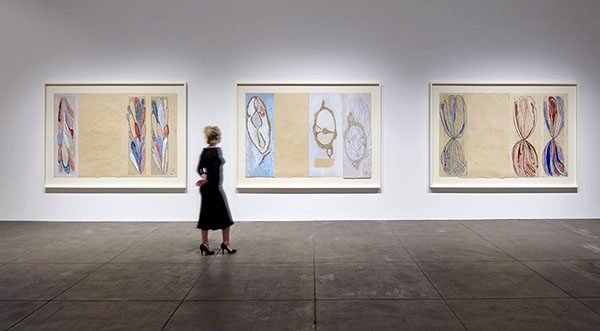 Also at Hauser + Wirth Los Angeles, Mark Bradford makes his triumphant return to his hometown with his first gallery exhibition here in fifteen years. Unlike his works representing the United States at the 2017 Venice Biennale, this latest collection is far more intimate. These ten new paintings are infused with countless layers of found paper, including magazines, newspapers, and advertisements. Once he reaches his desired canvas thickness, he bleaches these layers, sands them down, and scrapes some away. The results resemble both street maps of some unknown cities and webs of bodily wounds, but are also imbued with a palpable socio-political element.
Reflecting on his childhood upheaval stemming from a move to the affluent Los Angeles suburb of Santa Monica, Bradford weaved comic book pages into the canvas structure. Comics had been a great inspiration to the budding artist, and Bradford felt this fraught period in our country called for a revival of this colorful motif.
New Works also features a touching tribute to one of Bradford's personal heroes, late abstract painter Jack Whitten. Here we see Bradford emulating Whitten's streaky, squeegee-achieved "slab" painting style. Bradford was working on the painting in January when he received the news that the artist had just passed away. He imagined Whitten encouraging him to finish it from beyond.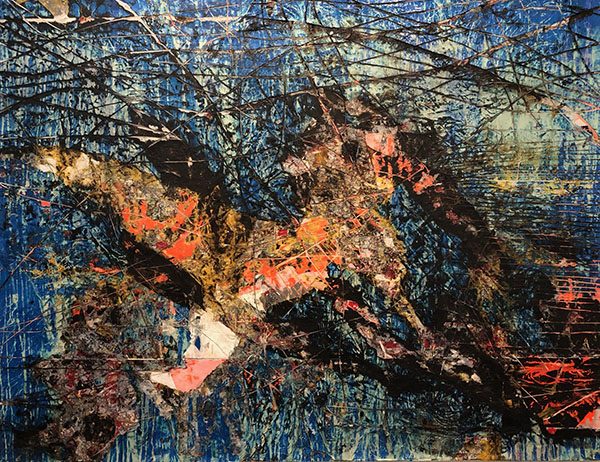 As a hub for all things cutting-edge, the uber-trendy CB1 Gallery housed the scathing Georganne Deen exhibition, Psychic Violence, this season. These painted portraits of ghoulish CEOs, aristocrats, and government officials delve into issues of obscene wealth and corruption while exposing widespread apathy within our own society. Inspired by the fearless political directness of Otto Dix and Francisco Goya, Deen reveals the sliminess and greed of some elites in their quest to obliterate peace and well-being of the masses.
In one of the show's centerpieces, 2016's Lew Ranieri: Architect of The Toxic Bundle, the artist depicts the soul of the man responsible for the 2008 financial recession. As a greedy sub-prime mortgage broker, Ranieri is depicted as a semi-reptilian creature, and other offenders as gruesome zombies and aliens with horrifying tentacles dangling from their mouths.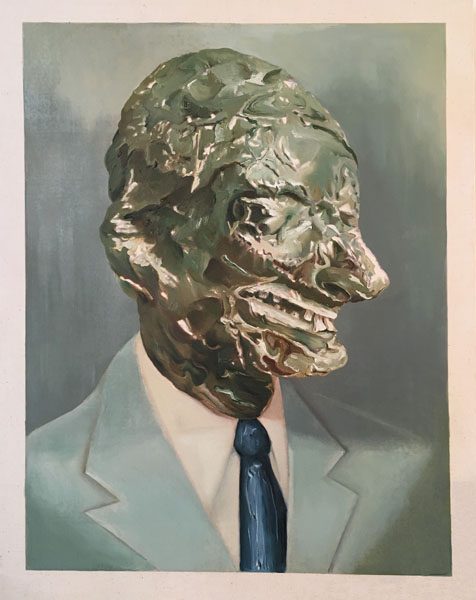 Finally, this winter season, featuring more than 120 works and spanning six decades, the Jasper Johns: Something Resembling Truth exhibition at the Broad honors the 87-year-old icon through his iconoclastic American flag, number, letter, and target paintings. As one of the greatest living American artists, Johns is internationally renowned for his collages combining high-brow Abstract Expressionism and low-brow found objects. As a precursor to Pop Art, Johns transformed public, everyday symbols into the private and esoteric. He encourages the viewer to abandon preconceived notions about these symbols, and this Descartian act of stripping knowledge back to its elementary basics is at the very heart of this artist's oeuvre. Deeply inspired by Belgian Surrealist René Magritte and his seminal painting, The Treachery of Images (This is Not a Pipe), Johns explores the connection between an object, its name, and its image.
Here, the American flag translates into mere pattern, an otherwise blank canvas for us to impose on our personal beliefs. Although Johns rarely speaks on the meaning of his art, he is deeply interested in how the viewer completes the work themselves with their own interpretations and how these interpretations may shift over time.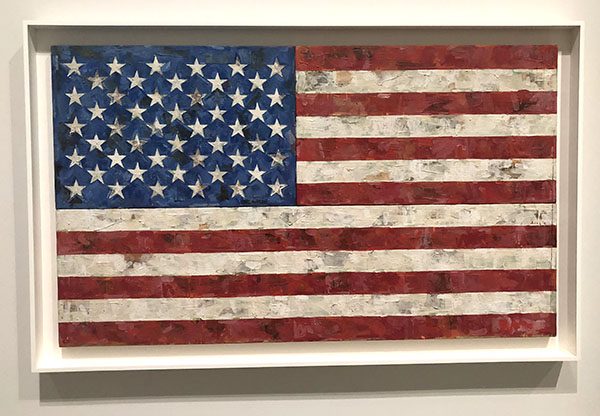 If you are interested in becoming an art correspondent for WTP, please inquire at wtp@thewoventalepress.net
Copyright 2018 Woven Tale Press LLC. All Rights Reserved.