"I want my work to always be in flux."
Interview by Jennifer Nelson, WTP Feature Writer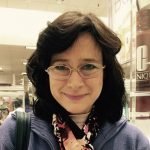 Barry G. Masteller is a self-taught abstract painter and photographer living in New York City and Albuquerque, New Mexico. He became deeply interested in photography after moving to the Monterey Peninsula from Los Angeles in 1970. His photographs are centered around landscape and the figure, often reworked, post production, into abstractions. His oil paintings meticulously use color and texture, often incorporating a substrate of cut canvas collage and other elements. His imagery ranges from landscape to non-objective abstract utilizing layers of tonal glazes. Masteller's paintings are in the public collections of The Palace of the Legion of Honor, Achenbach Collection, San Jose Museum of Art, Santa Cruz Museum of Art and History, the Palm Springs Museum of Art, Crocker Art Museum, the Triton Museum of Art, and the Monterey Museum of Art.
Nelson: You first became interested in pursuing art as a teenager in Los Angeles. What experiences during this time influenced this decision?
Masteller: Actually, I've always been making and looking at art. Early on, I had two elementary school teachers that encouraged me. I recall doing a painting to represent my school—selected from all the other students' work to hang at the Board of Education in downtown Los Angeles. I was in the fourth grade. Later, I was selected to design the program for my sixth-grade graduation with a painting of mine on the cover; it was silk screened into copies by my fellow classmates. I had seen paintings before—as my mother exposed me to some collections in Los Angeles. I had two "uncles" who were artists and craftsman that lived across the street from me. I had a keen interest in what they did and how they did it—one was a package designer and carpenter and the other a watercolorist and bon vivant.
I started painting in oils when I was fifteen. A friend of mine showed me a small, approximately eight-by-eight-inch painting that he made. I remember holding it in my hands and just staring at it for a long time. I was struck by the color, paint texture, and form. It was a painting of a mask. Seeing it and holding it was a epiphany for me—I asked him how I could do something like he did. He said, "just get some paint and do it!" so I did. Once I did, I never wanted to stop.
Nelson: For several decades, you have worked full-time as an artist. Yet earlier, you earned a living working in art restoration and conservation, running your own gallery and representing other artists, and creating a line of hand-carved, gold-leaf period frames. How did you balance the art against your other responsibilities?
Masteller: Being a full-time "mud wrestler" (painter) has always been a challenge. I feel it's vital to be in the studio everyday—even if I just sit in my chair and study what I'm working on without picking up a tool. It's being one with the work and the process. I've never separated the other things I do from painting—it's all about the same thing—everything I've done is art related and, therefore, has influenced my painting and my way of seeing. I just can't separate myself into chunks. I quit being an employee as a framer and painting restorer in 1980. It was then that I converted my studio into a full-on-everything space—gallery, frame design, art restoration, and painting studio. My days have always been long and dedicated to my process.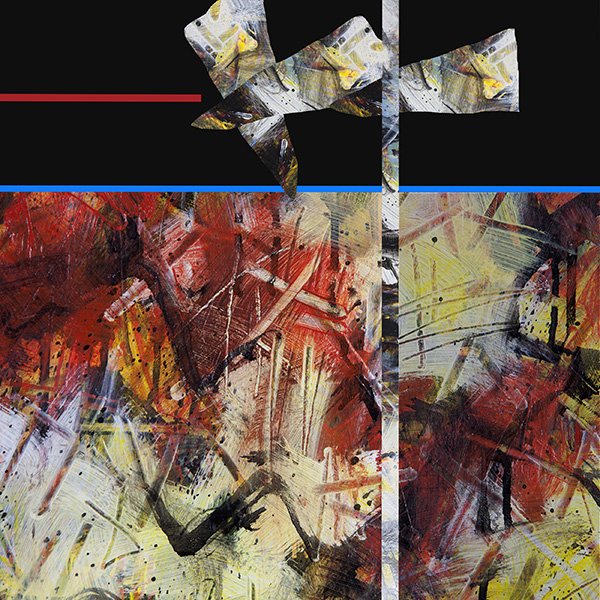 Nelson: In the Sequence series, you use construct photography to create abstract artwork with vivid colors. Can you explain the techniques and processes of this type of photography that involves painting, as well as the tools you use?
Masteller: When I was living and working in California, I had my work stored in several places. It wasn't until I relocated to Albuquerque that I had it all in one place. I took the opportunity to make a hi-resolution photo inventory of all the remaining work I had. The Sequence series began as a way for me to bring together fragments of my painting history—cropping areas of the photographs of my older work and incorporating them into new and different images. I have always felt that my paintings are like words—each making up a story or a journal up to that moment in time.
The series actually began in 2013 when I started making close-up photographs of several of my paintings. I found the photographs very exciting, but I was unsure how I would use them. I had forgotten about them until I rediscovered some on a computer file I had buried. They were all in 35-millimeter-rectangular format. I began turning them into squares as so many of my paintings are. Filling the upper area of the square with fragments from some of the other close-ups, and eventually moving to the landscape photographs I was currently doing and images from my historical inventory.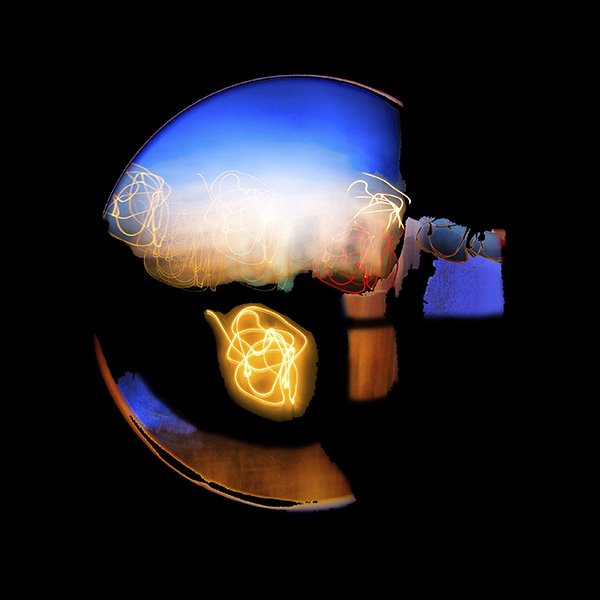 Nelson: In the Insomnolence series, you took pictures at night and manipulated them to create art. What are the advantages and disadvantages of working at night? And is there a type of camera best suited for this purpose?
Masteller: When I relocated to Albuquerque, I began to re-explore landscape photography. The space I now occupy has huge windows that face north and on a busy downtown street. I would often wake up in the middle of the night from my insomnia, grab my camera and photograph the passing cars, street and signal lights using camera movement, processing the images with photo-editing software. The advantage of working at night is primarily about the light—or lack thereof. My favorite time is just before dawn as the sky turns violet and dark blue. The camera I use is a full frame 35-millimeter. I mostly use it hand-held so that I can get camera movement. My go-to lens is a 15-millimeter diagonal fish eye prime with long, sometimes bulb exposures so that I can capture the light in different ways. I use this lens for its distorted effects and it gives me circular images that I can manipulate in post-production.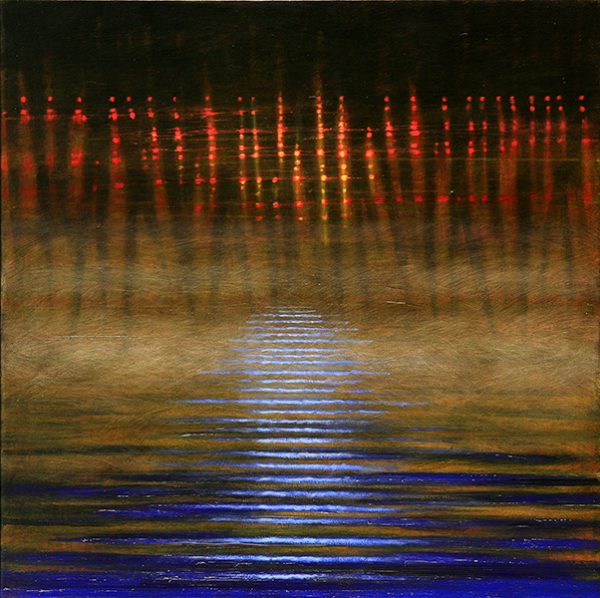 Nelson: Earlier in your career, you lived and worked in Northern California where you painted artwork for such series as Natural Occurrence, The Woods, and Clouds Over Sea. How did the landscape inspire you to depict nature, and why did you decide on oil paints as your medium?
Masteller: Some of my first paintings were landscapes, and I have always felt an affinity to it. My abstract work has always been centered on the landscape as opposed to the figure or non–objective. My deeper interest in painting the landscape directly came about through my painting restoration work. I specialized in early California paintings from the late-nineteenth century through about 1945. I worked on literally hundreds of paintings that were surfacing during the 1980s and '90s, many requiring major restoration, but many just cleaning and varnishing. I had to get up close and personal with many of them, studying and working on them magnified. I would often incorporate some of the painting techniques into my own work as a way to better understand the processes used and to expand my work both technically and personally. I started out painting with oils and still do. I also work with acrylic and watercolor; they each have their own unique characteristics and each painting kind of lets me know which medium to use.
In 1992, I bought five acres in the country where I built my studio. The acreage was almost completely covered with coastal oak trees, which I have always loved. My view was somewhat elevated and I could see the surrounding hills and valleys for miles. At first, I was painting my abstract work, but within about a year or two, I was interpreting my surroundings and it was finding its way into my work. I didn't start out to make landscapes as I feel that my work is principally abstract. In fact, I feel all painting is abstract. And it's this difference and similarity that I find so intriguing about photography.
Nelson: How has your move to Albuquerque and New York from California impacted your artwork?
Masteller: I'm not sure it has, though maybe I'm still in process. I began to move more into "pure" abstraction around 2010 after breaking away from galleries that just wanted my more representational landscape work. I felt that the paintings were going in a direction that I wasn't comfortable with—I needed to move on in more ways than one.
When I was in New York, I was working small, doing figurative abstractions and collages. The figurative works were interpretations of people mostly from those sitting across from me on the subway. I think it was my way of feeling a connection to humanity that I missed in my work in the country. The collages were intimate seven-by-ten-inch mostly cut and torn painted pages from The New York Times.
Albuquerque sometimes reminds me of my years growing up in Los Angeles. It's a city of a million people very spread out and with two major highways crossing from the four directions. The light and climate are similar and very unlike the weather in the Bay Area or New York. When I first set up my studio, I started painting landscape interpretations using cut canvas as a substrate on panels. I think I was attempting to get a feel for this new place, but my work has returned to my more introspective abstraction that I was doing before I left California. So, in that sense, I guess my work is still on the same track, though it has become more formal and I've begun using the grid as a foundation to the forms. The place where I live has metal screens along the stairway and railings. It's in a two-inch grid pattern. I wanted to figure out how I could use it in my painting by painting onto it and pressing it onto the canvas; I gave up on the idea as impractical. But one day, it found its way into one of my paintings and continues on.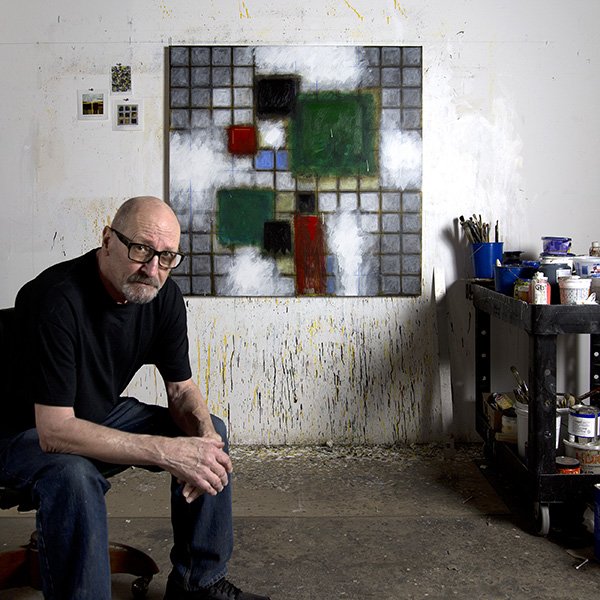 Nelson: What's a typical day like for you in your studio?
Masteller: I used to work an eight-hour day, sometimes splitting it four in the morning and four in the evening when I was employed. Since about 1980, I just work all the time. I feel like I'm always in the studio as I have two. One where I go around 8:00 in the morning and work five or six hours; I use it to paint, stretch canvas, for woodworking and photography. The other is where I live and do my night photography, computer work, and smaller work on paper.
Nelson: How do you see your artwork evolving in the future?
Masteller: I'm just always surprised by the work, I never want it to be static. I don't understand why artists want to be brands or have a consistent look—painting the same painting. I want my work to always be in flux—pushing me in different and new directions. I want to remain focused on abstraction, the process of interpretation and change. How one work affects the next and how my daily life is brought into them as my story and history. Paintings are like time capsules, each one a part of a personal journey.
Nelson: What painters have influenced your artwork?
Masteller: So many did and still do. Rembrandt, J.M.W. Turner, Monet, Daumier, Van Gogh, Kandinsky, Matisse, Picasso, Duchamp, Philip Guston, Joan Mitchell, Pollock, Alberto Burri, Diebenkorn, de Kooning, Cy Twombly.
Copyright 2018 Woven Tale Press LLC. All Rights Reserved.