The Art of Tondo and Gilded Works
Interview by Jennifer Nelson, WTP Feature Writer
Karen Fitzgerald's work has been widely exhibited in the United States, including at the Queens Museum of Art, Islip Art Museum, Rahr-West Museum, Madison Art Museum, Milwaukee Art Museum, Milwaukee Institute of Art Design, the University of Arizona Tucson, and the United Nations in New York. Her work is in the Spencer Collection of the New York Public Library, Brooklyn Union Gas collection, the Reinhart Collection of Germany, the Museum of New Art in Detroit, and many other public and private collections. For the past twenty years, she has been working exclusively in the circular tondo form.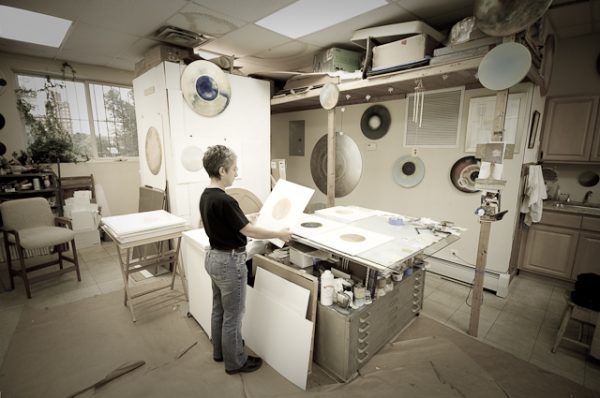 Nelson: For thirty years, you've worked on the circular form known as tondo. How did you come to this form and what are its advantages?
Fitzgerald: I happened to work on tondos somewhat by chance. I was sharing a studio shortly after graduate school. Our stretcher maker stopped in to deliver a partial order to my studio mate. He walked through my space and asked how everything was going. I was armpit-deep in trying to solve a frustrating compositional challenge on several pieces of a nine-piece suite, Nine Mysteries. I shared my frustration. He made his delivery and left. The next day, he returned with the rest of the order. He stopped and gave me a piece of scrap, round birch plywood. He said he'd thought about my frustration and thought this might help. There was a hole at the center, which I filled. I stretched paper on it and tried my frustrating composition. All the issues vanished. I realized it was the corners of the form that were troubling me. I called the stretcher maker a few days later, ordered nine tondos, and never looked back. Working on this form for the first time felt like I'd arrived home, and it still feels that way. The form fits what I want to say about the world, and one's experience in, and of, it.
Nelson: What inspired you to use gold leaf in your oil paintings, as in "Annunciation II" and "Swamped Boat"? Can you describe the technique of creating these gilded works?
Fitzgerald: I learned gilding in 2006 after playing around with iridescent inks and mica-infused paint. I felt a need to make the surface of the work more dynamic. Once I learned to gild, and developed enough competence, I began to use it not only for the dynamic aspects it produces as a surface, but also to re-connect its ancient purpose in the contemporary world. When we examine the primary cultures, all of them used gilding to indicate the sacred. Our contemporary culture tends to see gold in economic terms. Bling is also status.
There are many different techniques for gilding. I learned from a wonderful gilding master who was trained in European processes of gilding. I use a process that depends on oil size (think, glue). A good gild depends mostly on a thorough preparation of the surface you are gilding. It must be sanded, sealed, toned, and then sanded again. Once the gilding is finished, it dries for a day. Then it is cleaned, and sealed. The sealing process can take several days, depending on how many layers and what type of sealer is used.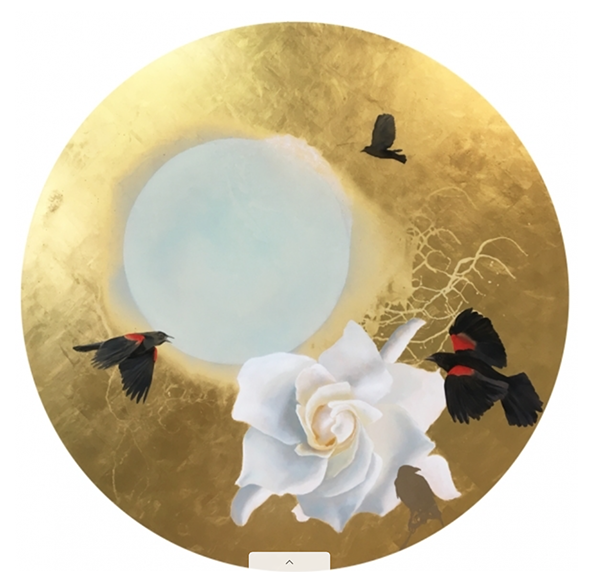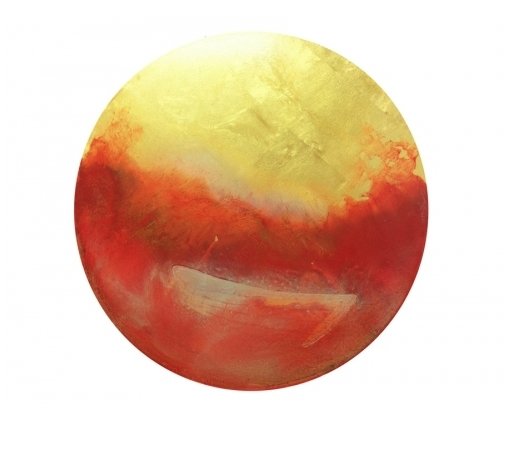 Nelson: You've talked about how viewing a painting can lead to a period of contemplation and deep reflection in which time almost stops. What paintings provide this experience for you? Why do you think it's important nowadays for viewers to experience this?
Fitzgerald: Short of offering a very long list, suffice to say that many paintings offer a time-stopping, contemplative experience. Two favorites hail from the Metropolitan Museum of Art's Lehman Collection. Botticelli's Annunciation (1482–88); and Giovanni di Paolo's The Creation of the World and The Expulsion From Paradise (1445).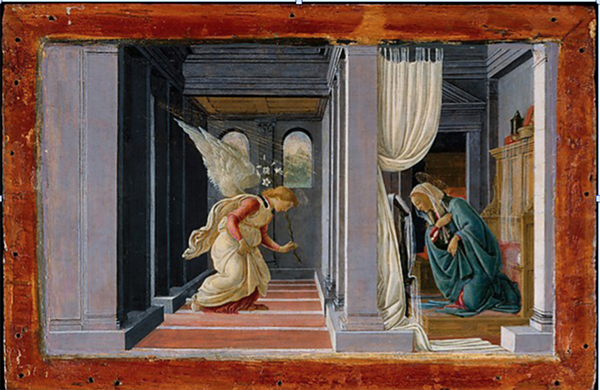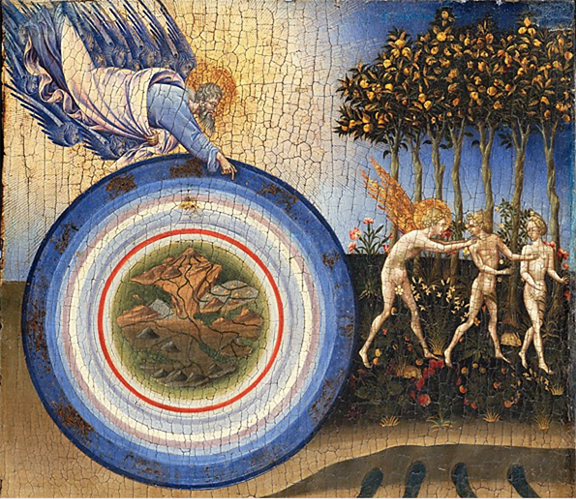 These are modest works—their scale allows for a single viewer at a time. Both pieces address a profound experience, yet do so with a tender visual vocabulary that allows us to feel deeply into the painting. That's the key word: feeling. What a mushy thing it is, yet essential in that this business of feeling functions as a bridge to most everything. (I am not talking here of the purely emotive realm of feeling, as in social interactions when one feels anger, or one feels included.) Feeling as an aspect of looking is like a unity of doing and being, and when we can encounter it as an imaginative experience there is little that is beyond understanding. There is a deep quietness to this experience of feeling. Our world is not a quiet place; any "where" that offers some sort of refuge is becoming more and more essential.
Nelson: Your love of nature comes through particularly in such works as "La Bella Luna" and "Snail," in their subdued colors that are blended together into different geometric shapes. What is the process you use to create this artwork?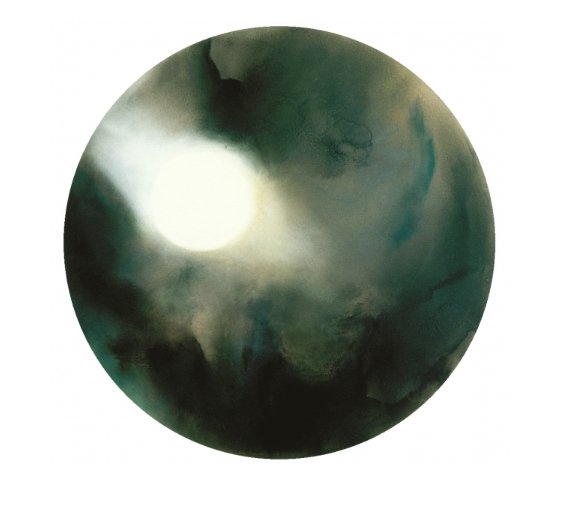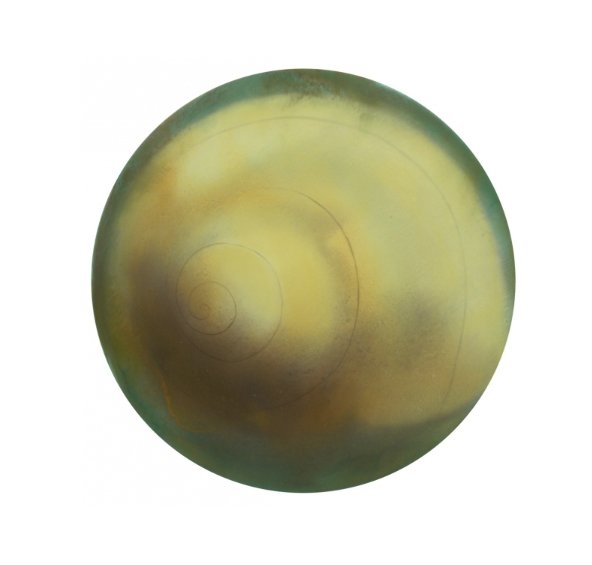 Fitzgerald: I'm often asked if I use an airbrush when I paint. I do not. I developed several techniques for applying oil paint in very thin layers. When you allow the paint to dry between layers, a luminosity develops as you build the layers. There's no quickie way to get that kind of glowing surface. I have a wide array of very soft brushes that I use to remove evidence of brushstrokes. For my work, brushstrokes are anathema to creating the kind of presence that I want the surface and forms to have.
Nelson: Can you describe the process to create your monotypes, such as "Arc"?
Fitzgerald: A monotype is like drawing. While you can do mono-printing by hand, I prefer to make them with a printing press. On a bare plate (there is no information embedded in it), you smear ink. Some artists use oil paint. I like black printmaking ink. It is tar-like, and when thinned, interacts with turpentine to create beautiful, subtle patterns. Once the plate is inked, it needs to dry enough to be printed. Paper is soaked before hand, and then blotted. There are hundreds of subtle things to work with: the drying time of the turpentine, the pressure of the press rollers. All these things impact how the final print looks, and for someone who is keen on the surface of a thing, it means paying attention to all these variables. I'm not foolish enough to try to control them! But I'm very aware of their presence and influence. For "Arc," four oval plates were inked and printed at the same time.
Nelson: In your In the Garden series you use watercolors to create delicate paintings, with softness and lightness. What are the advantages of using watercolors instead of oil in these works?
Fitzgerald: : For a long time I've created drawings outside, in the landscape. Using watercolor pencils, drawing in this way creates an interaction, a conversation with the world you are within. It's not about recording what is present in the manner of a camera's lens. It is about sensing and seeing the energies that are present. Oil paint is cumbersome and slow. Seeing with a wicked-quick medium is the best way to record these kinds of things. It's ludicrous to think I can record energy—but I can record the tracings and trackings of energy. The scientists that work smashing particles together have gorgeous recordings of energetic occurrences. My process is as much a re-creation of energy as it is a recording of it. The watercolors are worked on in the studio after the initial outdoor drawing.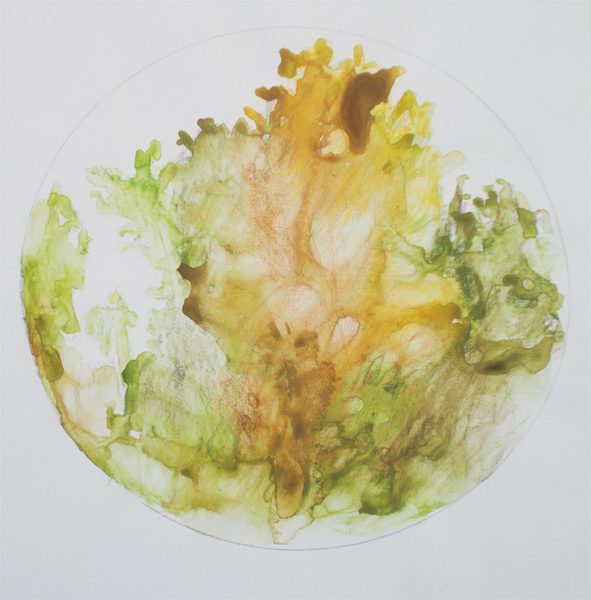 Nelson: How do you balance creating your personal artwork with teaching workshops and providing consulting services to educational communities?
Fitzgerald: One of the challenges of teaching and consulting is the cacophony of energy and ideas that enter into the exchanges and collaborations. Sometimes it takes time to transition to studio work. The energy there is quite different. There is one skill that threads through all the work I do, and that is listening. In the case of teaching/consulting, listening to students and others (teachers) is as important as talking to them; probably it's more important. The same is true for studio work. Ideas have a voice. Once a piece is started, it also has a voice. If I cannot hear it, the work will founder. If I cannot hear my students and co-collaborators, our work also will founder. It will not speak to its deepest capacity.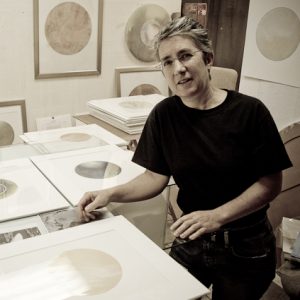 Nelson: How do you see your art evolving in the future?
Fitzgerald: I always feel it is an odd question when someone asks me about the future. When we are in a minute, the next minute seems plausible. I'm not sure about the next hour being plausible. If it's too plausible, maybe our will is too present, too determined. Yet that is how the days unfold. In my work as an artist, I try to have the next minute be implausible. I fail most of the time. But when I'm painting, it goes well because time isn't really present. It's just a long "now."
I'm trying to say that I have no idea how my work will be evolving in the future. I do know that I'm intentional about what my work is. I've spent years perfecting the craft of the work and thinking deeply into the work; I am clear about what my work makes visible, what it gives a "voice" to, what it "says." The experiences it produces when others interact with it shape the future. There is influence there. But I'd never pretend to know what that is. In the same way that the meme about a butterfly flapping its wings in Japan and causes a change of the weather in Texas; that's about the same place of cause/effect consciousness I have about my work and the future. That's not to say I don't have wishes for the work. I do. I think thoughts for the work. I'm investing focused energy into this physical stuff—at this very moment my thoughts are creating a reality that will hold this work within it.
See Karen Fitzgerald's work in WTP Vol. VI #4. 
Copyright 2018 Woven Tale Press LLC. All Rights Reserved.