Wearing Your Happiness
By Sandra Tyler, Editor-in-Chief
Last week, I attended a fundraiser for Healing Headbands Project, Inc., a unique operation that integrates art-making with the perhaps lesser known "art" of laughter. The melding of these two is the healing catalyst for hospitalized children in their daily struggles to get well, even just to survive, and the art generated is then printed onto headbands of soft UV-protected fabric. The headbands are mailed back to their respective artists, and wearing them serves as a tangible reminder that happiness is more than just a state of mind—countless studies have already proven its positive and enduring impact on our physical health.
Since 2015, founder Barbara Grapstein and co-founder Joanie Accolla have brought their Laugh Create Heal® workshops to children in hospitals all across the country, and caregivers and doctors as well have been known to become engaged by these workshops. In these workshops, once the children have experienced their laughter exercises, they might settle down into a resounding quiet, momentarily freed emotionally to take real delight as they paint. This aspiration toward happiness strikes me as both deeply touching and noble—I say noble because it would seem quite a feat to get these children to a "happy" place when mired in the medical. But judging from the vibrancy of the actual outcomes, paintings of  brilliant flowers, hearts, even Gingerella the giraffe, these workshops not only facilitate that healing process, but also allow these young patients moments of real reprieve and even joy. Moments that in the literally long run of actual healing, might prove to rekindle an innocence otherwise often lost.

The fundraiser was held at the Tilles Center for the Performing Arts at LIU Post, and was an evening in celebration of the arts, both the visual and performance, with dance by the Moving On enterprise, also based on Long Island, and even a short act by Long Island comedian Christopher Barnes.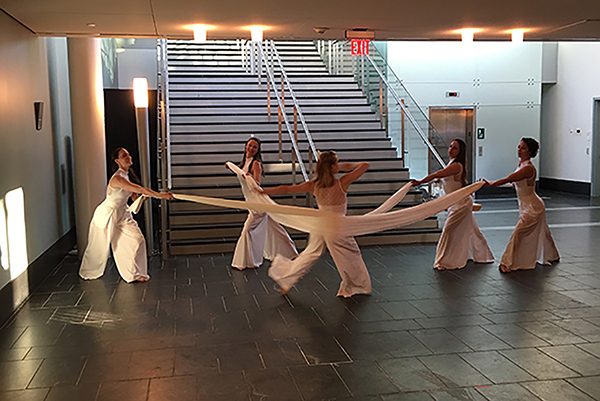 The evening's highlight, however, was the art auction. Beneath each work of art displayed along the back wall hung its corresponding headband. Included were both established artists such as Karen Chandler, perhaps best known for her affiliation with the NASA Space Art Program and the United States Air Force Art Program:
And the more emerging, like Alana Commando, who is working toward her BFA at SUNY New Paltze, but had included a particularly imaginative piece: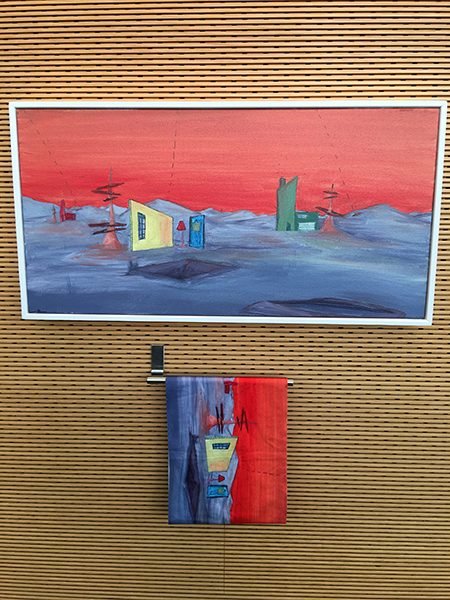 The art ran the real gamut, with works even by designer icon Donna Karan, Keith Richards of The Rolling Stones, and former professional baseball player Mariano Rivera. But Healing Headbands finally isn't as much about the actual art as it is about the making. The act of generating the creative in children and adults alike is a reminder that for both experienced artists and the less experienced, the raw fundamental of art remains the same: how we all have the capacity to find reprieve in a quietude similar to those of children immersed in their painting.
Besides children's hospitals, Healing Headbands has continued support across the United States from community organizations such as Key Club International and worldwide organizations like Girl Scouts of America. Throughout the year Healing Headbands travels around the country, not only to hospitals, but also to businesses, schools, and community centers. If you are interested in sponsoring one of these workshops, or in donating or volunteering, you can find out more information at www.healingheadbands.com.
Copyright 2018 Woven Tale Press LLC. All Rights Reserved.