Inside the Studio offers a behind-the scenes peek into the work environments of WTP artists, as well as insight into their creative process within these resonate spaces.
My Montclair, New Jersey, studio is a small, cozy space in my home, where work often trails down a long hallway just outside, and drifts into other spaces.
In actuality, there is no definitive line of demarcation between my studio space and living space. Quite tidy, except while I'm in the throes of working, it is a sacred place of sorts for me, and my oils, canvas, "contemplative sitting area" (mostly intended for my dog Boo), and flea-market treasures and beach finds, patiently awaiting repurpose. A five-foot work table in the middle of the room serves a multitude of functions, from palette, paint, and coffee holder to assemblage construction site.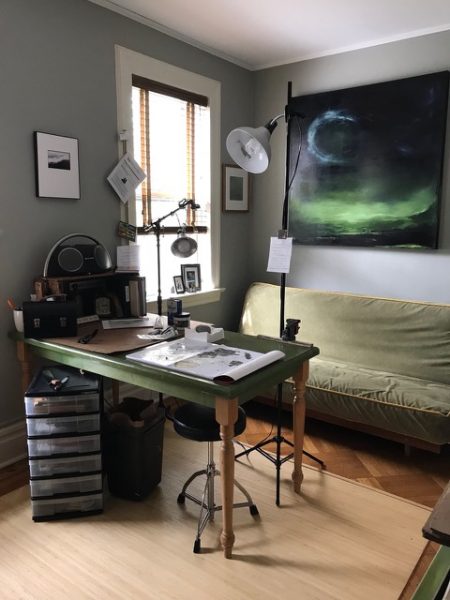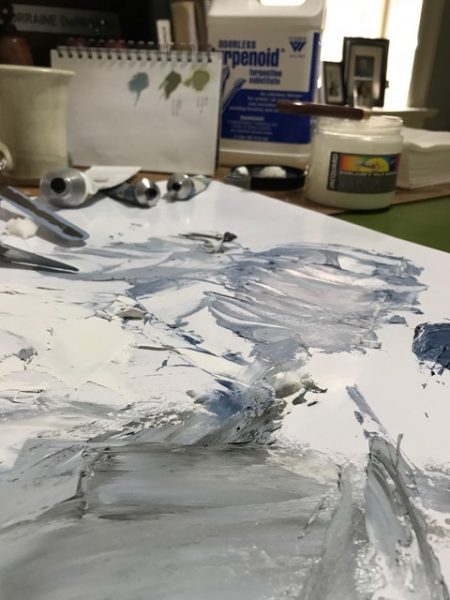 An "extension" of my studio is found on the shores of Cape Cod. This is where it all really begins. I do not actually paint by the water, but I walk the beach at all hours of the day and evening, through all seasons of the year, searching for "clues," and training my senses to see, and more so, to feel, the subtlety, nuance, and rhythms of the sea. I work from memory and feelings, and images of mist, fog, the colors at low tide—my favorite subjects—eventually find their way to the canvas, unsummoned.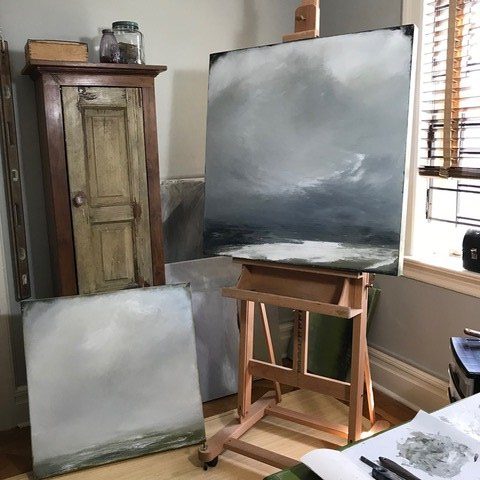 I take simple cell-phone photographs as a means of reference, but I am not particularly interested in duplicating the obvious. Scavenging along the water's edge is a childhood pastime that I've never tired of, and a myriad of treasures fill shelves in my studio, at some point finding their perfect place in my assemblage work.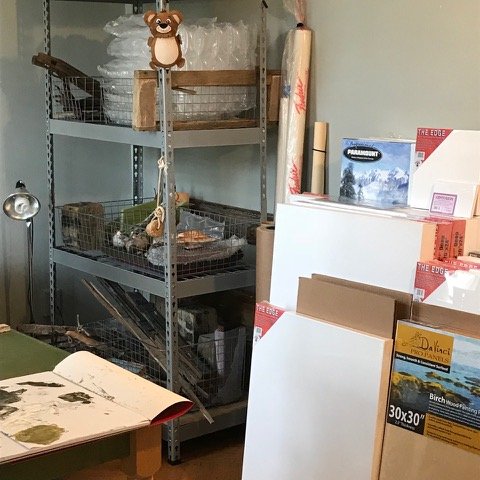 A working day in the studio begins with coffee, music, and the company of my whippet Boo, when he is so inclined to join me. Depending on how things are going, a blank canvas can be exciting or intimidating. I keep my focus on one canvas at a time, allowing myself moments to watch and grow familiar with the new work on the easel, or just walk away for a bit and return with fresh eyes.
I paint almost exclusively with a treasured few palette knives, inclined at times to use feather brushes for final blending, or a brayer in the infancy of a painting, to start what will become a very meticulous blending process as the painting progresses. I also use my hands, in a way that is reminiscent of the joys of finger painting when I was a child.
I have little formal education in painting, having chosen to focus almost exclusively on three-dimensional media in my college days, which, for better or worse, has made me a very intuitive painter. I use a cold wax medium in my work, adding the wax directly into the paint, which adds depth to the imagery and a soft matte patina. My preference leans toward a larger work surface, allowing me a broad sweep of the knives across the canvas, and an involvement of my whole body in the process. I also prefer the "tooth" of canvas to cradled boards, despite the knowledge that painting on a hard surface "makes more sense," given my process and medium.
When feeling a bit timid or unsettled, an uninvited flood of thoughts tends to follow me into the studio, and I'll find myself competing in my head with an older, completed work, or the last (what I consider) successful piece. This chatter is usually a recipe for torment and disaster…for the most part, I prefer to work without much of a plan, which keeps me loose and open to the persuasion of wandering down the "what if" path. I do, however, contemplate color before beginning, having learned the hard way that much paint is wasted and "mud" is easily created without a bit of a plan.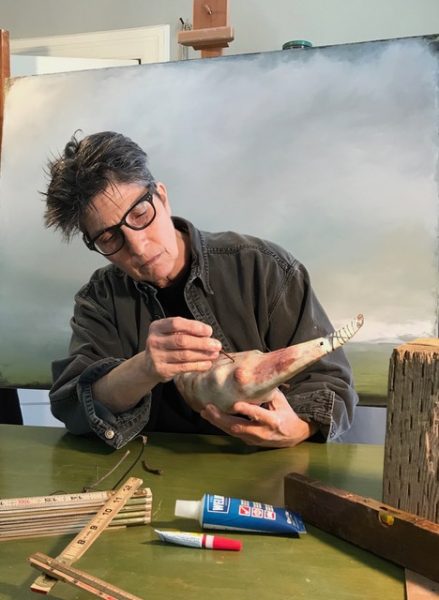 I am no stranger to internal and external chaos within these walls. After a few decades of living in the skin of an artist, I've (almost) learned to reckon with a "bad" day, allowing the possibility of returning the morning after with renewed lust and energy. Truly, there's nothing like the smell of oil paint trailing down the hallway to invite me back inside, over and over again.
See Lorraine DeProspo's work in WTP Vol. VI #4. 
Copyright 2018 Woven Tale Press LLC. All Rights Reserved.