Dichotomies and Hybrid Works
By Richard Malinsky, Arts Editor
Dorothea Osborn is a cross-disciplinary artist who incorporates into her paintings and drawings dichotomies between physical and spiritual realms. Based on the ephemeral and fragmentary of both society and her own personal life, these works are a complex working and reworking of mediums, leading to multiple layers and visible transparency.
Speaking of her work, she quotes Picasso: "no work is truly abstract because the artist always starts from something. I usually establish a piece with imagery from life or sketches, which I alter in a painterly language, both with a conscious and intuitive flow of materials."
Painterly interpretation of these dichotomies are evident in "Infiltrate"—large vs. small forms, hard vs. soft edges, and busy vs. quiet areas. The army of small, opaque geometric forms marching across the surface and invading the larger translucent form is a particularly creative surprise.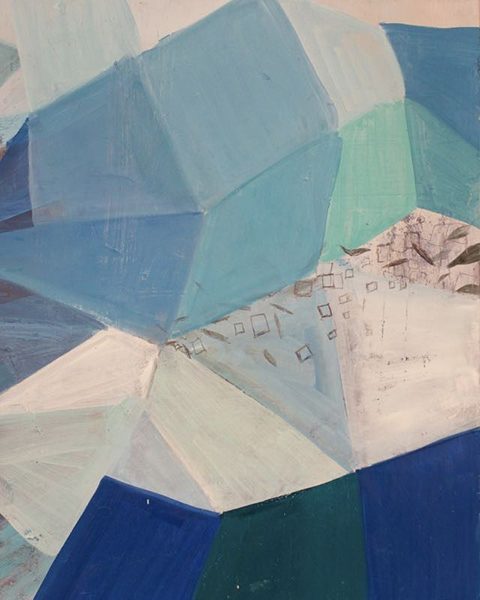 While Osborn most often works on two-dimensional surfaces, she frequently manipulates various materials, including fabrics and found objects, into hybrid works of surprising complexity. The composition "Now" reprises those familiar tensions, but now in concert with a physically rich textured collage surface. I was drawn to the orchestrated movement of lines, which easily could have resulted in total confusion.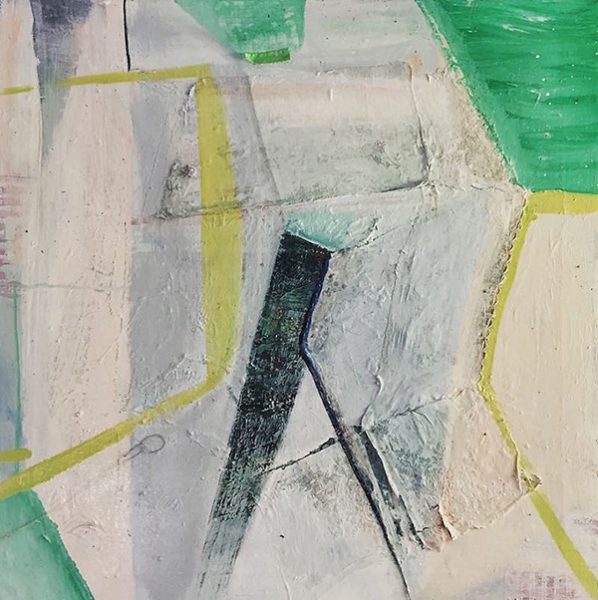 Osborn's drawings are numerous, in both color and in black and white. Some are finished pieces in themselves; others are inspirational concepts for further development as formal paintings. The pink accent in "Urisol" that joins two cell-like forms draws attention to the source of replication and growth of some plant or animal species. Her free-flowing lines convey motion and growth, especially when contrasted against the more structural.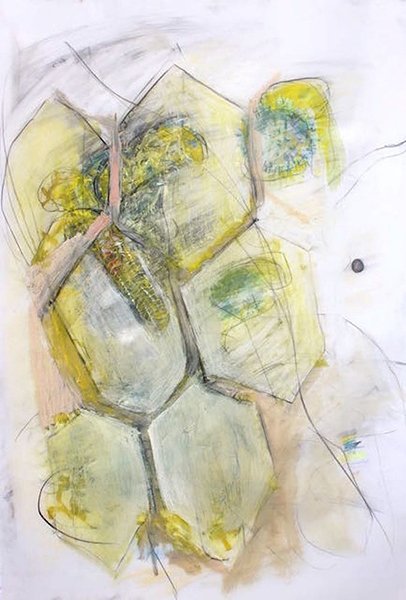 Her classical drawing skills shine in the small graphite rendering "species 2106p1." The delicate relationship of line and tone immediately suggests razor-sharp observation and representation of an exotic plant. What elevates this to a level beyond technique is the fact that this is an imagined species.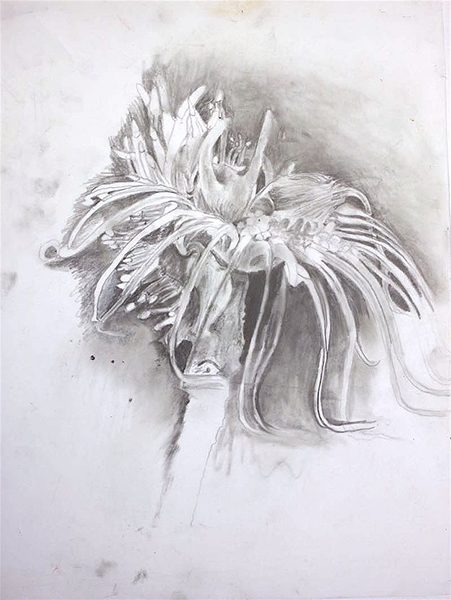 This imaginative bent especially can be seen in her sculptural works, forms constructed from both natural and man-made objects, including plastic, as in "Hybrid Cell #3." Through her process of deconstruction and construction, she reinvents insects, plants, and single-celled organisms. Each is a "[comment] on humanity's influence on our environment…and, ultimately, our own existence."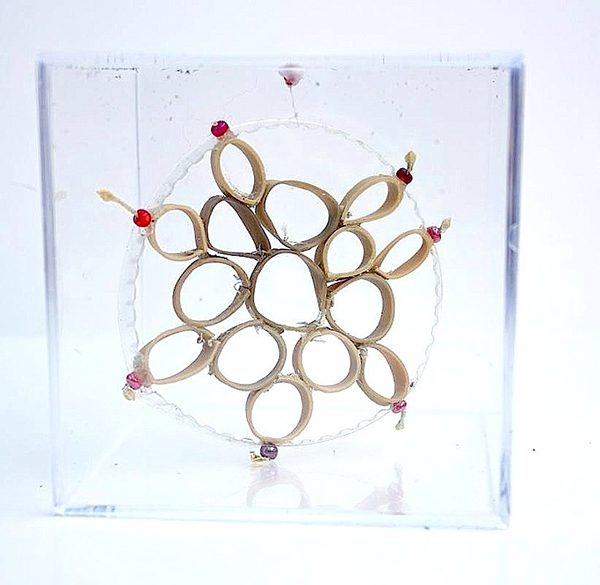 Osborn's recent work focuses on the tension between science (organic) and highly structured (geometric) forms: "My work is of process, action, and associative references where bodily experiences and perception negotiate, compose, and harmonize."
Dorothea Osborn is an instructor at Mass MoCA and other venues. She will be teaching acrylic painting, encaustic painting, and beginning drawing in Spring 2018. Follow her site for times, dates, and location.
Copyright 2018 Woven Tale Press LLC. All Rights Reserved.