"Innocence is the ground of art, its very foundation"
By Martin Mugar, WTP Guest Writer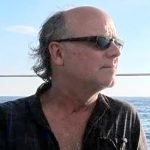 Recently, one of my paintings was included in a curated show at an art center in Vermont. I had no great hopes for the work being purchased or written about, as it was too far from the art circles of Boston. However, toward the end of the show the art director informed me that a local collector had taken an interest in my painting. He wanted to hang it in his home for a trial run to see if it stood the test of time, so to speak.
The painting belongs to a recent body of work whose color has evolved from bubblegum to the more complex and saturated, and with marks transmogrifying into the Cyrillic alphabet. I was flattered that here was a collector in the Vermont woods who could possibly "get it," even as it turned out, only for a week or two—he would have a change of heart.
I was curious, nonetheless, to know what had happened, and when I asked the director about it, she divulged that it was, in fact, the collector's nine-year-old daughter who had been smitten with the work. She had wanted her reluctant father to purchase it, and I envisioned a young aesthete stamping her foot, stammering, "I want my painting and I want it now!"
What she loved about it were in fact characteristics that I thought were no longer part of my work: the candy color and bubbly strokes applied with a cake decorator. "No, daughter, you can't have a painting with the rainbow colors of the Little Pony." I assumed that to have a painting with such cloying infantile traits was more than he could stomach, even if it might have pleased his daughter. Anyway, realist that he presumably was, he knew that one day she would outgrow it and, like all her childhood toys, it would be relegated to attic clutter.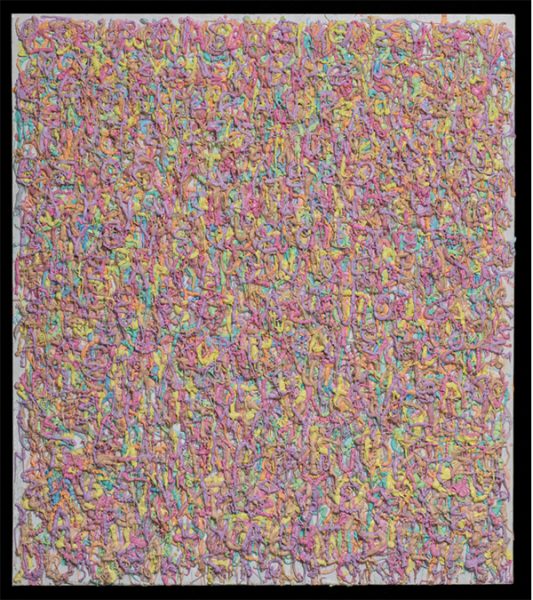 Is there a moral to this story? Although certain critics have deciphered a hidden sinister aspect to my work disguised by the colorful pastry-applicator strokes (Rosanna Warren) or a sense of time in their paced application (David Raymond), my paintings have made several people angry to such a degree, they were compelled to comment on my blog how repulsively saccharine they appear in color and mood. In the case of one artist/critic, who I was hoping would review my work in Art New England, he had no idea what they were about. He just drew a blank. On the other hand, the use of my candy colors has elicited excited responses, as in Provincetown years ago, where my work was shown at DNA and Cate McQuaid in The Globe remarked twice on the sensuality of the work, first in a show curated by Charles Giuliano. Though in her second review, she found the sensuality was over the top.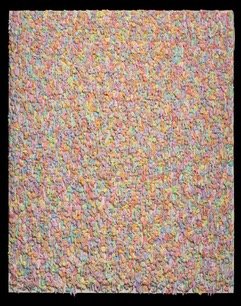 From my perspective, the paintings challenge the typical viewer who is habituated to color used in optical color swatches in so much of the "Shake and Bake" abstraction that I see online. My use of color eliciting synesthesia to merge appetitive and visual experience appealed to the hedonistic P'towners.
But what if this child aesthete saw in the work something that partakes of the dichotomy between innocence and experience?
Barbara O'Brien, former director of the Kemper Museum, quoted Milton in her titling her exhibition of my works: "A Wilderness of Sweets." The late Addison Parks pointed to my predilection for the feminine in his reviews on Artdeal, on first appearance of this style at a Crieger Dane exhibition, where he observed a paradisiacal return to the Garden.
Assuming that my premise is correct, that what the nine-year-old girl saw in the work is analogous to the simple and innocent joys of a childhood toy like the Little Pony, I am reminded of analogous pleasures in Blake's "The Lamb": that mood of Spring, that eternal recurrence of the prancing newborn lamb's sheer delight in being alive. What is interesting is that this poem is written in the persona of a child. It universalizes the spirit of the child's and lamb's innocence. What is this innocence? Why must innocence exist, when the lamb's frolics in the green of Spring, end only in the lamb's slaughter a few months later?
The Lamb
Little Lamb who made thee
Dost thou know who made thee
Gave thee life & bid thee feed.
By the stream & o'er the mead;
Gave thee clothing of delight,
Softest clothing wooly bright;
Gave thee such a tender voice,
Making all the vales rejoice!
Little Lamb who made thee
Dost thou know who made thee
Little Lamb I'll tell thee,
Little Lamb I'll tell thee!
He is called by thy name,
For he calls himself a Lamb:
He is meek & he is mild,
He became a little child:
I a child & thou a lamb,
We are called by his name.
Little Lamb God bless thee.
Little Lamb God bless thee.
The Painting that Entranced the Girl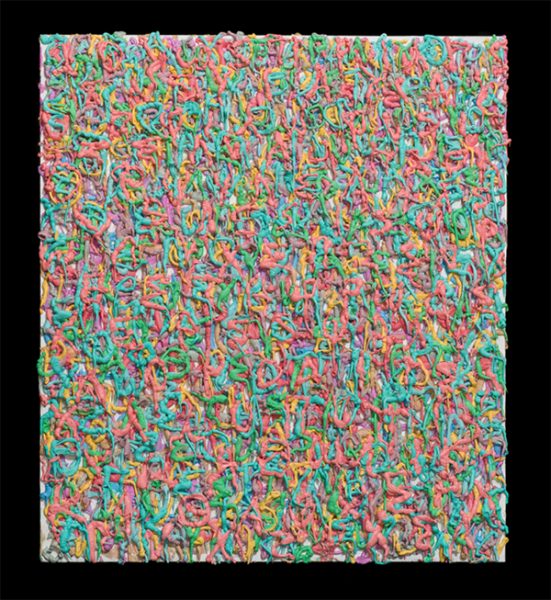 Let us all be realists and scowl at the girl's love of her little pony. But what then is experience without innocence—why do I, in my painting, linger in this realm of peachy-keen colors? The lessons of experience need to be learned—and they will be one day by this young art enthusiast. But the lesson she teaches this artist is that innocence is the ground of art, its very foundation. When the child becomes an adult, that innocence may be superseded by this, the learned. And even though Little Pony one day too will be relegated to the attic, I will remain attentive to the truth of color, to that young girl's raw enthusiasm for just being alive.
Martin Mugar's work has been included in numerous group shows, and in solo exhibitions at the Creiger Dane Gallery, The Bromfield Gallery and the MIT Museum, in Boston, and frequently at the Bowery Gallery in New York City, among others. It is also included in the public collections of The Weatherspoon Museum, The Danforth Museum, The Boston Public Library, Tufts University Museum, The Fuller Museum, Merrimack College and Simmons College. He received his BA cum laude from Yale College in 1971 and his MFA from Yale University in 1974. He has taught at the University of North Carolina, the University of New Hampshire, Dartmouth College, and the Art Institute of Boston.