"Many of my pieces involve creating
hundreds of tiny individual elements…"
Interview by Jennifer Nelson, WTP Feature Writer
Laurie Borggreve is an American artist and sculptor. Her early years were spent studying design, studio arts, and art history in Minneapolis. After graduating from the University of Minnesota, she moved to San Francisco, where she focused on painting and began her career as an art director and designer at the Landis Design Agency.
Over the past fifteen years, she has continued to explore fine art and design while living and working in Minneapolis, Chicago, and New York. She now combines her knowledge of multiple disciplines to create mixed-media sculptures and artwork. Her work has been exhibited in Minnesota, Wisconsin, California, and Chicago. Until last year, she worked as an art director at Swivel Design in Minneapolis.
Nelson: For almost twenty years, you worked as an art director at Swivel Design. How did this experience inform your own artwork?
Borggreve: My time as an art director and designer taught me to apply structured processes to solve design challenges. To this day, I find it surprising how much my design experiences continue to inform my artistic process.
For example, as my work has become more sculptural and moved beyond painting, I have used my design skills to develop large templates when I need ideas to lay out in a precise way. I also find many basic design principles such as balance, space, alignment, repetition, and contrast coming through in my work.
From a business perspective, having a design background has been invaluable for developing my website and marketing materials and documenting my work. For years, I felt that my skills as a designer should be completely separate from my life as an artist. It wasn't until I allowed myself the freedom to combine the two experiences that I finally began to see my artwork flourish and feel a deeper connection to my process.
Nelson: In "Bills and Pills," you filled tiny, pill-shaped forms with wrapped-up dollar bills, and then arranged these forms into the shape of a dollar bill. What exactly was involved—besides great patience—in the assembling of this work, what involved hundreds, if not thousands, of individual components?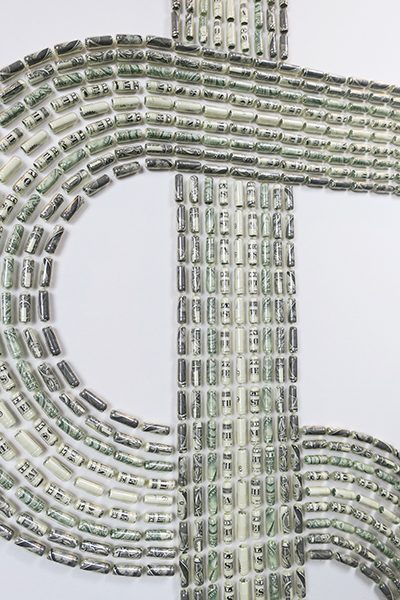 Borggreve: Creating "Bills and Pills" was a lot like playing the game Operation. It took lots of patience, a good pair of tweezers, and a steady hand. I began by designing a template for the spacing of the individual capsules that form the dollar sign. I then transferred the template onto one of the custom Ultraleather boards I make. I used an X-Acto blade to slice dollar bills into tiny sections and placed them into the capsules. I used specific areas of the dollar to create the illusion of depth within the image.
Many of my pieces involve creating hundreds of tiny individual elements that I then put together to form an entire piece, sometimes they end up in the thousands, as in: "The End," "Alpha," "Beta," "Gamma," and "I Want It Now."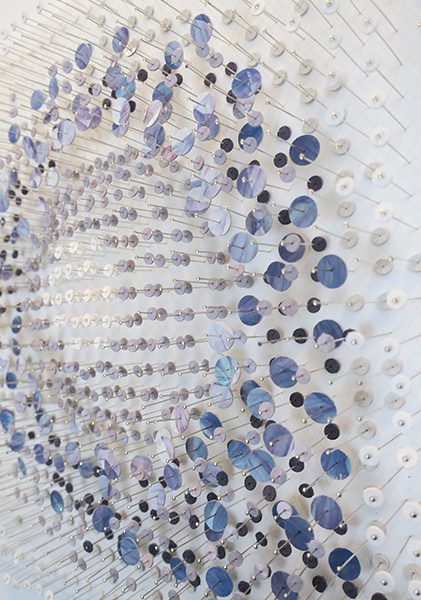 Nelson: How does the natural world influence your work, particularly in such works as "Unrequited" and "Inescapable?"
Borggreve: I grew up camping and gardening, and have always had a love of nature and the outdoors. The inspiration I get from the diverse colors and forms of the natural world often end up making their way into my work. For my Birdcage series, "Unrequited," "Inescapable," "Uncaged," and "Excluded" (in progress), I found that various configurations of birds, flowers and cages were ideal components to illustrate some of life's predicaments.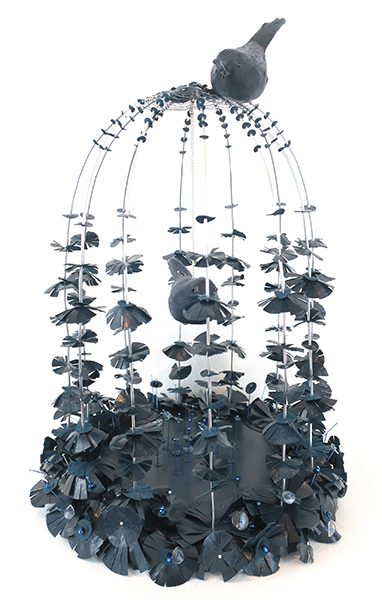 Nelson: In "Double Vision," you collaborated with artist Rhonda Zettlemoyer. How did this collaboration come about, and what are the advantages of working with someone on a project?
Borggreve: Last year, I had the opportunity to do a collaboration with an artist working with a disability. Working with Rhonda was a great pleasure and over a three-month period we created "Double Vision." Although our styles are quite different, we figured out a way to incorporate her dramatic eye paintings with my techniques using leather and metal. In the end, one of the biggest advantages of working with Rhonda is that we were able to create something together that neither one of us would have imagined on our own. I found that getting to know another artist through a collaboration is a unique process that gave me a different perspective on how I create my own art and who I am as an artist.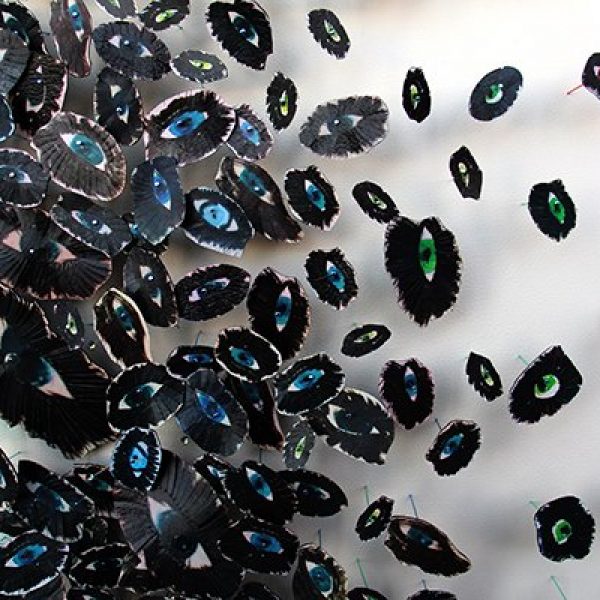 Nelson: Your Time and Chance series involved using a photographic print on a velvet rag. What materials and techniques did you use to create this piece?
Borggreve: Over the past year, I have been experimenting with using photography to remove the dimensional aspects from a sculptural piece and replacing it with other physical textures and visual elements.
For example, in the Time and Chance series, I enhanced the transparency and reflection of the glass, tinted adhesives, metal, and clear thread, with the use of intense natural light. I then introduced a new physical form by printing these glossy visual elements on textured, velvet rag paper. I'm interested in how this process can transform the original three-dimensional elements into a new visual experience. I've been exhibiting these photographs with the original sculpture to show how form, texture and light can be manipulated and delivered.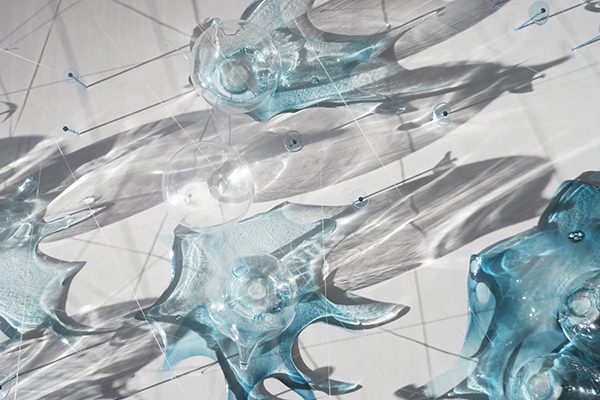 Nelson: What is a typical day like for you in your studio?
Borggreve: A typical day in my studio usually starts around eight a.m. I like to get in six to ten hours a day, seven days a week. I usually have music playing, unless I'm writing, as I find it gets me in the right flow, and I can work for hours without a break. Because of the highly detailed and repetitious nature of my work, I like to work on three to four projects at a time. This gives me the chance to switch things up and gives my eyes and hands different jobs throughout the day. I also usually dedicate a portion of my day experimenting, writing, researching opportunities, or documenting my work.
Nelson: How do you see your artwork evolving in the future?
Borggreve: I see a lot of possibilities for the future. I'm especially excited about my work with tinted adhesives. I came from a long line of chemists, going back to my great-grandfather, so I think formulating various adhesive mixtures satisfies the "mad scientist" in me.
I believe that using unconventional materials and addressing current events will always be an important part of my future work. Right now, I'm experimenting with preserving hundreds of roses for a new piece called "Lust." I'm also working on a social media themed piece entitled "Delusions of Grandeur." I see my future work evolving into larger installations and I am also interested in further exploring public art.
Copyright 2018 Woven Tale Press LLC. All Rights Reserved.