Spring 2018
By Marni Elyse Katz, WTP Art Correspondent
Four times a year, WTP art correspondents from around the country will report back on the previous season, with images from exhibitions you otherwise might have missed, and their own insights into these varied venues.
Late winter in Boston (called spring in other parts of the country) marks one of my favorite art events of the year, the MassArt Auction. The MassArt Auction is the high roller around here—this twenty-ninth annual blowout raised over one million dollars for student scholarships and academic programs.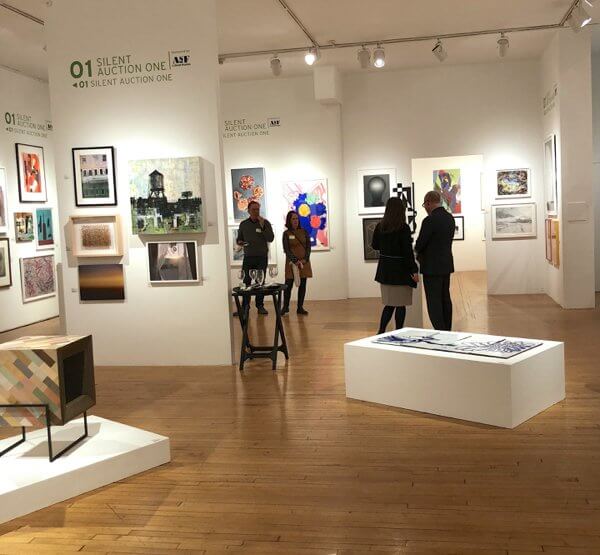 While I've enjoyed the festive auction night in the past, this year I attended a private preview instead. No fancy catering or signature cocktails, but a lot more elbow room for actually taking in the artwork.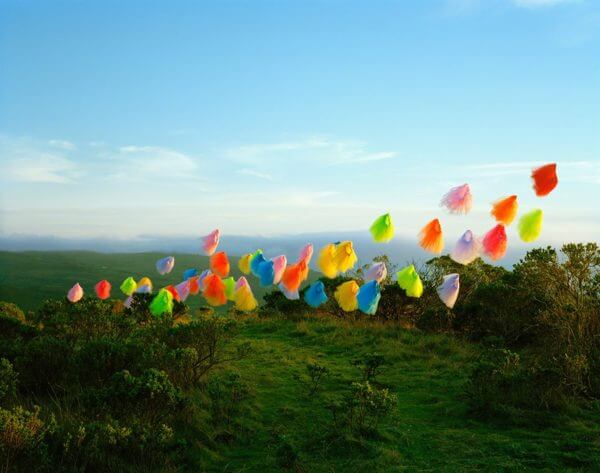 Last year, I was immediately drawn to a photo by Thomas Jackson, of pink plastic cups flying through a landscape, from his series called Emergent Behavior. This year, Jackson submitted another from that series, "Tutus no. 3, Half Moon Bay, California." I've been a bit obsessed with photography depicting levitating women; add hovering inanimate objects to the list. New works include translucent plates in neon hues floating through beachscapes.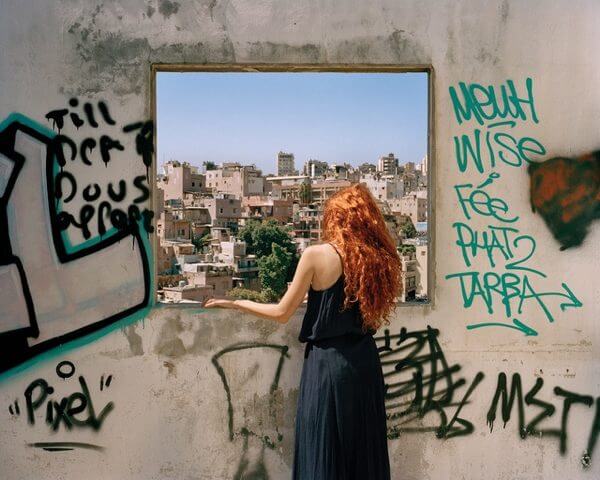 Another photo I fell in love with is Rania Matar's "Nour, Beirut, Lebanon." This too would be no surprise to those who follow my tastes in photography; I am also quite interested in the subject of the obscured woman. Matar, a Lebanese-born American, concentrates on the lives of girls and women in the Middle East. In 2009, she offered workshops to teenage girls in Lebanon's Palestinian refugee camps. She attended New England School of Photography and the Maine Photographic Workshops, and currently teaches at MassArt.
Moving on to abstract painting, but sticking with the theme of women, let's take a peek at a show I saw during Newton Open Studios. Seven local female artists—Caron Tabb, Cindy Cuba Clements, Jane Feigenson, Jasmine Chen, Kelly Knight, Nancy D'Agostino, and Ashley Procopio mounted a pop-up exhibition in empty storefronts along Washington Street.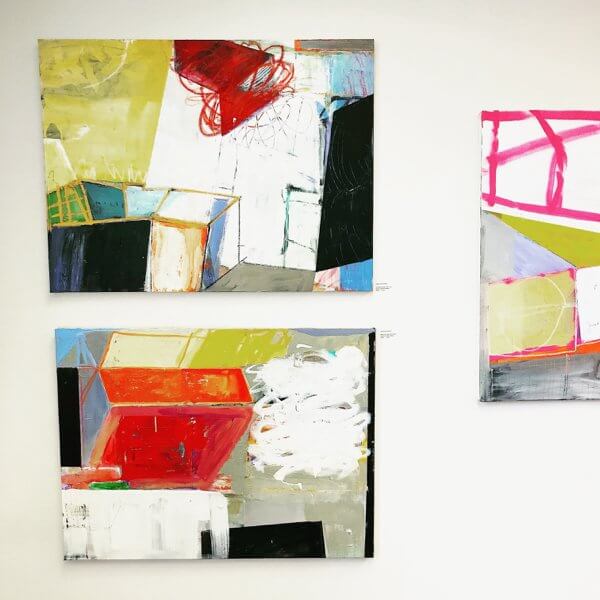 I met Cindy last fall at the Nasty Women Boston exhibit, and we have crossed paths several times since, in all different capacities. Not sure what took us so long to connect. Her work is bold and expressive. It's as though the tension of her geometric shapes incite the looser circles and spirals, rendered with abandon, to burst forth.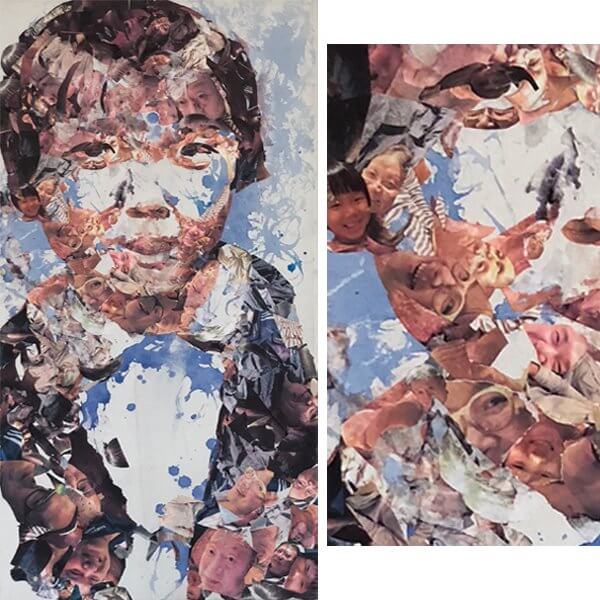 It was a pleasure to meet artist Jasmine Chen for the first time at the show. Chen was born in Beijing during the Cultural Revolution, studied applied mathematics a Harvard College, earned a PhD in Behavioral Economics and Finance from Brandeis University, and studied art at Rhode Island School of Design and the Museum School of Fine Arts, Boston. As you can imagine, she has many interesting ideas, which she expresses in various mediums. Her collage portraits clearly illustrate her process of tearing apart and putting back together in order to make a spiritual connection with the viewer. As you can see in the detail, this portrait is comprised of photocopied photographs, along with paint.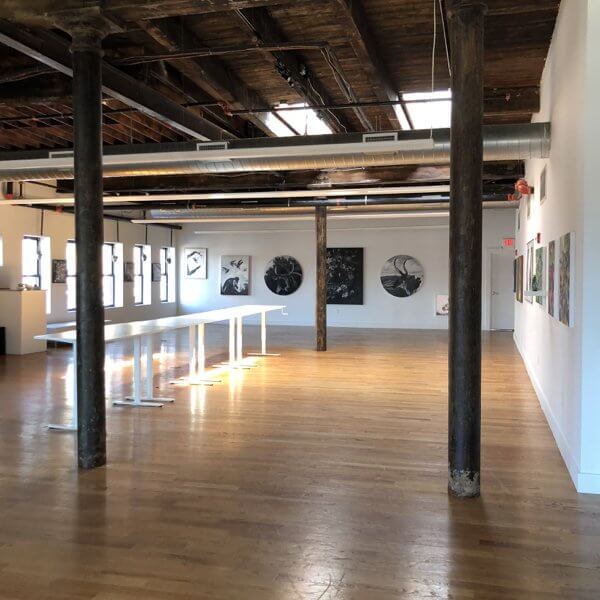 Olivia Ives-Flores (Olive to her friends) is an artist, curator, and designer who recently opened Gallery Oh! in a three-thousand-square-foot, sun-drenched loft at the end of Newbury Street. Menagerie: Flora x Fauna featured work by seven contemporary artists, including her father, Cuban painter Enrique Flores-Galbis, who debuted his new style of work here.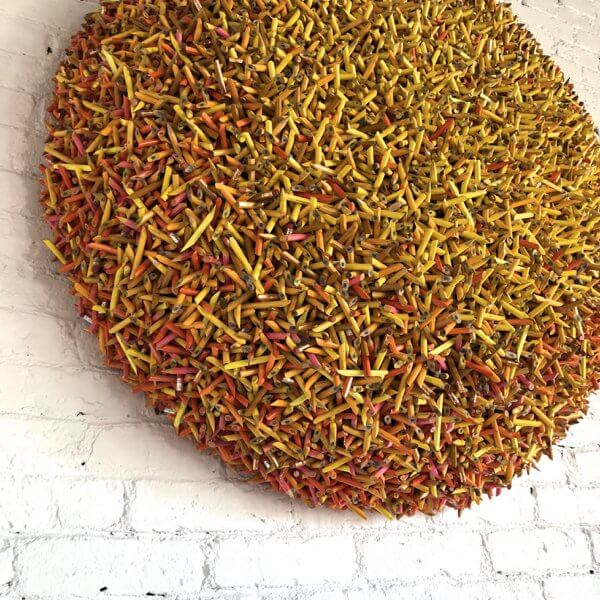 The show opens with the bold sculptures of Columbian-born, Miami-based artist Federico Uribe. Look carefully, they're not only what they appear to be. Many, including "El Sol," are made from colored pencils. Its tactile nature and sophisticated representation of a childlike material makes it rather alluring. At a distance, one is drawn to its simple volume and bold color; up close, it's unexpectedly whimsical and elicits wonderment.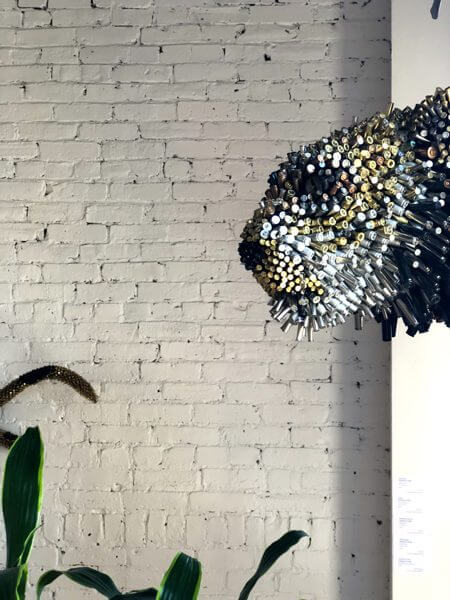 Other pieces, such as his wall-mounted works that reference taxidermy, are made out of bullet shells. Ives-Flores says: "He's bringing objects back to life with shotgun shells."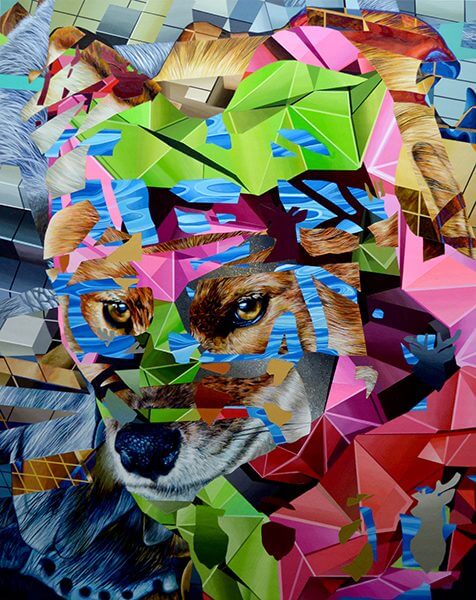 Juan Travieso, a young Cuban-born artist who Ives-Flores met while they were both students at The Museum School of Fine Arts, Boston, works out of Miami and New York. While I've seen his work at the SFMA sale in the past, I did not know much about him. He's a favorite with young collectors in Boston. His depictions of animals are equally as bold and quite colorful. His melding of realism and geometric abstraction is fresh and fierce.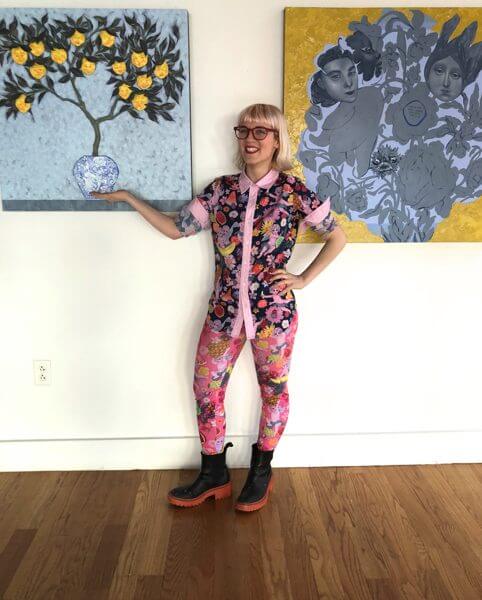 You may have heard of Jordan Piantedosi, even if you're not from Boston. She is the artist behind Season 15 Project Runway winner Erin Roberston's funky fabrics. Piantedosi is a self-described "interdisciplinary maximalist," which you can see here from her outfit. She happened to pop by the gallery to hang out and paint when I was there, and kindly chatted and posed. So, yeah, that's an everyday sorta outfit for her.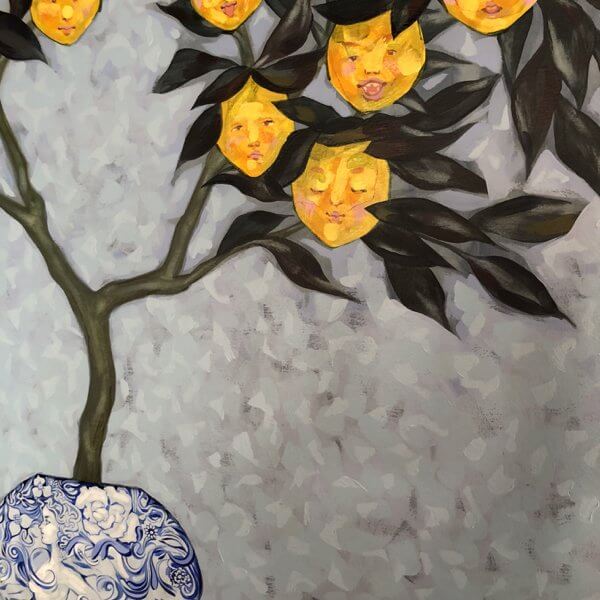 Piantedosi is interested in the element of surprise, and things that are hidden. She calls "Lemon Tree" a bit of a gag, because it looks normal from a distance, but up close, well, those lemons are smiling at you. She says, "I hate when you get up close to a painting, and it disappoints." I told her and Ives-Flores of a television show from the seventies, The Magic Garden, which had a giggling flower garden called the Chuckle Patch. Check it out.
Just a little side note. There were so many threads of this exhibit that intersected in my life as a style journalist. When I visited Gallery Oh! I was producing on the Most Stylish Bostonians issue of Boston Globe Magazine. Ives-Flores was one of this year's Most Stylish; Jordan Piantedosi was one of last year's Most Stylish, and another Most Stylish, Bianca Sigh Ward, who used to work at the School of Museum of Fine Arts, Boston, told me in her interview that Travieso is an artist who influences her style. How's that for small world?
Finally, last week, before my haircut, I stopped by Gallery NAGA, located on the first floor of a neo-Gothic stone church on Newbury Street. (Apparently, ladies getting haircuts are frequent visitors, which I find funny. I guess art lovers need haircuts too.) There are two powerful shows currently hanging.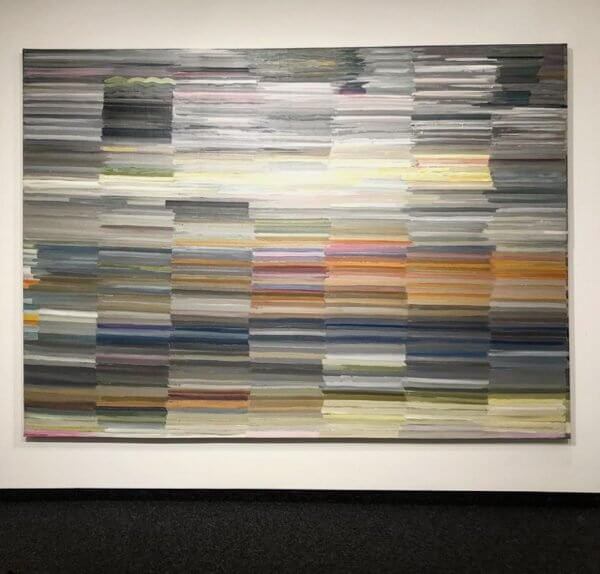 Bryan McFarlane's abstract works comprising Like the Weather are subtle and soothing, yet strong. At 99″ x 138″, the headlining piece, "Like the Weather," is the largest the gallery has shown. (The canvas arrived rolled, then they mounted it on a three-part frame.) The evocative bands of color are expressions of weather patterns elicited from data he helped collect from the ocean floor with a team from MIT.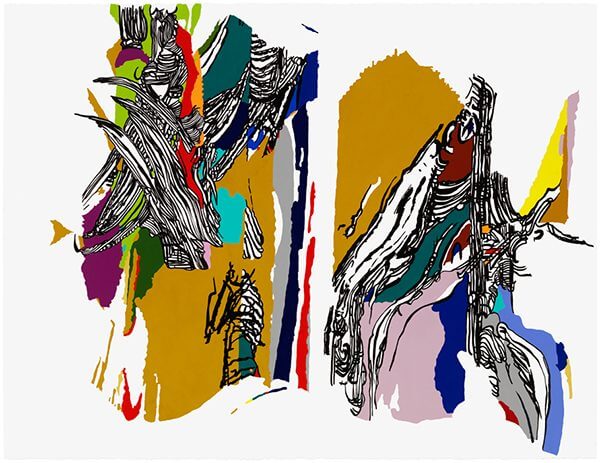 Sophia Ainslie's works in Last Touch are also rooted in science, in process and for inspiration. To create these oversize works on paper, Ainslie uses a computer to dissect, edit, and collage fragments that she's mapped through light projections. She derived inspiration for the irregular shapes, later boldly colored, from a single X-ray of her mother's abdomen. Flat washes of color interrupt an abstracted landscape made with India ink brushed onto the paper, consciously blurring the lines between hand-made and machine-printed.
If you are interested in becoming an art correspondent for WTP, please inquire at wtp@thewoventalepress.net
Copyright 2018 Woven Tale Press LLC. All Rights Reserved.