Spring 2018 Highlights
By Emily Nimptsch, WTP Art Correspondent
Four times a year, WTP art correspondents from around the country will report back on the previous season, with images from exhibitions you otherwise might have missed, and their own insights into these varied venues.
This spring, a slew of the city's most illustrious art galleries and museums dove into several of life's heavier issues, including racial and sexual tensions, national identity, social justice, and misogyny. Both long-established luminaries and up-and-coming talent investigated these weighty topics through a variety of traditional and avant-garde mediums, such as painting, sculpture, collage photography, and even graffiti. Below is an assortment of Los Angeles's most buzzworthy, provocative, and groundbreaking exhibitions this season had to offer.
Arts District
As the co-producer of the famed Banksy-directed documentary, Exit Through the Gift Shop (2010), as well as the curator behind the massively popular 2011 Museum of Contemporary Art exhibition Art in the Streets, graffiti-and-street-art historian Roger Gastman is currently back with his much-anticipated follow-up, Beyond the Streets. Housed within a repurposed forty-thousand-square-foot warehouse, this sweeping spectacle boasts maze-like corridors, cavernous open spaces, and jaw-dropping, cutting-edge works from over one hundred renowned graffiti and street artists, including Banksy, Shepard Fairey, Jean-Michel Basquiat, and Takashi Murakami. Beyond the Streets celebrates the beauty, ingenuity, and socio-political activism of this inherently subversive genre. Here, Gastman declares that this artistic movement, once relegated to street corners, is officially contemporary art and should be appreciated as such.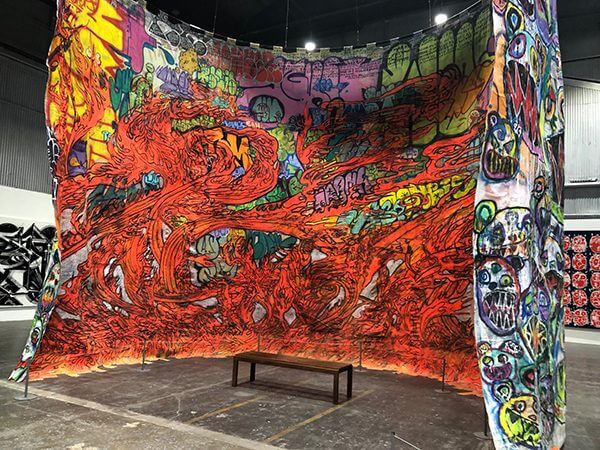 Although typically known for his experimental photo-collages and cotton candy–colored visions of Los Angeles, beloved British Pop artist David Hockney recently started taking stock of the people in his life through portraiture. Following a minor stroke in 2012 and the tragic death of an assistant shortly thereafter, this living legend began crafting enthralling depictions of friends and art world elites, such as gallery owner Larry Gagosian, art-book publisher Benedikt Taschen, and celebrated Canadian architect Frank Gehry. On display in LACMA's David Hockney: 82 Portraits and 1 Still-Life along Los Angeles's Miracle Mile are also poignant and intimate paintings of studio assistant Jonathan Mills, dentist Merle Glick, housekeeper Doris Velasco, and Hockney's sister, Margaret. Gazing into the eyes of Hockney's confidants, acquaintances, and peers, one comes to understand the value of community and recognize that together, these sitters helped reinvigorate the eighty-two-year-old artist and reawaken his passion for the genre.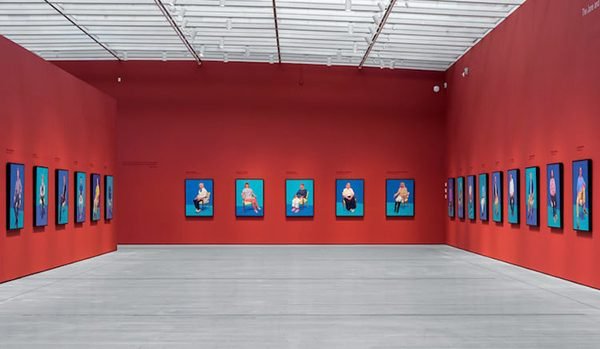 Brooklyn-based conceptual sculptor Rashid Johnson expertly tackles issues of racial injustice, cultural identity, and protest, in his latest presentation at the David Kordansky Gallery, The Rainbow Sign. This searing exhibition borrows its title from an oft-cited Biblical passage in James Baldwin's 1963 bestseller, The Fire Next Time. It warns, "God gave Noah the rainbow sign, / No more water, the fire next time!" While many associate the rainbow with notions of peace and hope, here it signifies a mere interlude, a harbinger of more destruction to come. Tying this ideology to slavery and racial prejudice against African-Americans, Johnson urges humanity to overcome this long-standing hatred now or face cataclysmic consequences in the future. Undoubtedly the moral centerpieces of this collection, Johnson's Robert Rauschenberg- and Joseph Cornell-inspired wall sculptures not only act as working microphones, a symbol of societal activism, but also subtly allude to African culture through rectangular sections filled with molded shea butter, a cure-all moisturizer originally found in West African countries. Explaining this material choice, Johnson expounds, "When I was younger, I would see shea butter being sold on the street, and I was interested in how people were still coating themselves in the theater of Africanism. Although the members of this community were thousands of miles of away from African shores, they still felt a nostalgic pull towards the beauty rituals of their homeland."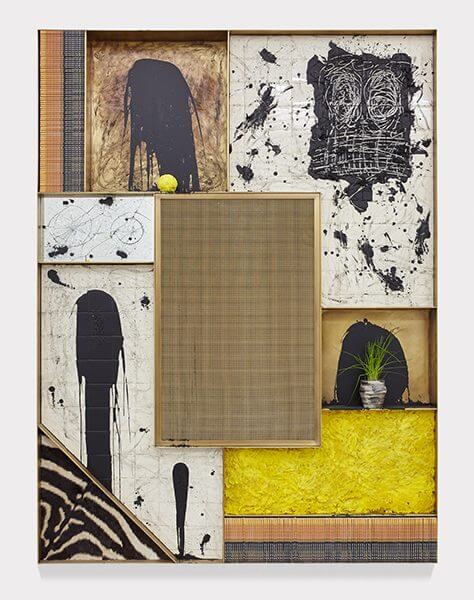 Fairfax
What is the meaning of womanhood? In her recent Shulamit Nazarian exhibition, I AM THE HOUSE, Los Angeles–based multimedia artist Fay Ray explores the nuances of this question via black-and-white collage photography and suspended metal sculptures. Teeming with traditionally feminine objects and symbols, including eggs, diamonds, chalices, flowers, feathers, and seashells, these surrealism-inspired, whimsical works reveal the female form to be a vessel, carrying not only biological offspring but also memory, melancholy, joy, and the divine.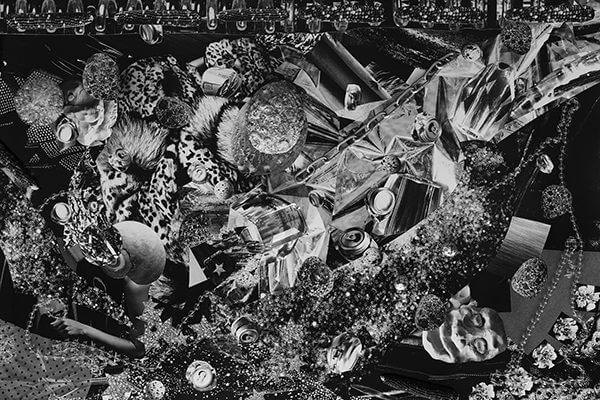 Culver City
Almost cartoonish in their satirical tone and saturated hues, the Pop art–inspired paintings and drawings of late American figurative artist Robert Colescott (1925–2009) contain many adult themes, including sexual hedonism, gender dynamics, social inequality, and racial stereotypes. This past spring, Blum & Poe Los Angeles celebrated this renowned artistic legend's sixty-year career through an eponymous, poignant, and witty retrospective. At the very heart of this collection, the viewer finds 1978's Bombs Bursting in Air. Here four women sing the national anthem in festive red, white, and blue costumes while the lead performer's ample breasts appear ready to burst out of her corset top. Resembling a line-up of can-can dancers with their striped bloomer shorts, these seductive figures echo French draughtsman Henri de Toulouse-Lautrec's dizzying depictions of the scandalous goings-on at the Moulin Rouge in Paris. Vibrant, humorous, and jazz-like in their visual cadence, these breezy, eye-catching paintings and salacious sketches make it nearly impossible to look away and ignore their significant social messages.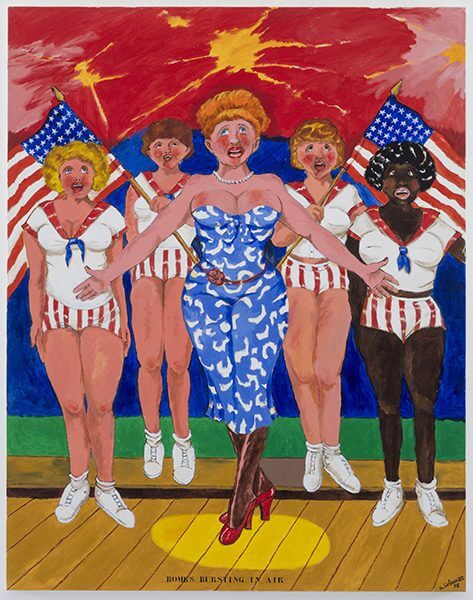 If you are interested in becoming an art correspondent for WTP, please inquire at wtp@thewoventalepress.net
Copyright 2018 Woven Tale Press LLC. All Rights Reserved.