Spring 2018 Highlights
By John S. Berman, WTP Art Correspondent
Four times a year, WTP art correspondents from around the country will report back on the previous season, with images from exhibitions you otherwise might have missed, and their own insights into these varied venues.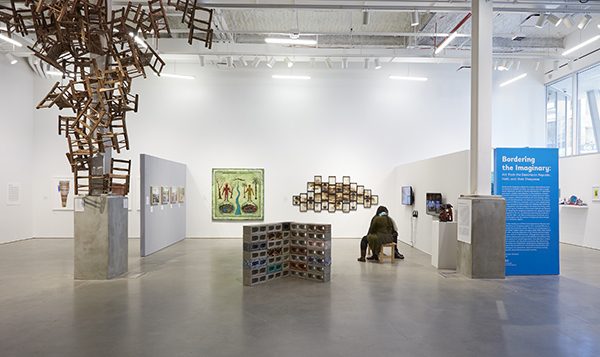 I am always hesitant to describe any art exhibition as "groundbreaking," given how overused and cliched the term has become. But sometimes a show comes along that is so original, dynamic, and paradigm-shifting, it warrants the tag. This spring, BRIC Arts Media, under the leadership of its Vice President of Contemporary Art Elizabeth Ferrer, unveiled Bordering the Imaginary: Art from the Dominican Republic, Haiti, and their Diasporas in its spacious and welcoming Fort Greene gallery.
The exhibition, curated by Abigail Lapin Dardashti, succeeded both conceptually and aesthetically in articulating a new understanding of how "border culture" on the island of Hispaniola has created both a distinct and intertwined identity for people on both sides of the divide, and also influenced Dominican and Haitian artists, including those who grew up in the United States. Despite Dardashti's clear political mission of subverting dominant historical narratives from the United States and Europe that frame the two countries as separate and unequal, this monumentally ambitious show featuring a staggering nineteen artists never wavers in its ability to draw meaning and understanding directly from the art itself.
Dardashti, a doctoral candidate in art history who specializes in Latin American art, created a coherent visual narrative by situating each artist's works within four thematic categories.
The first category, Revolutions and Unifications, explored the prolific cultural and social exchange between Haiti and the Dominican Republic in the eighteenth and nineteenth centuries. In his painting, "Cimarron Pintor," Freddy Rodríguez depicts the story of Hispaniola's maroons—the runaway slaves—who settled in the eastern mountainous areas of the island, featuring a subject without toes on one foot to represent the punishment meted out to captured slaves. Vladimir Cybil Charlier's "Soldats Marrons (Maroon Soldiers)" features tiny Lilliputian-like soldiers riding horses around enlarged plants and a giant palm tree; two snakes embody the loa (Haitian Vodou deity), and reference the maroon communities that joined together from both sides of the island without distinguishing their national origins. Julia Santos's triptych, "Topography of an Island," addresses both the imposition of Catholicism on slave people and the genocide of indigenous people, by using gold leaf to represent the gold-plated objects and architectural details in colonial churches. Before lining each panel with gold leaf and paint, fibrous paper was applied to resemble undulating waves and the varied topography of Hispaniola. The artist portrayed an island with no partitions, recalling a time before clear border delineations.
In her drawing, "Pop-Up Haitian Hero—I am Dessalines," Haitian artist Tessa Mars impersonates the revolutionary leader, Jean-Jacques Dessalines wearing an army uniform, a mask, and upside-down glasses. By presenting herself as Dessalines, she challenges the dominant male image of the revolution that overlooked the many women who participated. Inspired by eighteenth-century French portraits of elite white women, Haitian-American Fabiola Jean-Louis presents her own handmade white paper dresses to augment her series of staged photographs. In "Madame Beauvoir's Painting," a black female figure seen from behind stares at a painting of Gordon, a former slave whose back is covered with scars from brutal lashings. The woman's dress is stained with coffee and her own back lined with marks suggesting Gordon's scars. The coffee alludes to one of the main staples of the plantation economy.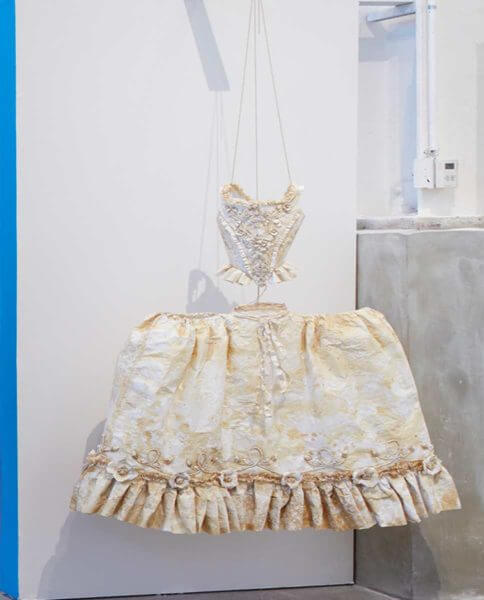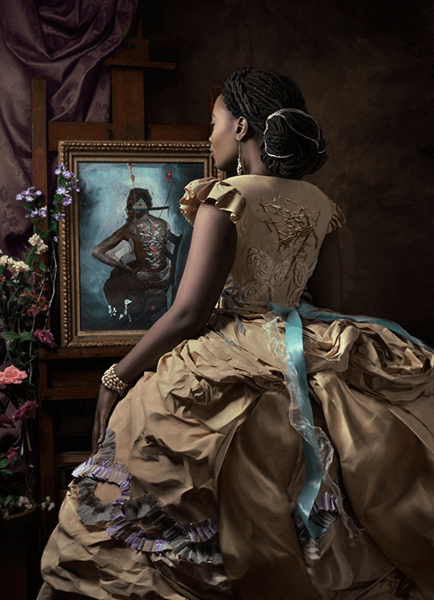 Scherezade Garcia's painting, "Acaricianda el chiva (Caressing the Goat)," portrays mixed-race Dominican ruler Ulises Heureaux, known as Lil, as an androgynous black child holding a goat. The bottom part of Lil's body resembles a ghost haunting the two planets that represent each side of the island. This imagery makes the case for the fact that, even after Dominican independence, the majority of the nation's eastern side of the island still identified with "blackness" and expressed a shared affinity with Haiti.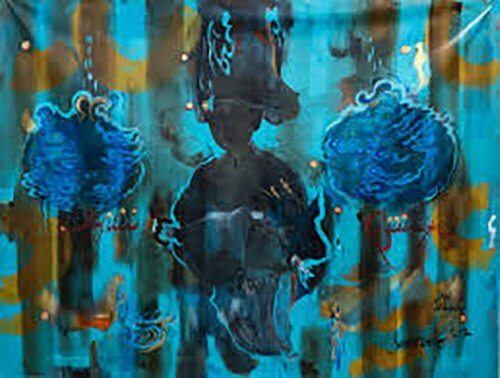 In the category Borders, Fragmentations, and Intertwinings, the exhibition imagined the border as a fluid environment. Dominican artist Pascal Meccariello's "Mapping on Broken History," documents fragments of the Hispaniola map superimposed with archival images and pages from Dominican and Haitian history textbooks, often at once contradictory and indicative of the differing historical narratives.
One of the most striking works, Haitian-American painter Edouard Duval-Carrié's "Hispaniola Saga: El Tigre y El Congo" (The Tigre and the Congo) features two male figures, the Dominican embodying the tiger, and the Haitian as the rival congo. Both of Duval-Carrié's figures connote exterior beauty and power, along with interior superficiality. The garbage dump conveys the negative impact of the tensions between the two countries.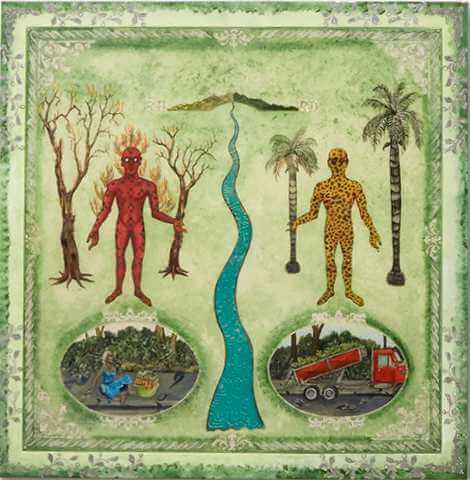 Dominican-American photographer Alex Morel's Frontiers series illuminates the trade and cultural exchange between Dominicans and Haitians on a daily basis. Similarly, a film Ti tonton bat tombou (Little Uncle Plays the Drums) by Haitian artists André Eugène and Evel Romain, and British artist Leah Gordon, investigates border exchanges and the Haitian contribution to the Dominican tourist trade. In a video, Dominican-American photographer and video artist Groana Melendez plays with small magnets that fail to repel each other, aptly symbolizing the impossibility of keeping the two countries separated.
The third category, Bodies Transformed, focused on artists who employ vernacular objects from everyday life to explore complex questions of cultural identity. In his series, Made in Haiti, photographer Roberto Stephenson showcases hand-crafted items from found materials discovered while wandering the streets of Port-au-Prince, that express a Haitian tradition of recycling, and include a toy car made from a tomato juice can.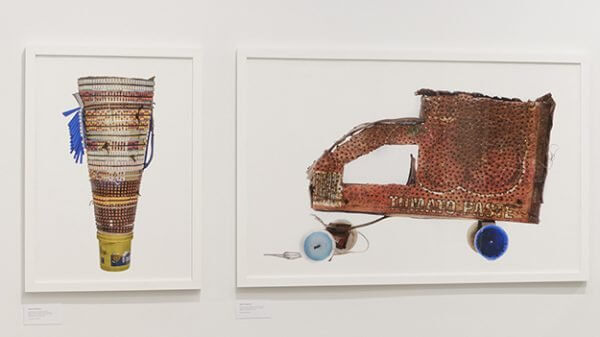 In her eye-catching and evocative site-specific installation "The Sage and the Dreamer," Dominican-American artist iliana emilia garcia (she prefers her name in lower case letters) suspends thirty chairs at different heights around a pillar to form a shape of a tree. Constructed from wood native to the island and sold in both countries, garcia's tree symbolizes, in her own words, a wise elderly person who represented the long-term relationship between Dominicans and Haitians, and the hope of renewing bonds between them.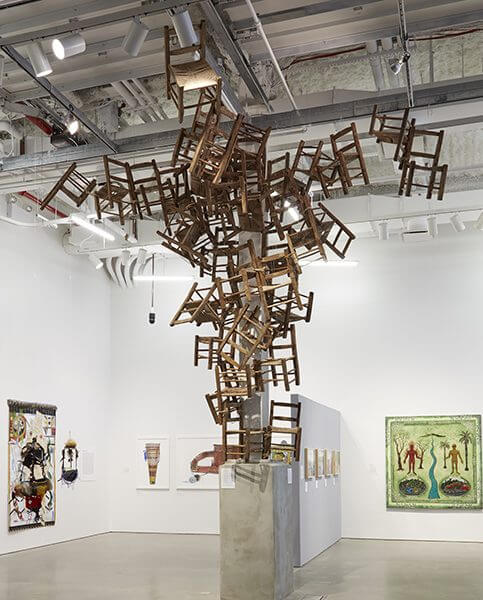 Dominican Raquel Paiewonsky's "The Wall" also drew from material common to both nations, concrete blocks, to signify both the separation posed by the border and the notion of home as both a shared and transient place, one that comprises different stories of migration and meaning for its residents.
The theme of home was similarly addressed by Nyugen Smith, a US artist of Haitian and Trinidadian descent, whose drawing "Bundlehouse Borderlines No 6 (Side by Sideways)" turns the island counterclockwise at a ninety-degree angle and illustrates small shanty-like tents, "bundlehouses," composed of materials similar to those in a recent immigrant's home. By situating all these tents together, Smith attempted to create a utopian collective identity that fused both cultures and also shows the fluidity of the border region.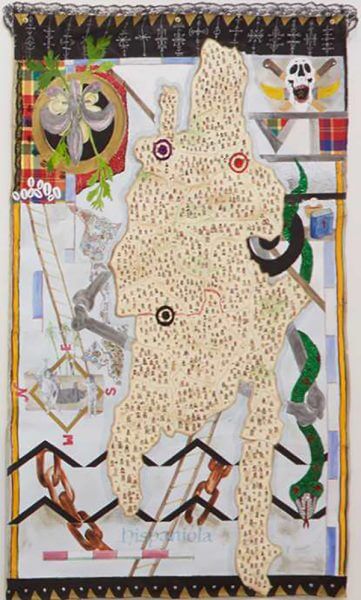 Dominican artist Raúl Recio's "Los dibujos de las Chapeadora" (Drawings of the Gold-Digger) also disrupts stereotypes of landscape—concepts that often portray the Dominican side as a tropical paradise and the Haitian as destitute—by depicting the island as littered with discarded metal amid an unforgiving tropical forest filled with banana peels and pools of alcohol. His drawing includes female body parts wearing expensive items, as a critique of exorbitant US goods sold on the island. Haitian-American painter Patrick Eugène's bright colors in "My Miserty and My Riches" suggest fruit native to Hispaniola. The abstracted landscape from found materials represents exchanges at transnational street markets throughout the island.
In the exhibition's final category Memories of a Utopian Island, two artists featured in the main category, Vladimir Cybil Charlier and Scherezade Garcia, collaborated to create three interconnected works: "Conversation Threads," a melding of silhouetted facial imagery with the voices of artists speaking a mixture of Haitian-Creole, Spanish, and English, to evoke a culture of equality and collaboration rather than division; "Enscenas de la Selva" (Scenes from the Jungle), an animated film chronicling the history of movement across the island; and "Borlette" (Lottery), which combines the practices of both artists, using life preservers constructed from rice paper and beaded to resemble Haitian Vodou flags, a work which dramatically illustrates the arbitrariness of survival in such a dangerous current.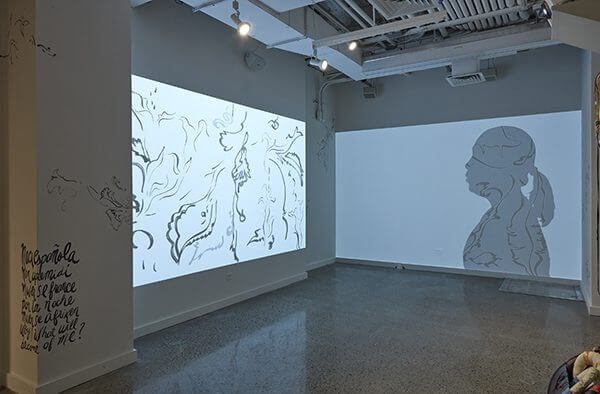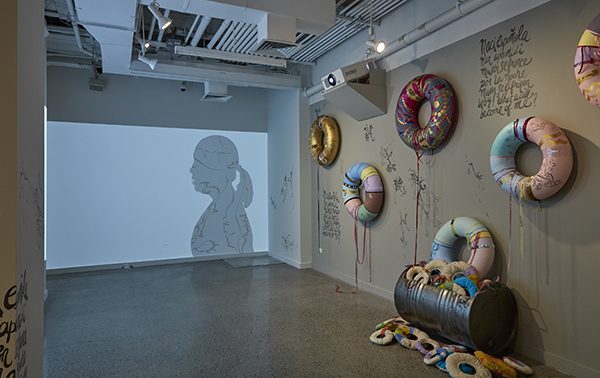 It is no small feat to bring together artists this skilled in presenting such a broad range of painting, drawing, photography, and found-object installation. Bordering the Imaginary is a cohesive exhibition with a contextualized narrative that is consistently engaging and thought-provoking. I can only hope that other galleries take note and bring this standout exhibition to a wider audience.
All Photos by Jason Wyche, courtesy of BRIC, Brooklyn.
If you are interested in becoming an art correspondent for WTP, please inquire at wtp@thewoventalepress.net
Copyright 2018 Woven Tale Press LLC. All Rights Reserved.