Spring 2018 Highlights
By Emilia Dubicki, WTP Art Correspondent
Four times a year, WTP art correspondents from around the country will report back on the previous season, with images from exhibitions you otherwise might have missed, and their own insights into these varied venues.
For this spring roundup, I've narrowed my selection down to favorites that in some way speak to the artist's relationships with nature—not only depictions of landscape but unity with the elements. As a painter whose work is mostly based on the natural world, I am interested in seeing how other artists interpret encounters with the environment outside of their studios.
My devotion to Abstract Expressionism brought me to Mark Borghi Fine Art, an inviting gallery on the Upper East Side, where Michael West: The Black and White Paintings hung confidently and dramatically on the walls. West, born Corinne Michelle West (1908–1991), took on the male name to shift attention away from her gender to her work. Her own Abstract Expressionist paintings are bold and gestural, with broad, energetic swipes from paint-laden brushes.
At the Art Students League, West studied with Hans Hofmann. West also became close with Arshile Gorky, who introduced her to European Surrealism. She covered the entire picture plane of her paintings with mostly structural forms—arches, entries, roof lines, angled supports—and created engaging, spatial openings. Movement in the paintings is vertical and horizontal, splashy and drippy, but also references drawing and calligraphy. She was inspired by the philosopher Henri Bergson's "belief in the interconnected nature of all living things," what she herself coined as "new mysticism in painting." In a 1946 essay, she expands on this mysticism: "The outer world changes as our thoughts change although our thought is usually ahead or in advance of the world viewed materially. To disintegrate visual unity…to break up and change outer appearance is necessary if the individual can penetrate the nature of our mystic universe." By activating the painterly surface with arcs and portals, she allows for interpretations of our own inner landscapes, as can be seen in "Construction Composition":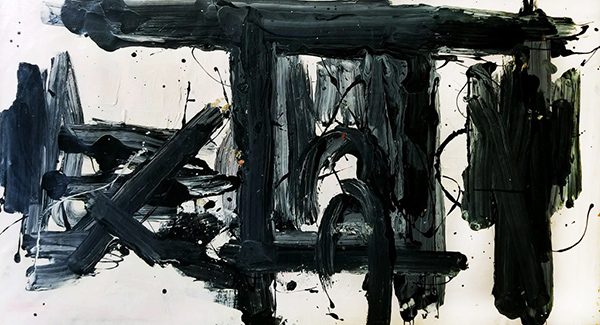 For the summer months, Mark Borghi Fine Art operates out of their 2426 Main Street, Bridgehampton, New York, location. The gallery's focus is post-war and contemporary art, including many New York School Abstract Expressionist painters.
While on the Upper East Side, I also stopped in the Gagosian gallery, to see Cy Twombly's ten-part work Coronation of Sesostris, a mesmerizing narrative in paint, crayon, and pencil. The work is based on Herodotus's "Histories," the depiction of the Egyptian pharaoh Sesostris leading an army into Europe, and Twombly interprets that war-making, world-building expansion as a one-day blazing affair. Individually, some of these large canvases are Twombly at his drippy, smudgy, scratchy best. All together, they are a dramatic adventure.
There is power in the brevity of Twombly's expressionistic imagery, and a sliver of a ship tangled in scribbled water suffices to move the story forward. The sun, whether outlined in red or emboldened in yellow paint, evolves from a pharaoh in one panel to a chariot wheel in another, as the story unfolds from minimal to sumptuous dripping color, and finally, to bleakness. Across the work, which spans three walls, lines of poetry by Sappho and Patricia Waters are scrawled somewhat illegibly like layers of ancient history to be deciphered. In the series Coronation of Sesostris, the pharaoh rises as the sun in purples, reds, and pinks, becoming glorious and victorious, then sets in a death of black and white.
Down in the village in New York City, Washington Square Park is a fitting verdant backdrop for Landscapes after Ruskin: Redefining the Sublime, the current show at Grey Art Gallery. John Ruskin, critic and environmentalist, believed that art should portray nature as humanity experiences it—he championed Turner's landscapes as reflective of our terror and awe. There's a lot to take in here visually, intellectually, and emotionally, as to how progress and technology affect our relationship to the environment—how do we adjust in this changing world? Over sixty works and forty-five artists provide some answers as well as other questions to ponder.
Thoughtfully curated by the photographer Joel Sternfeld and open through July 7, this exhibition is at once cohesive in its redefining of the sublime in landscape, and richly varied in its range of artistic styles and interpretations. We see first Gustave Courbet's ominous 1869 oil painting "La vague (The Wave)," with its storm clouds brewing over a turbulent sea.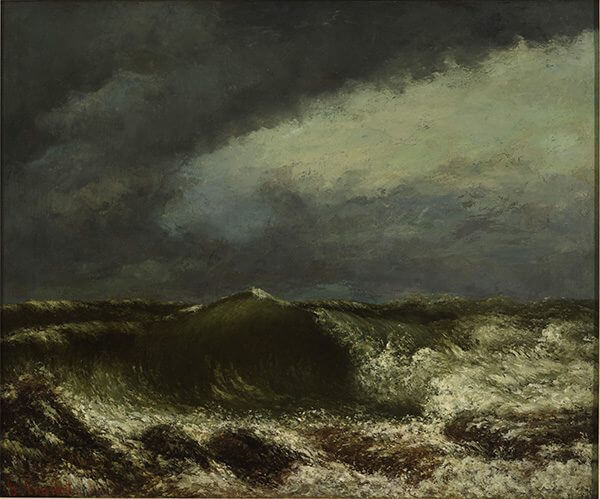 Nearby is a floor-to-ceiling installation by Raymond Pettibon, of cartoonish drawings on watercolor paper, a surfer's dream of ocean waves, in blue and aqua ink. A work by Anselm Kiefer, a large mixed-media seascape that includes even a toy boat, is a scene of wreckage, and its title "Velimer Chlebnikov, Time, Measure of the World" references Russian futurist poet Chlebnikov who theorized about mythic sea battles, and destruction and regeneration.
Photographs, paintings, and installations render a contemporary landscape of airplanes and over-construction. An industrial photograph by Naoya Hatakeyama shows pink cloud-like steam against a blue sky, emitted by a steel-making foundry—beauty and industry in tandem. In Simon Aldridge's small oil painting "Bridge," the scene of water, trees, and sky is like a blurred photograph taken from a moving vehicle, lending the unseen vehicle as much presence as the landscape. Tony Matelli's "Weed" installation is scattered throughout the galleries, with plant sculptures cast in bronze and painted green sprouting like weeds through cracks. Instead of being an eyesore, in the gallery setting this sculpted fauna holds a unique presence and beauty.
Down in the Bowery, I made my way into Sperone Westwater for the Mumbai-based Jitish Kallat's Decimal Point. The artist works in a variety of mediums, employing fire, wind, and rain in his process. First in the gallery was "Sightings," comprised of four individual columns, with four panels in each column. On closer inspection, the cosmic-like blasts are actually fruit printed as lenticular images, with their chromatic inverse for a 3-D effect—a kind of meditation on the large-scale within the magnified. This meditative is imbued throughout the exhibition, allowing the viewer to consider the subtlest and the most minute comprising the macro.
In a separate space, "The Infinite Episode-2" examines hierarchy, time, and consciousness, an installation of ten sleeping animals rendered from dental plaster. Upstairs at the gallery was Rain Study (the hour of the day of the month of the season), individual works resembling drawings of constellations, until one learns that the astronomical is actually watermarks; Kallat exposed the paper to rain; white areas from water drops where the pigment didn't adhere invoke galaxies and stars. The exposure time is measured in breath cycles that are noted on the works.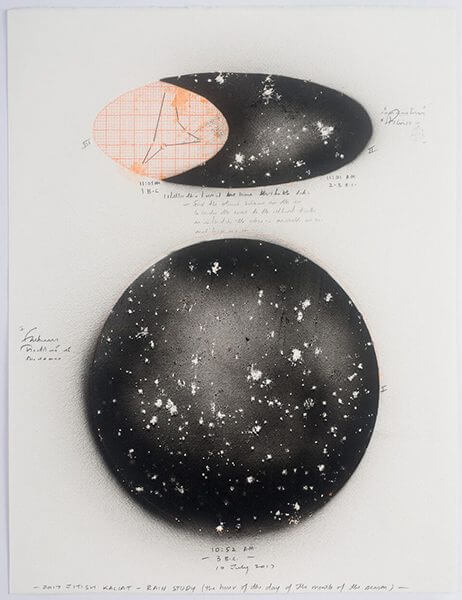 In a similar process, for Kallat's Wind studies, he again exposed the work to the elements, this time, line drawings based on German mathematician David Hilbert's patterns. The drawings resemble large mazes, and the artist took them outside to apply inflammable liquid, then lit them so that the wind manipulated the smoke across the paper for effect: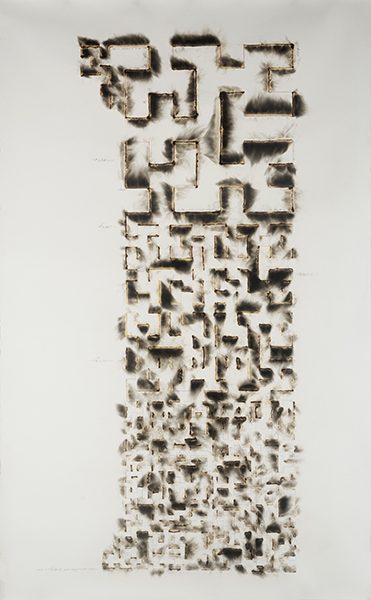 A perfect complement to Sperone Westwater's pristine, multi-level space on the Bowery is the nearby Liz Christy Community Garden. The lush and densely planted park runs along E. Houston Street, between the Bowery and 2nd Avenue (Bouwerie is the Dutch word for farm, and early settlers cultivated farms along Bowery Road). Originally named the Bowery-Houston Community Farm and Garden, it was New York City's first community garden, and was founded in the early 1970s by artist Liz Christy, a landscape painter who had a studio nearby and saw the neighborhood as a "living canvas." The corner was a vacant lot, where a homeless man froze in a cardboard box in 1973. Christy envisioned more, and in 1974 after petitioning the city and with the help of her Green Guerillas—garden activists already taking on urban decay, by tossing "seed grenades" filled with seeds, compost, and water, into empty lots—the park was born. A visionary act in a neglected neighborhood, a kind of performance art, produced results for the betterment of the community. The garden was renamed in her honor after her death in 1985, and today is still maintained by volunteers.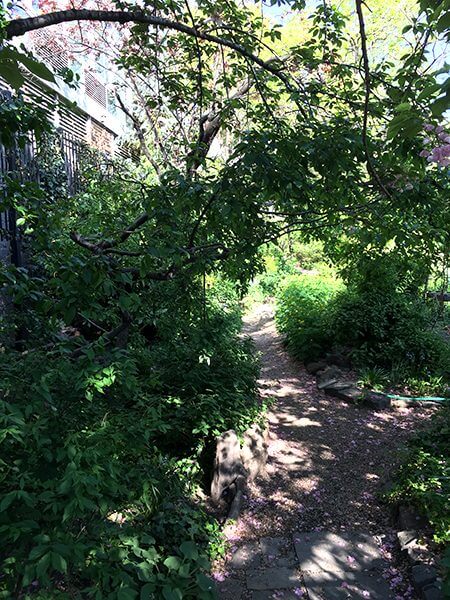 On this sunny afternoon, this rectangular-shaped green space was a vibrant abstraction, with layers of light and shadow, variegated textures, yellow, pink and purple blossoms, winding paths, a pond, and the structural of an arbor and wooden furniture. I looked up at leafy trees creating patterns against the vivid blue sky. Weeping birch branches pulled my gaze back down. The garden is a peaceful negotiation between the tamed and untamed. Conceptualizing and making a working garden within what was urban decay, and having it grow and evolve through the decades, serves as Liz Christy's signature on this piece of art.
For the time being, I did not need to see nature represented or interpreted in clean white spaces. This garden experience was sublime.
If you are interested in becoming an art correspondent for WTP, please inquire at wtp@thewoventalepress.net
Copyright 2018 Woven Tale Press LLC. All Rights Reserved.