Traditional Stitchery as Contemporary Art
By Richard Malinsky, Arts Editor
See Jodi Colella's work in WTP Vol. VI #2.
Jodi Colella's website features needlework art that balances tradition against innovation. Her hand-wrought forms lend a fresh contemporary relevance to a fiber art often wrongly dismissed as a hobbyist's craft.
Her work begins with everyday found objects that are reworked, repurposed, and placed on a pedestal: "The psychological is made physical in a way that one form materializes from another."  It is her conceptual transformation that elevates her work from traditional craft technique to contemporary artistic expression.
A recent work, "Reaching Equilibrium," is part of a series that explores the forces that have historically shaped the perceptions of women's identities and place in society.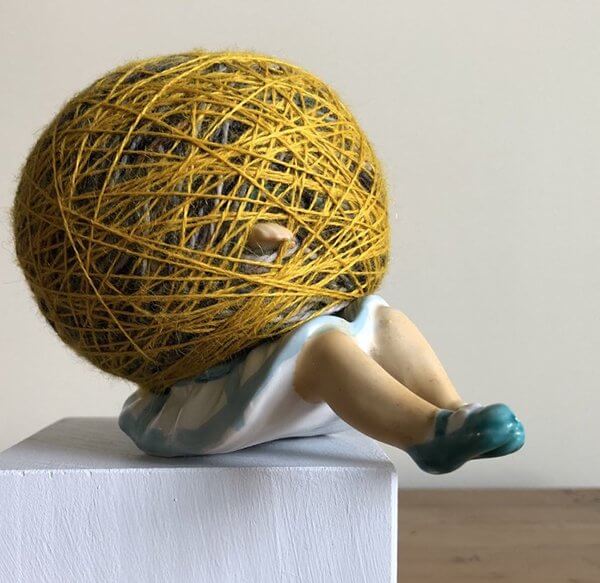 Colella expands needle arts beyond lap work, in the large-scale dimensional self-portrait "First Skin." The piece is fabricated from polyester organza and other various discarded materials, with primitively sewn body parts that cast an eerie shadow against a wall. The work projects a compelling emergence of spirit, growth, and change: "'First Skin' represents my ritual of process and craft in the devotion of art, history, identity, time, and place."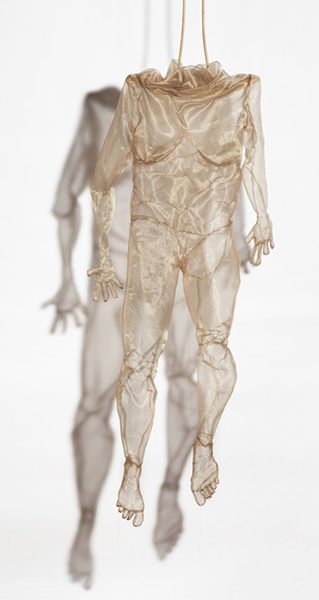 Another standout in her more recent works is "Bloodlines," based on a found daguerreotype photo wallet. She literally connects a conceptual vasculature timeline that connects a mid-1800 object to the present. This is contemporary sculpture of high order—conceptually, technically, and aesthetically.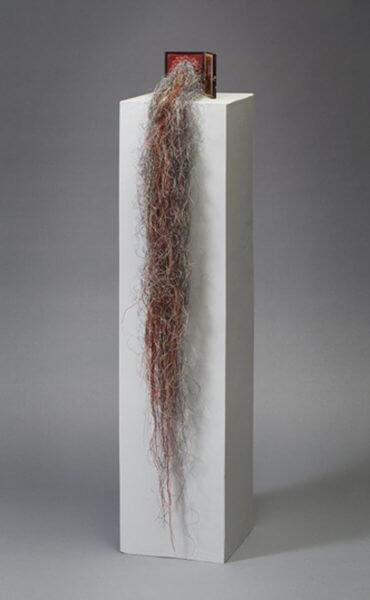 The poignant anonymity of women depicted in historical daguerreotypes sparked her to scour flea markets for ones that she could call attention to by altering them with stitchery. She is aware of how these portraits from the past are aligned with the carefully chosen images today to represent our public identities on social media. She stitches together past and present imagery where expression replaces suppression and charts the progress of art and feminism as seen in "I See Things."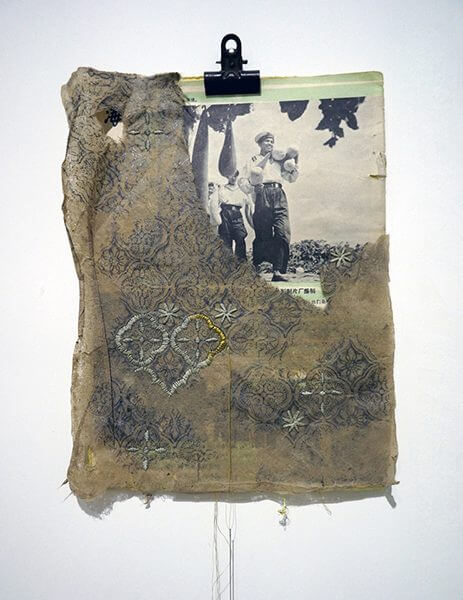 Much of Colella's earlier work is influenced by extensive travel—historical and cultural experiences extend from her neighborhood to the Far East. "China Sampler II" is embroidery on 1960 Mao propaganda magazine pages left behind in her studio in China.  They were stitched with a traditional pine needle stitch, and with threads scavenged from a factory refuse pile. What I find interesting is that they pose questions about the value of the individual vs. society while employing a traditional activity once banned by Mao's Cultural Revolution.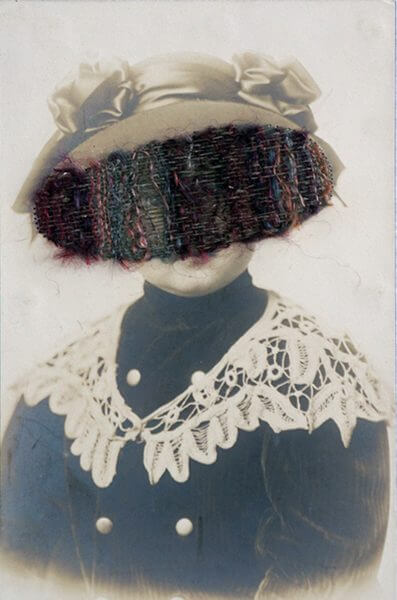 Jodi Colella is a prolific artist. Her website documents a rich exhibition list as well as teaching experience via workshops, residencies, and installations. She is represented in national and international public and private collections.
Copyright 2018 Woven Tale Press LLC. All Rights Reserved.