July 2018
By Donald Kolberg, Art Bookmarks Editor
Monthly highlights of online resources and websites informative and inspiring for artists or art enthusiasts. Most are free. Suggestions are welcomed.
Michelangelo's Secret Hideaway and Drawing Board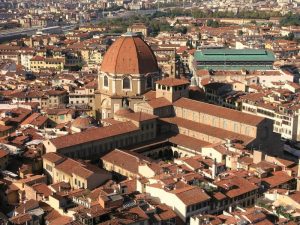 A secret room located in Florence's Basilica di San Lorenzo may shed light on the artistic process of the artist and his disciples. With more than seventy drawings and charcoals sketched on the walls of a room 23′ x 6.5′, this may be where Michelangelo hid from the Medicis in the early 1500s. "You have to go down a series of very steep steps, and you start seeing all these drawings that are breathtaking," says Paola d'Agostino, director of the Bargello Museum that oversees the Medici Chapels. Check out the NPR article here.
Five Things about Francesca Woodman
Francesca Woodman was a photographer who created surreal, humorous, and at times painfully honest images. During her career she produced more than eight hundred photographs, mostly with her as the subject. Her answer to why was simple: "It's a matter of convenience, I'm always available." Modern artists Cindy Sherman and Sophie Calle speak of Woodman as a huge influence on their work. You can read the article from Tate and see a selection of her work here. The TATE Liverpool exhibition Life in Motion: Egon Schiele/Francesca Woodman runs through September 23. Be aware that many of the photos contain nudity.
Portugal's Art and Portuguese Cool
Art Review has put together a wonderful article on the guide to Portugal's art scene. There are many reasons that art is growing in Lisbon and Porto; the expansion to Lisbon by the Madrid art fair Arco, tax incentives attracting more international collectors to the country, and even the political instability in Brazil that continues to motivate the migration of that country's wealth, and artists to Portugal is a factor. So while any alleged "explosion" of contemporary art in Portugal is more aptly placed within a steady continuum of change, a remarkable number of galleries have opened in Lisbon in the last couple of years. The 2007 opening of Museu Coleção Berardo prompted The New York Times to proclaim, "Lisbon's Art Scene Comes Alive." The article is intense in that it covers a lot of history and trends, but it is definitely worth a read.
Looking for a Crash Course in Contemporary Art?

These six books from Printed Matter may do the trick. This venerable New York nonprofit dedicated to the "dissemination, understanding and appreciation of artists' books," opened up its first satellite location last Friday in the lobby of the Swiss Institute's new building at 38 St. Marks Place. With about forty-five thousand titles in its database of artists' books and related publications you can browse for hours…or days!
But there's more. According to the website, "At the heart of Printed Matter's non-profit distribution services is a longstanding open submission policy which welcomes artists and publishers worldwide to submit their publications to be considered for sale by Printed Matter. It's incredibly exciting for us to see the diverse and innovative contemporary artists' books being published, and to make them available to the widest audience possible. We hope you will consider submitting your publications!" The link to submissions can be found here.
Artwork—Easy to Steal, Impossible to Sell
Bloomberg.com has put together an entertaining article on the pitfalls of stealing art. "The main rule is that it's not that hard to steal art, even from museums, but it's almost impossible to translate that art into cash," says Noah Charney, a scholar and author who's published multiple books on art theft.  A Henry Moore bronze sculpture valued at nearly four million dollars was most likely cut up, melted down, and sold for scrap for a few thousand dollars. (Luckily it was found.) In 2017 four men stole a 221-pound gold coin, and while they were caught, the gold was most likely melted down and sold. Less than 2% of stolen art is recovered. The article is a fun read and worth it if you're planning a career change.
How the Native Americans of Alaska Influenced the Surrealists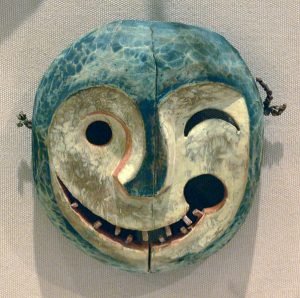 If you're interested in the influences on movements in art then this article is for you. Alina Cohen explores the Alaskan Yup'ik people's traditions and history and how they relate to their art. As the masks became available in 1935, the photographer Man Ray traded one of his own works for a mask. When Max Ernst fled Germany in the 1940s and landed in New York, it was Julius Carlebach's shop on 3rd Avenue with its sculptures and masks from Alaska that interested Max and fellow artists. Di Donna Galleries on the Upper East Side recently opened Moon Dancers, the first-ever commercial exhibition to pair Surrealist art side-by-side with Yup'ik productions. The article is informative and well written, worth a read.
ART TIDBITS (Something New)
Genius: Picasso
I though it might be interesting to do a critique of a TV show about art. But when I read the review by Ben Travers that can be found here, I knew I didn't need to write anymore. He covered it beautifully and without being too much of a spoiler, Season 2 is a painful bore.
Wrong Statue of Liberty on Stamp
In a copyright infringement lawsuit, Las Vegas sculptor Robert Davidson sued the Postal Service five years ago over its 2011 forever stamp design. The US Postal Service was ordered last week to pay $3.5 million for mistakenly featuring Las Vegas's Statue of Liberty replica on a "forever" stamp instead of the original New York statue.
And as always feel free to email me with your thoughts at dkolberg@thewoventalepress.net.
Copyright 2018 Woven Tale Press LLC. All Rights Reserved.