Pushing Back Against Tradition
By Richard Malinsky, Arts Editor
Virginia Mahoney is a mixed-media artist living and working in Boston, Massachusetts, whose work is not easily categorized. Growing up, she was much influenced by her mother, who was quite creative at home, with cloth, thread, yarn, paint, and shells. Following in her mother's footsteps, Mahoney added various new materials to that list while working toward her undergraduate degree in ceramics, followed by a period refining her craft at the noted Penland School of Crafts, North Carolina, and an MFA in Ceramics at Cranbrook Academy of Art, Michigan.
Her post-graduate work began with functional, hand-built, ceramic mixed-media vessels as seen in her Pitchers series. These archetypal forms of containment explore themes of mythology, feminine roles, and personal memories.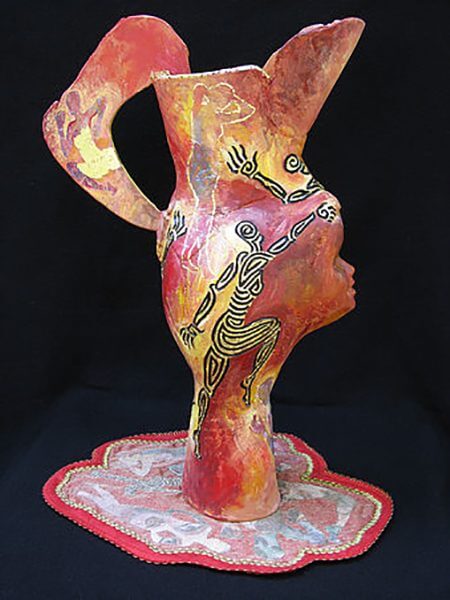 It's interesting to note that an integral component of the pitcher is the doily base it sits on. Mahoney created a series of contemporary Doilies, including imagery referencing the female body and metrics designed to reform education in the twenty-first century. She states: "This series investigates the disparity between reality and the categorized data that we use to describe that reality."
The Shards series explores imposed expectations, and the limitations of standardization, through relief assemblages, figures with shards, and wall installations. "Gathering and Dispersing" incorporates illustrative figures and fragments of past work with ambiguous clay components, suggesting dilemmas encountered when attempting to categorize and classify.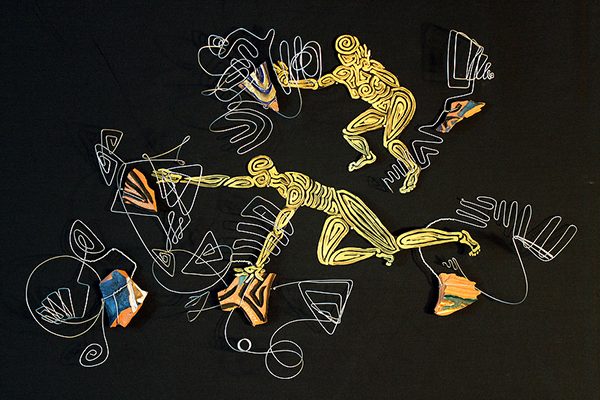 "Remix 11: Motherland Spark!" seems a more conceptual approach, with the mixing of shards from destroyed works with new objects. Each design decision influences the next, as linear elements are connected to solid forms, establishing movement and an intuitive connection to the past.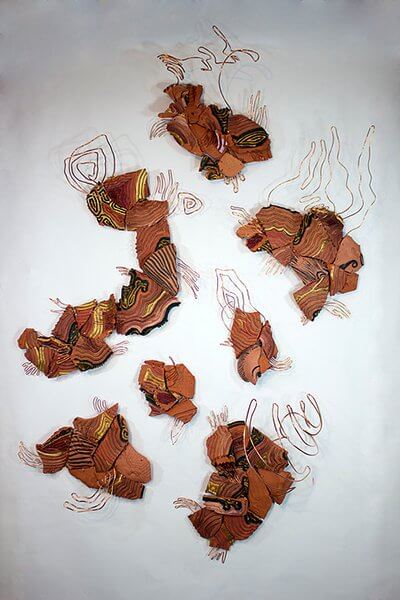 Mahoney's current work is an ongoing series of conceptual garments inspired by work uniforms. While one might associate a work vest with the protective, Mahoney's vests convey the weight and pain of struggle: "These objects embody self-doubt, uncertainty, or thoughts that hang in the background and weigh us down with questions, thwarted progress, and second-guessing. Words handwritten on tongues hint of burdens and difficulties: haunting thoughts and actions, barriers real or invented, unrealized expectations."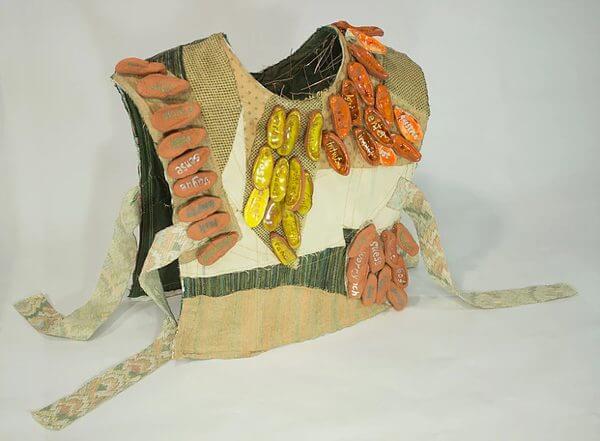 Virginia Mahoney's work consistently pushes back against tradition, by resisting the categorical and methodical, and by incorporating surprising materials. She is a storyteller with a message communicated through symbolic imagery. Her site offers numerous samples of each series of work and is easily and logically navigated.
Copyright 2018 Woven Tale Press LLC. All Rights Reserved.