By Doug Holder, WTP Guest Writer
I was pondering a question over my dark ale (with a hint of citrus) at the Remnant Brewery in the new Bow Market in Union Square. It was posed by the poet Robert Pinsky in the foreword of an anthology of poems about sculpture. He asked, "What has art made of breath to do with art made of matter?"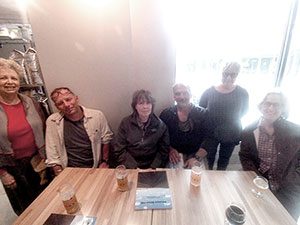 Well, six people joined me at my table to answer that question: Chris Frost, a Somerville-based sculptor; David Daniel, former editor of Ploughshares magazine, as well as the head of Creative Writing at Fairleigh Dickinson University; Jodi Colella, a sculptor and mixed-media artist based in Somerville; Wendy Drexler, a noted poet; Julia Shepley, an artist and one of the founders of the Brickbottom Gallery in Somerville; and poet Audrey Henderson, the author of the collection Air Stream.
They were all here to discuss a project they were involved in that presently is on exhibit at the Boston Sculptors Gallery in Boston, Breath and Matter. On the gallery's website, poets were invited "to partner with artists to create collaborative work combining both of their voices…twenty-four pairs of sculptors and writers have taken up the challenges of this timeless question." These artistic partners responded to each other. The sculptor interpreted the words of the poet through concrete material such as silk, steel, bronze, rawhide, granite, wood, glass, etc.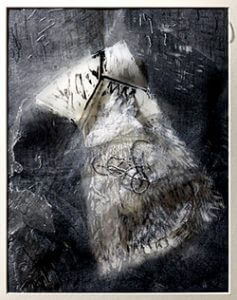 Many distinguished poets are included, such as US Poet Laureate Robert Pinsky, Boston Poet Laureate Danielle Legros Georges, Mary Bonina, and others.
Chris Frost and David Daniel talked about a notebook they were creating, when it was a work still in progress. Frost provided the illustrations and Daniel, the poems. Daniel told me, "I hope we capture the process of collaboration. We have found poems easily lead to images."
Now, getting back to that daunting question. When I posed it to them, there were a lot of laughs. David Daniel piped in, "Maybe I should text Robert." But the most succinct comment I heard among the gaggle in regards to why this project mattered was, "To make what is intangible tangible." So sculpture, in a sense, will give poetry a tangible form.
Jodi Colella—who I have had the privilege to interview years back—has paired her sculpture with Wendy Drexler's poetry. They both met by a twist of fate, and both came to realize their process is similar. They start their artistic exploration with intense observation as a way to get in the marrow of, or deep meaning of their subjects. So, of all things, they turned to moss, which they feel shares many of the same traits as humans, such as resilience, collaboration, as well as being opportunistic. Colella created the sculpture (seen here) and Drexler came up with the words to go with it. Colella adorned the moss with piercing human eyes. The pair even developed a lesson plan for schools based on their collaboration.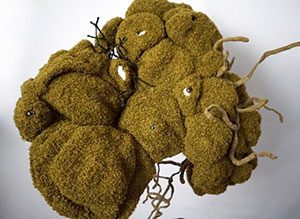 Julia Shepley and poet Audrey Henderson have their work speak to each other. According to the Boston Sculptors Gallery website they "have identified common themes and concerns in their respective work: the significance of early memory as it relates to architecture and architecture as repository of meaning and emotion; the residual energy of inhabited space; and the significance of handcrafted objects as expressions of love and affection. In the dynamic process of passing from one medium to the other, certain shared elements have intensified and accumulated layers of complexity and association."
This is a unique exhibit at the Boston Sculptors Gallery, 486 Harrison Ave, Boston. For more information about the gallery and artists go to: http://www.bostonsculptors.com/breath-matter-index.
Originally published in The Somerville Times.