See Rangel-Cascio's work in WTP Vol. VI #7.
Inside the Studio offers a behind-the scenes peek into the work environments of WTP artists, as well as insight into their creative process within these resonate spaces.
By Jennifer Nelson, WTP Feature Writer
At Northern Illinois University, ceramic artist Emily M. Rangel-Cascio turned a windowless, plain studio into a home. The graduate student decorated metal shelves and walls with her artwork—both completed projects, such as a mug collection, and failed ones that she intends to revisit. Through viewing these displays, visitors, professors, and fellow classmates gain insight into her creative process, including different clays and firing techniques she uses. The walls also provide privacy so she can concentrate on her work. "The ability to make the space my own has been a welcome change from the studio I worked in during my undergraduate degree," says Rangel-Cascio. "That was a much smaller shared space—without walls—that I could not personalize to my work flow."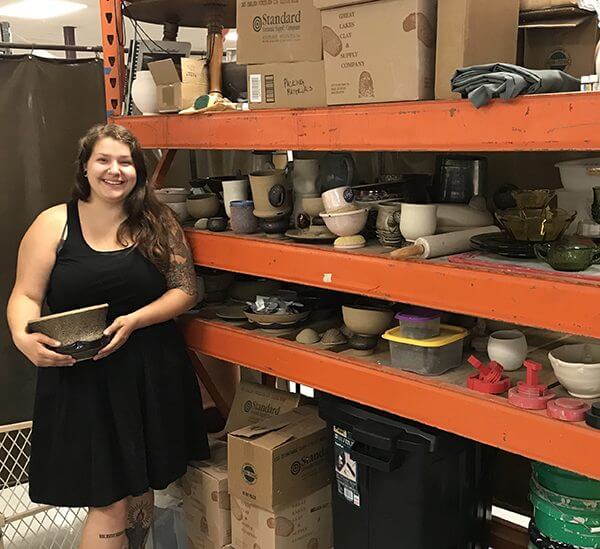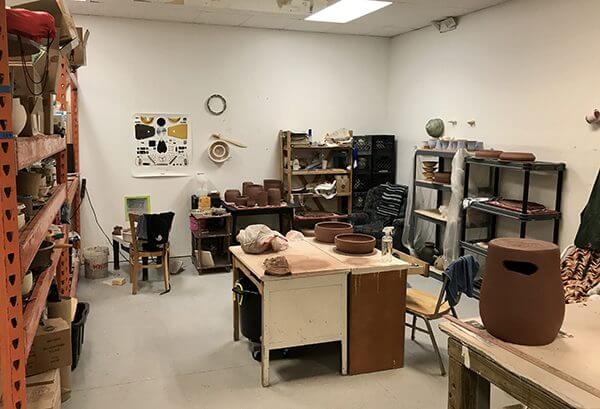 Most important to her is that the three-hundred-square-foot studio comes with creature comforts: "If I have food, coffee, and a good chair available to me at the studio, I see no reason to leave!"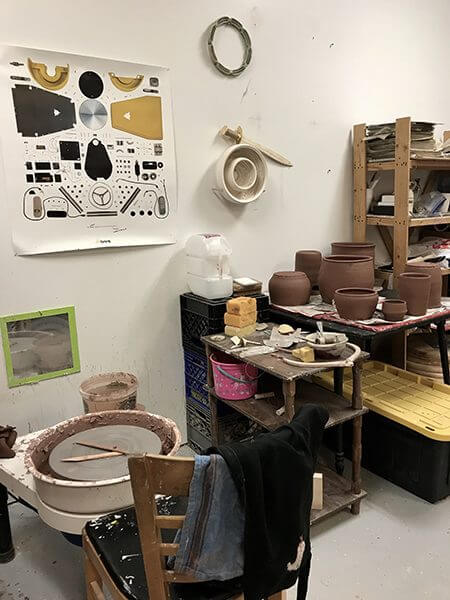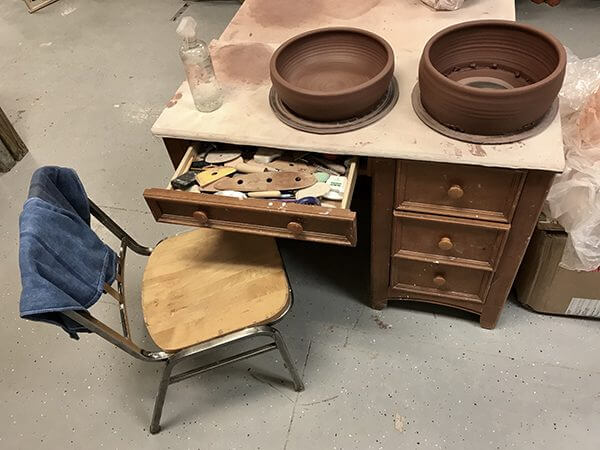 She has made fast friends during the two years she's worked in the studio—ever since her first semester at graduate school—and enjoys the camaraderie that comes with working near other artists.
Her work schedule varies. During the semester, she's at the studio from the afternoon into early evening; on weekends, from 5 a.m. until 5 p.m. The twelve-hour shifts mirror those of her husband Miguel. "It is soothing to see the sunrise and getting up so early is made easier with another person," she says. And she brings her dog Lilly to the studio.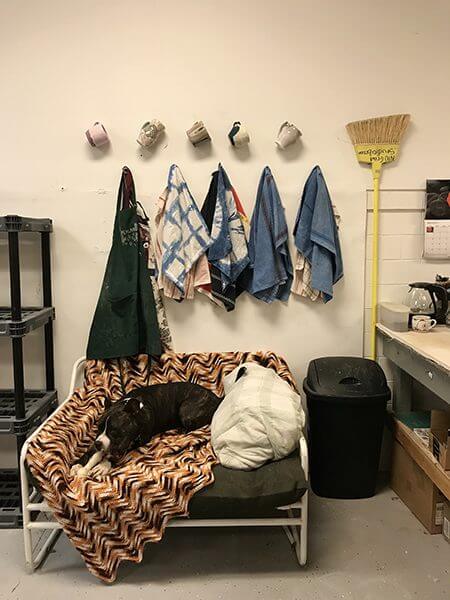 Rangel-Cascio starts her day by checking the previous day's work, which includes touching each pot to verify its dryness. Then she toggles between wedging and throwing on the wheel: "I prefer to break up the arduous work of wedging with the pleasant familiarity of throwing."
Weekdays, she focuses on teaching, academic research, and decorating pots. It takes a long time to put a dotting texture on each pot, and the work can get tedious. Occasionally, she collaborates with other students on projects, but students communicate mostly with each other during critiques. Graduate students are required to take studio classes in disciplines other than their own, such as printmaking, fibers, and metalworking. "It forces us to challenge our processes as well as encourages us to explore other realms of art," she says. "Most students use these classes to share and help one another."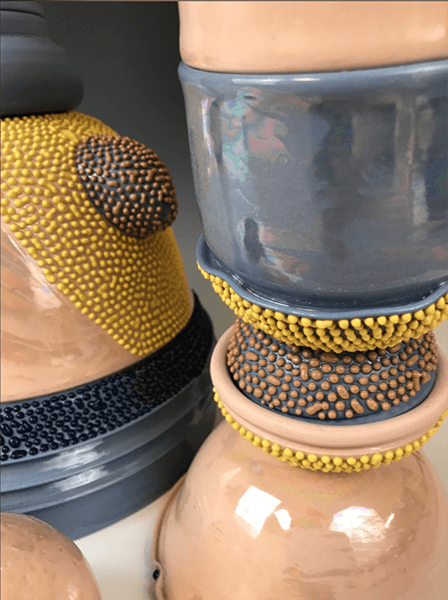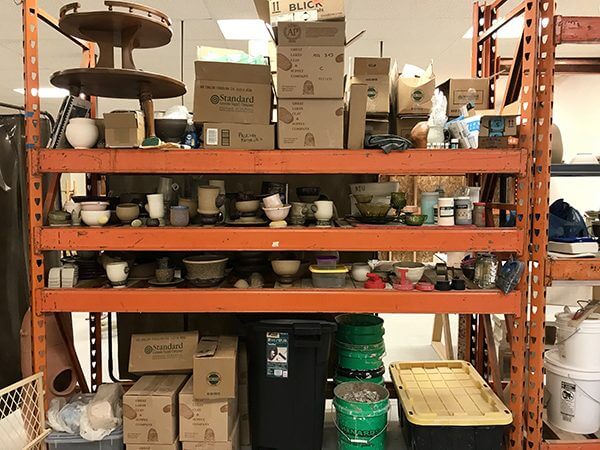 Given the nature of pottery, Rangel-Cascio can work on up to twenty-five pieces at a time. She makes hundreds of pounds of clay using materials paid for by tuition. She's thankful that her ceramics professors, Yih-Wen Kuo and Jim Kearns, keep the studio well stocked with materials. She drives hundreds of pounds of clay from the main ceramics studio to her studio several blocks away. "I have more than enough room in my personal space for clay, glazes, and slips."
For inspiration, she often draws on childhood memories of mealtime in an Italian family—she makes large serving vessels for pasta, bread, and salad; coffee mugs; and saltcellars. Most individual pieces are initially thrown on the wheel, while others, especially recently, are slab built. She enjoys making sections of a single pot on the wheel, then connecting these sections at an angle. The pieces are stacked into fairly stable sculptures. In a previous semester, she used Rhino computer graphics software to create a set of dimensions. These tools allowed her to measure the foot and lip of each pot so that they fit together snugly.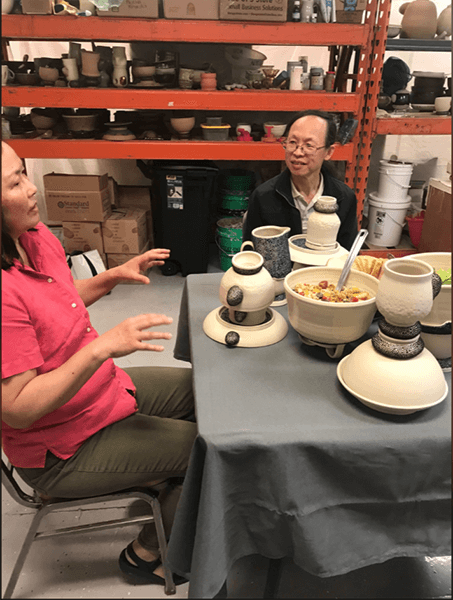 Through recent travels to Japan and Italy, Rangel-Cascio was exposed to different traditions and techniques. Last spring, she accompanied her professor Helen Nagata to Japan where she studied ancient pottery in museums and visited temples. She found Japan to be a ceramic-rich culture, which holds potters in high esteem and where clay is integrated into nearly all aspects of daily life.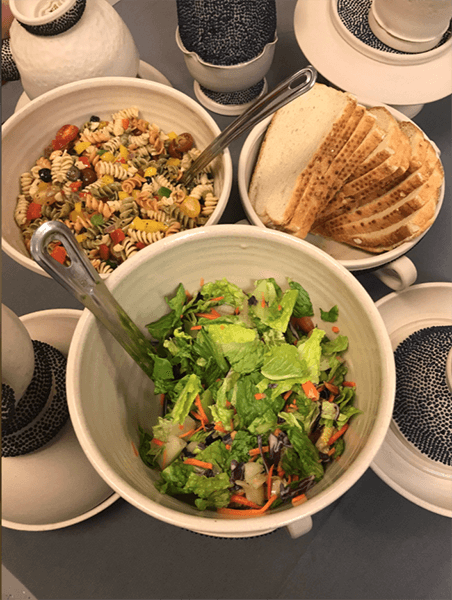 This past summer, Rangel-Cascio returned to her family's roots in Italy where she spent a month in Rome at the C.R.E.T.A. (Ceramics Residencies Exhibitions Teaching and the Arts) residency. She learned how to work with new clays and unfamiliar tools. At first, she found it tough working with terra cotta and porcelain clays, though she ended up enjoying it. And she returned to familiar themes surrounding mealtime traditions—and corrected and confirmed her romanticized ideas about what it means to be Italian. Growing up, she remembers huge portions of pasta at every meal, while in Italy portions were much smaller. In Rome, she was pleased that coffee was so cheap and readily available, but less surprised that most people smoked. Thus, in her artwork, she adjusted the size of her serving dishes and added espresso cups and ashtrays. "I will now speak of my Italian heritage's influence on my concepts with a different and more complete understanding," she says. "Both Italy and Japan will continue to influence my work in the future."
Copyright 2018 Woven Tale Press LLC. All Rights Reserved.