See Criner's work in WTP Vol. VI #7.
Inside the Studio offers a behind-the scenes peek into the work environments of WTP artists, as well as insight into their creative process within these resonate spaces.
By Jennifer Nelson, WTP Feature Writer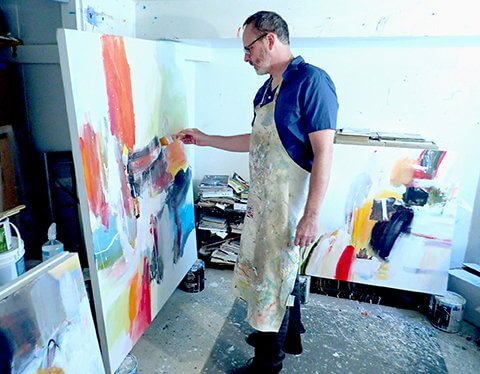 For David Criner, a basement studio has become his sanctuary. There, in his Chicago home, his best emotional and spiritual selves manifest. In fact, thirteen years ago, he wanted to buy the house because of its basement. The basement is spacious—unlike earlier studios housed in small apartments and even a storage locker—and easily accessible. No longer does he want to share a studio with other artists as he did as a student; he requires privacy to create his art.
Criner begins his day with forty-five minutes of meditation. "Meditation clears the mind and elevates the spirit, in good preparation for making art," says Criner. He spends the morning in the studio, though his time there can stretch into the afternoon. He used to paint at night, but now he prefers to unwind and socialize with others in the evening.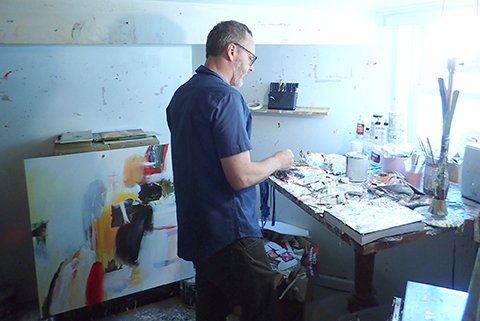 His days vary since painting isn't his only creative outlet. He puts almost as much energy into writing music for classical guitar as he does his painting. For a period lasting a few days, he concentrates on making music. Other times, he focuses mainly on painting: "I find it hard to imagine one without the other, as I see music and painting as interconnected disciplines, both part of a singular vision."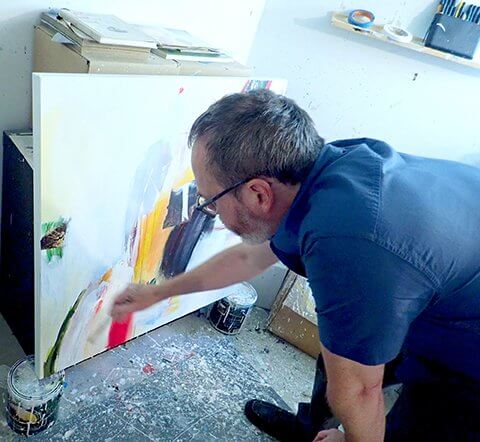 In his work, he tends to improvise, to trust himself and honor his instincts. He believes that painting requires a kind of faith: faith in one's self and the existence of something beyond a preconceived notion of how the work is supposed to appear or feel. Ideas emerge via the painting process and the material itself. This process he compares to a fisherman who casts repeatedly, but remains present enough to know when something strikes the hook. "Once I get going, the process becomes something of a journey where I often just try to hang on through each twist and turn," he says. "It is as though the painting has a life of its own."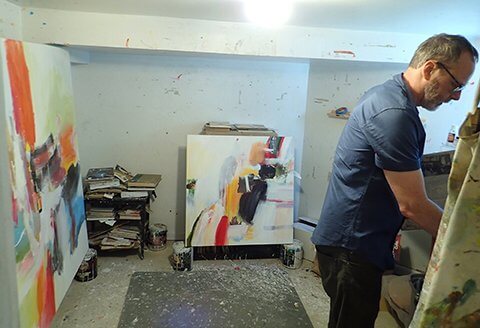 For his collages, he uses acrylic paint and other materials, including old books and magazines, including Life, Look, and texts on flowers and plant life, piled in his studio. He used to work on several paintings simultaneously, but as his pieces have become larger, he prefers focusing on one at a time. "It is enough to be engaged with just one major problem, like immersing one's self in an unfolding story," he says.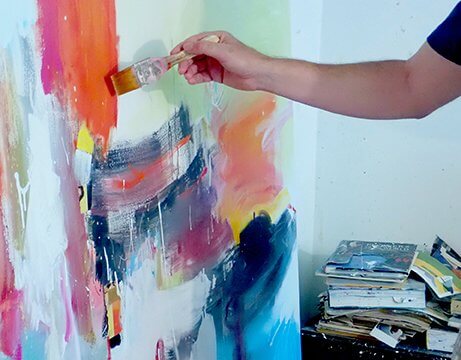 Criner talks about how teaching in a classroom energizes him. Since 2000, he has taught undergraduates, mostly at Northeastern Illinois University. As an instructor, he aims to pass on ideas and lessons helpful to him while attending university. To do this, he says, he must remain a student—experimenting, taking risks, remaining open to the possibility of both success and failure. He recalls impactful experiences as an undergraduate at the University of Illinois where he enjoyed freedom, made exciting discoveries, and began to find his voice as an artist. "Ultimately, that is what I hope for my students, particularly as they advance to higher levels," says Criner. "The events of my own studio practice continue to fuel the energies that develop in the classroom, and vice versa."
Copyright 2018 Woven Tale Press LLC. All Rights Reserved.