Dresses as Poetry and Metaphor
By Richard Malinsky, Arts Editor
Jean Sbarra Jones is an award-winning artist living and working in Salem, Massachusetts, whose series of acrylic paintings of women's dresses has earned significant critical acclaim.
On her site, she documents the painting of this dress over the period of a decade: first worn by a model, eventually the dress alone. Two years ago, while boating, she placed a dress in the ocean and was inspired by the changes in shape, quality of light, and the difference between the wet and dry surfaces. This led to spending many days on a boat with her husband, casting a vintage dress attached to a fishing line into the water, to observe the visual patterns and record reference photographs. In the studio, she transposed those observations into hauntingly evocative compositions of acrylic on wood panels, as seen in "Lush." Her images invite speculation regarding the history of those garments; yet seem more about poetry than prose.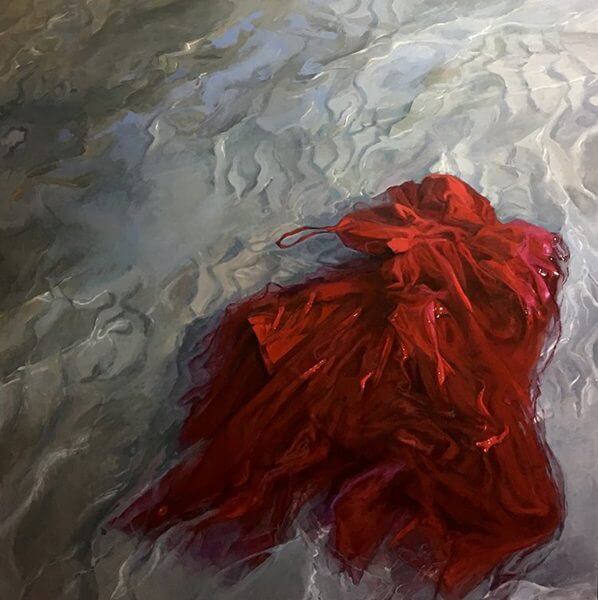 Eventually, her compositions began to include more of the environment, as seen in "Traverse," where the floating dress mysteriously approaches a lily pond, to form a compositional union with the landscape.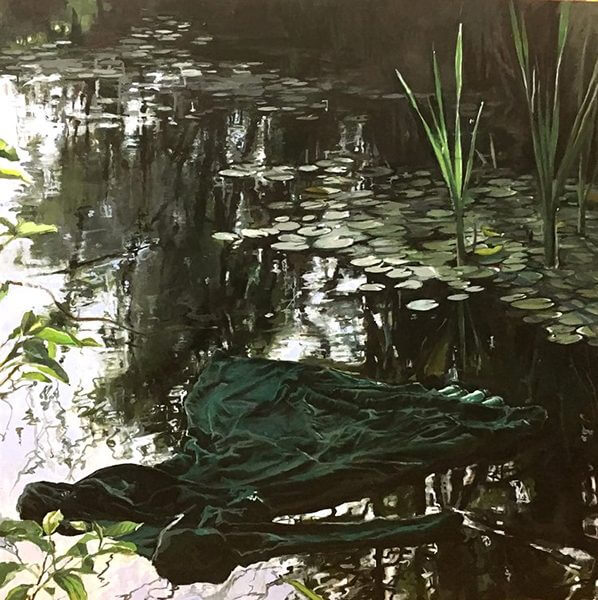 Looking through this series, I was drawn to "Float," a meditation on struggle, freedom, and the passage of time, as well as perhaps on conditions and circumstances related to women. As Jones comments, "Upon reflection, the dress revealed itself as a metaphor. Due to an unexpected spiritual experience in my life, the worn and well-traveled dress represents renewal by light and water."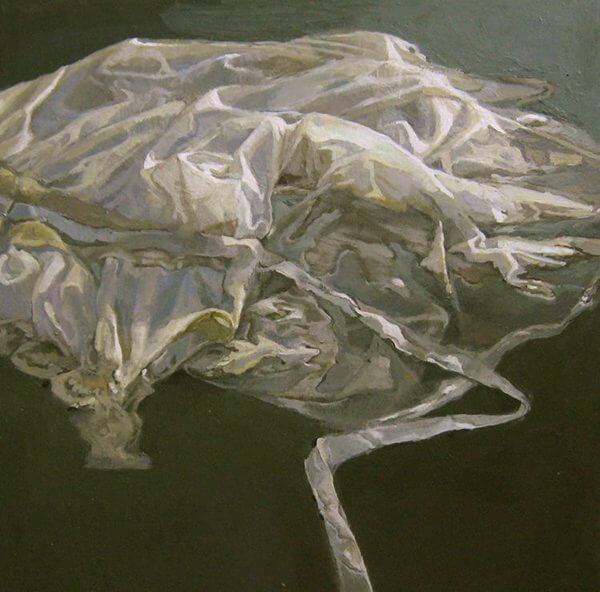 Recently, Jones has produced a series of impressionist landscapes without the dress. Generally, this work is more open spatially, freely painted with rhythmic black drawing lines, lending a different kind of motion and energy to her work. "The Meadows, Edinburgh" invites the viewer into the scene: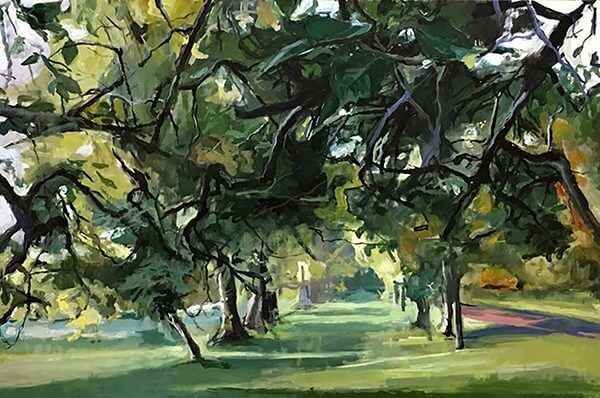 It is hard to follow the sequence of these works, as none are dated. However, it does seem reasonable to conclude that the landscape paintings were inspired by small black-and-white rough sketches like "Appleton."  These sketches seem to have established the big dark-and-light patterns and the gestural-drawing style that is translated so expertly into her formal paintings.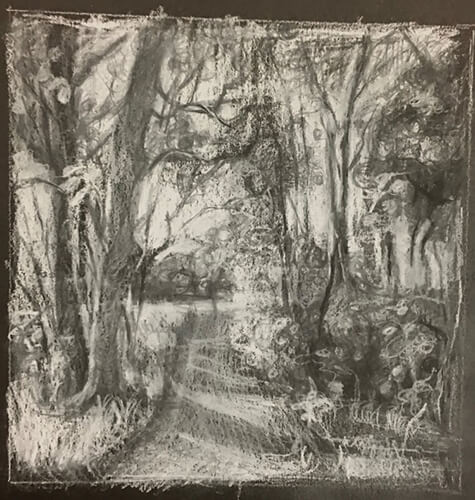 Jean Sbarra Jones has taught and exhibited in many venues throughout Massachusetts. She is on the faculty of the Massachusetts College of Art and Design, Boston, Massachusetts. We look forward to seeing her work evolve.
Copyright 2018 Woven Tale Press LLC. All Rights Reserved.