Summer 2018 Highlights
By Emily Nimptsch, WTP Art Correspondent
Four times a year, WTP art correspondents from around the country will report back on the previous season, with images from exhibitions you otherwise might have missed, and their own insights into these varied venues.
Notions of representation and diversity lie at the very heart of this season's Los Angeles museum and gallery exhibitions. With the city's many group collaborations this summer, together they weave intricate, compelling, poignant narratives of race, gender, and religious equality.
For most of human history, art existed within the realm of the serious. It acted mainly as a devotional tool, giving the masses a glimpse of the divine. However, the role of art has broadened significantly in the past century. Starting with French conceptual sculptor Marcel Duchamp's sardonic readymade, "The Fountain" (1917), art and humor finally merged. The impact was earth-shattering and sublime in equal measure. In David Leggett and Ryan Richey: Mixed Emotions, a two-person exhibition at Hollywood's Various Small Fires Gallery, figurative artists continue with this legacy. Just like Duchamp, both of these Chicago-centric artists effortlessly blend high and lowbrow culture. We see this clearly with Leggett's inclusion of SpongeBob Squarepants and Porky Pig drawings alongside themes of race and violence in his "Memorial day weekend" (2018) collage. Childhood also plays a large role in Richey's work as his oil on panel painting, "In and Out" (2016) features a young boy sneaking out of his bedroom window. Here, art acts a vessel of nostalgia, crucial socio-political issues, and playful satire.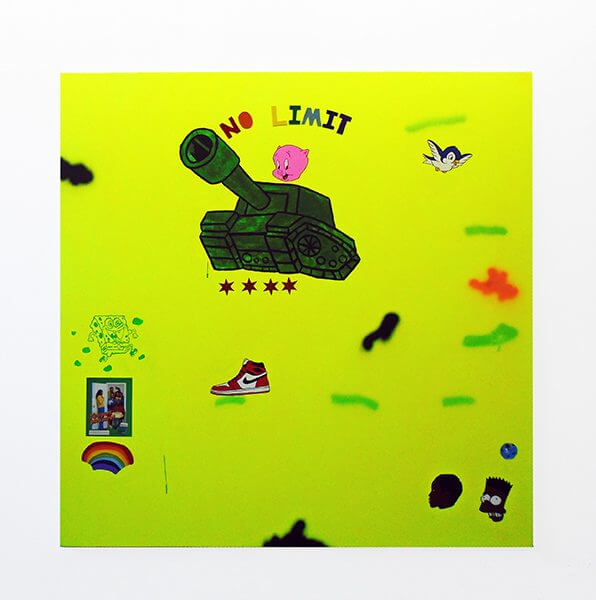 When former President Barack Obama chose figurative painter Kehinde Wiley to paint his official portrait last year, not many outside of the art world had ever come face-to-face with the artist's luscious floral backdrops and abundant symbolism. With the Skirball Center's recent showcase, Spotlight—Selections from Kehinde Wiley's The World Stage: Israel, countless visitors were able to gain a broader understanding of Wiley's staggering oeuvre. Renowned for depicting African and African-American men in a photorealistic manner, he envelops these figures in Eurocentric symbols of status and wealth. Subverting age-old notions of race, wealth, and power, Wiley portrays these underrepresented men in a style reminiscent of Old Master portraits and Baroque painter Hyacinthe Rigaud's 1701 portrait of King Louis XIV of France. He also showcases their multiculturalism and faith. Painted in 2011 as part of his celebrated World Stage series, these two intimate portraits depict two Ethiopian Jewish men living in Israel. Here, diversity is a great strength and virtue.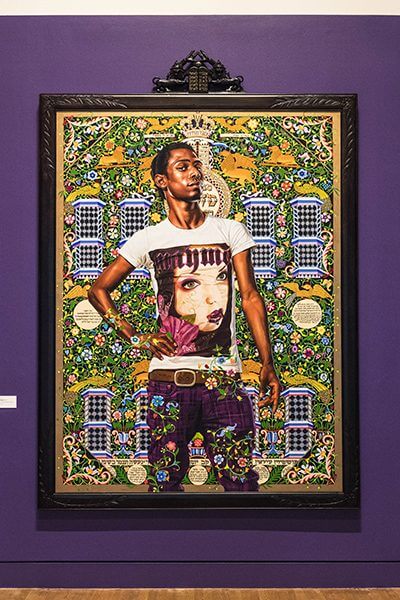 Time. It is a fickle friend. It rarely behaves as we would like. Moments of struggle and anguish seem to last forever as periods of joy and bliss slip through our fingers. The abstract, multifaceted concept of time serves as the focal point of the Broad Museum's current group showcase, A Journey That Wasn't. The fifty-five rarely-seen works on display here all come from the Broad's vast collection. Undoubtedly the centerpiece of this sweeping spectacle, Pierre Huyghe's 2006 film-and-exhibition-title namesake, "A Journey That Wasn't," reveals the mind's fallibility when it comes to matters of memory. This highly suspect project centers upon an expedition Huyghe claims he took to the Antarctic in search of a rare albino penguin. Shot in the style of a scientific documentary, the film also includes dramatic flourishes, cinematic icescapes, and cuts to a theatrical restaging of this excursion in Central Park's Wollman Rink. While only Huyghe knows for sure if this adventure ever truly took place, the footage presents a thrilling odyssey which is a joy to watch.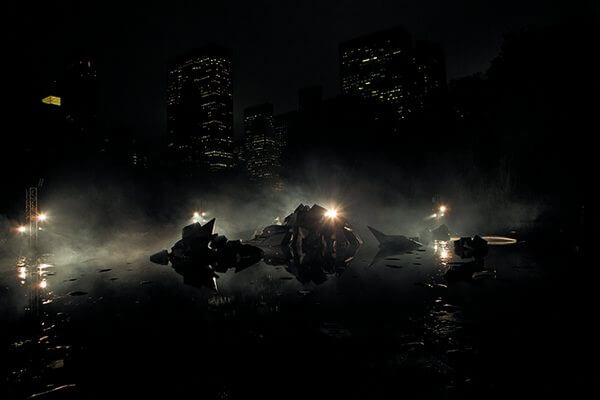 Much like A Journey That Wasn't, the Hammer Museum's summer group showcase, Made in L.A., also proudly featured a diverse array of artists and mediums. However, this biennial collection focuses on artists living and working in Los Angeles today. Boasting thirty-two textile, performance, painting, video, sculpture, assemblage, photography, and installation artists hailing from a total of thirteen states and seven countries, this presentation highlights critical socio-political issues, including representation and marginalization. These themes become heart-wrenchingly apparent in Cal State Long Beach art professor Diedrick Brackens's indigo-colored chenille blanket titled, "sleep don't come easy" (2016). Featuring vibrant hues and eye-catching geometric patterns, this tapestry also speaks to the fabric of our society and long-standing social injustice. As a queer African-American man based in Leimert Park, he imbues all of these elements of his background into the fibers. Brackens works mainly in cotton due to its historical ties to American slavery. Additionally, his textiles tend to symbolize the human body while his threads resemble streams of blood. With several wound-like tears in the fabric stitched together and others left ragged, these tapestries speak volumes about prejudice and its severe emotional impact. Brackens also suggests here that the trauma caused by this discrimination can be passed down through the generations just like sewing techniques.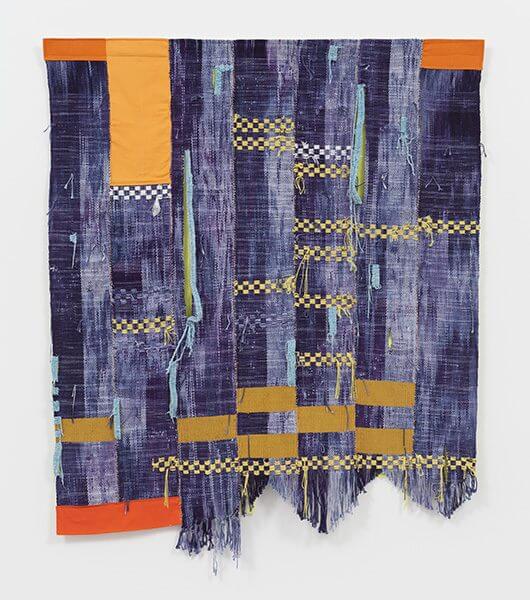 As a feminist icon synonymous with the beloved Brooklyn Museum installation, The Dinner Party (1974–1979), Judy Chicago recently graced the walls of the Pasadena Museum of California Art with a series of rarely-seen tapestries from the early 1980s. Featuring images of birth in a glorious, sublime light, Judy Chicago's Birth Project: Born Again sees this natural life event as a divine act. Wholeheartedly rejecting minimalism due to its association with male-dominated gallery scene at the time, Chicago instead chose to espouse traditionally female mediums, including needlework and embroidery. "The Crowning Needlepoint 3" (1983) is a standout here, with its heavenly golden light emanating from a flowering vagina. This disarmingly honest and empowering image even features a regal crown. What was once a shameful process resulting from a sinful deed is now noble and holy.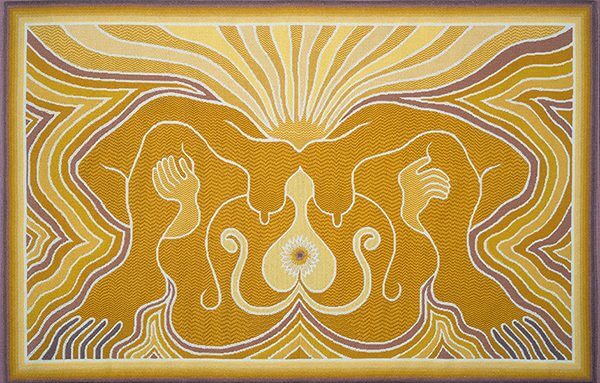 If you are interested in becoming an art correspondent for WTP, please inquire at wtp@thewoventalepress.net
Copyright 2018 Woven Tale Press LLC. All Rights Reserved.