Laura J. Bennett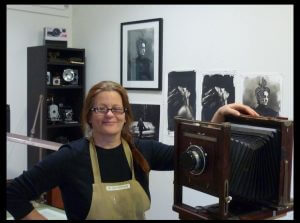 Umbilicus is a conceptual depiction of my life as both artist and mother. The spherical form is an element I have referenced in my work throughout my career. I sculpt spheres and build 'sets' in my studio, sometimes adding collected objects. The canvas backdrops are sourced from scanned antique glass negatives. I playfully refer to these sets as 'mother-worlds.' The final exhibition prints are a combination of platinum palladiums, piezographs, and archival inkjets on Awagami and Hahnemühle Papers. Whereas motherhood is a bit of a gamble in terms of outcome, my work gives me a sense of control, or at least the illusion of it."
Laura J. Bennett earned her MFA in photography / digital media from the University of Houston. She has taught all levels of photography and photo history at various colleges for the past twelve years. Much of her work stems from the female condition and from raising nine children. She was awarded the Mylio Grant through the Luminous Endowment for Elsa Johanna, an ongoing body of work about her grandmother, a Finnish immigrant. She won the TPS National Photography Award for Dames of Anatomy, resulting in an exhibition at Red Maple Gallery and a Participating Space in FotoFest Biennial 2018. The Dames of Anatomy also won The International Portfolio Competition at Soho Photo Gallery in New York City. The Center for Fine Art Photography awarded Bennett the Portfolio Showcase Award, and she will be having a solo exhibition of her work, Umbilicus in December 2018 at The Carnegie Center for Creativity in Fort Collins, Colorado. Her work has been published in View Camera and SHOTS magazine, as well as The Book of Alternative Photographic Processes by Christopher James. Bennett shoots with an old 8×10 Gundlach and an early Hasselblad, but also enjoys scanning antique negatives, film, interesting objects, medical illustrations, and vintage ephemera for transformation in the computer.
See Bennett's winning works in WTP Vol. VI #9.
Copyright 2018 Woven Tale Press LLC. All Rights Reserved.