See Rae's work in WTP Vol. VI #8.
Inside the Studio offers a behind-the scenes peek into the work environments of WTP artists, as well as insight into their creative process within these resonate spaces.
By Jennifer Nelson, WTP Feature Writer
As she enters her home-based studio in West Lafayette, Indiana, fiber artist Andrea Rae is reminded of a dark side of human existence. Hanging on the door is a pocket from a pair of jeans worn by a former prostitute. On the pocket, the word "Tips" is written in red ink. "For me, this woven piece of fabric is a daily reminder of human trafficking, child pornography, and the many tragedies that still occur in every state and country."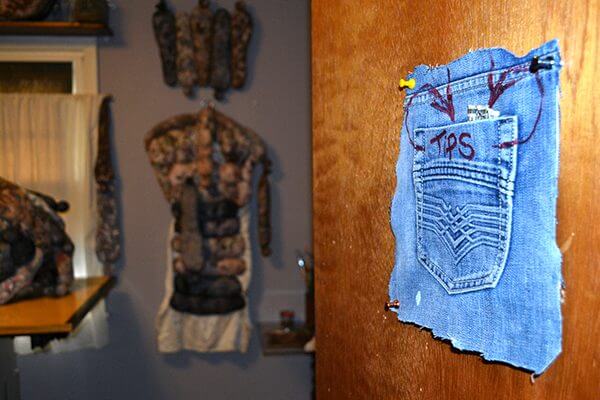 Other parts of her studio aren't as thought provoking. A wall of shelves houses twenty bins to store scrap fabrics, staple and glue guns, and yarns. A south-facing window provides plenty of light. One corner contains her easel and a small, glass-topped table for paint and brushes. Most of her work is constructed on a sewing table and old, electric drafting. When Rae's eldest son left home, she took over his room. "The physical space of my studio is not a source of inspiration for me," she says. "That's not to say I don't get inspired while being there."
During grad school, her studio at Purdue University had tall, fantastic windows, a fifteen-foot ceiling, and plenty of space. "My current studio is a bit smaller, but it only takes ten seconds to get there," she says. Nevertheless, the space is big enough to assemble large installations, though at times, storage can be a problem. Thus, she uses a separate storage room for many of her life-size pieces and over three thousand stuffed figures.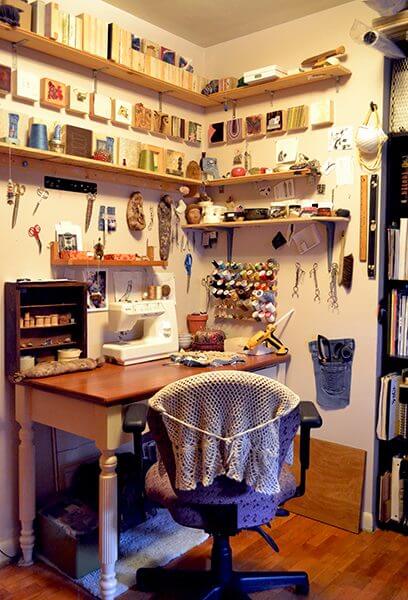 Friends, extended family, and neighbors have donated many materials for her to use. Occasionally, she'll go to a women's shelter and offer to purchase new clothing in exchange for an old item the women no longer want. She views her work as an effort to connect to others and bring awareness. "Like many artists, I hope that my work will have an impact and cause people to stop, reflect and consider," she says.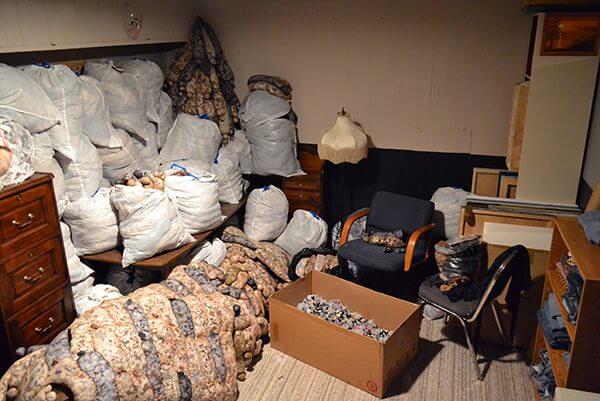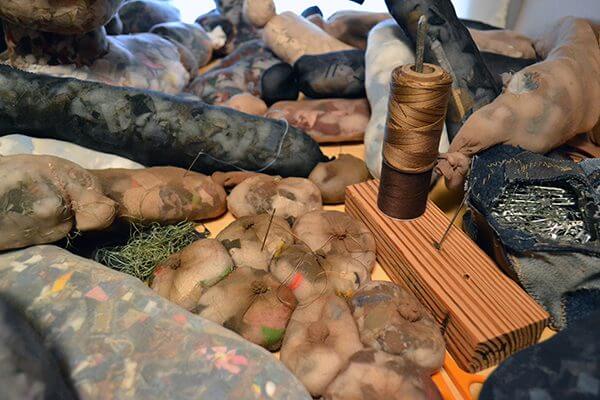 Typically, she begins with a sketched idea, and that sketch will evolve into a painting or three-dimensional piece. Installations are often responses to the space itself. She feels her work is better when she's working on several pieces simultaneously. "It's good to step away from a piece and work on something else for a time, and then go back to it with a refreshed viewpoint."
Unless she's out of town, Rae works in her studio every day. She's been told that her work ethic is insane. She starts early in the morning—after a cup of coffee—and works until 5 p.m. to midnight, depending on her teen's schedule and family events. First, she goes on her computer to check email and the news, then she starts creating artwork. On rare occasions, she plays music, but mostly she listens to TED talks and artist interviews online. Sometimes, she goes back to the studio after everyone has gone to sleep. For her, these times are the most peaceful. "I'm very fortunate to be able to work full-time at home," she says. "To some it may sound mundane, but every day is different."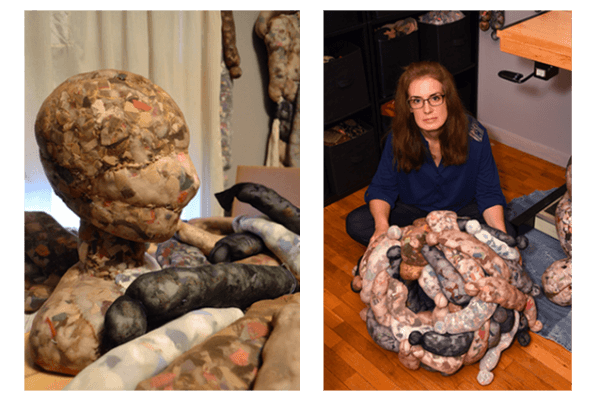 Copyright 2018 Woven Tale Press LLC. All Rights Reserved.