Inside the Studio
See Swan's work in WTP Vol. VI #10
Inside the Studio offers a behind-the scenes peek into the work environments of WTP artists, as well as insight into their creative process within these resonate spaces.
By Jennifer Nelson, WTP Feature Writer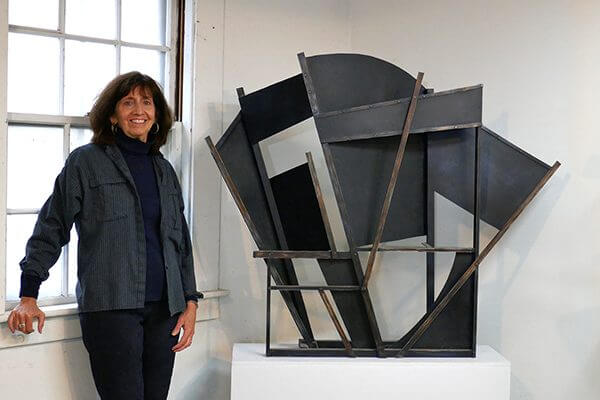 Thirty years ago, sculptor Margaret Swan converted a garage at her home into an artist studio. The five-hundred-square-foot garage, which is behind her Victorian house in a Boston suburb, boasts a high-peaked roof loft space. "It is not a source of inspiration, but a place for inspiration to take place," says Swan.
Since graduate school at Bennington College, Swan has focused on sculpture. Her work has been inspired by experiences with nature, architecture, and the world around her, and she keeps a "visual diary" of photographs as inspiration for future works.
She tends to work on a series of related pieces that evolve from a common theme. Aloft, her recent show at Boston Sculptors Gallery, was inspired by the interplay of skeletal and skin-like forms found in the structure of sailboat rigging. "I usually work out the main components of a piece one at a time, but I work on the finishing of surfaces on multiple pieces at once," she says.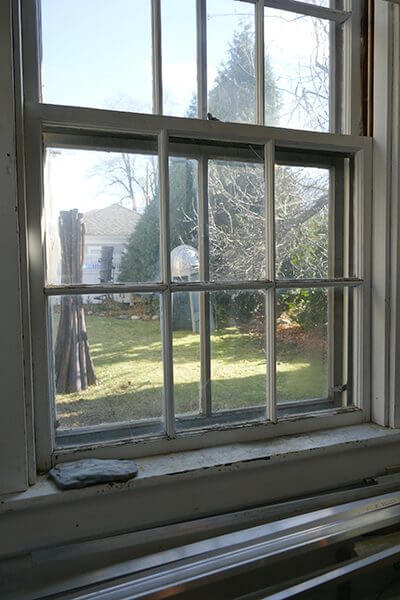 Before the purchase of her 1894 home, Swan rented a spacious studio on the fifth floor of a warehouse next to Boston's Chinatown arch. She was sorry to leave that workspace: "The aroma of Chinese food wafted in my back windows and the large front windows framed Boston's expanding skyline," she says. "Affording a studio of this size and location is not possible for most individual artists today."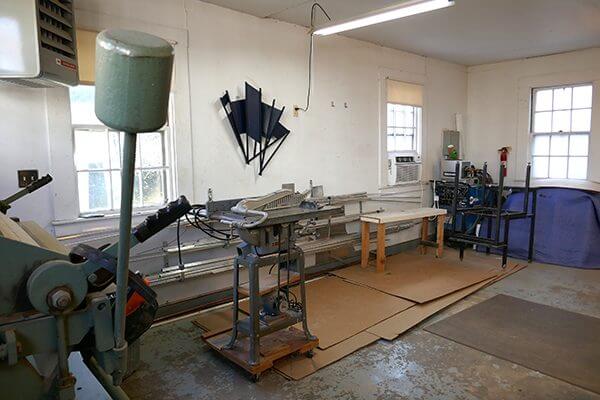 Swan's workday has changed dramatically since retiring in 2017 as Department Chair of Art and Design at Middlesex Community College. For the first time, she is a full-time artist. Working at home has distinct advantages. As a mother and professor, she avoids commuting, allowing more time for other activities. Though the studio is a third of the size of her former one, she can store work in the basement, the house's attic, and yard. 
Her workday begins where she left off the day before. "My work day revolves around the evolution of my sculpture from its conceptual development of cardboard model-making to metal finishing processes." Before starting a sculpture, she spends a few days making two-dimensional sketches and three-dimensional models. Once a piece is underway, she focuses on structural issues in her design and aesthetic revisions.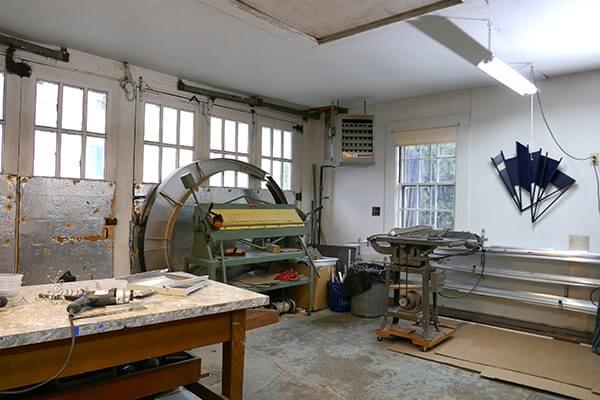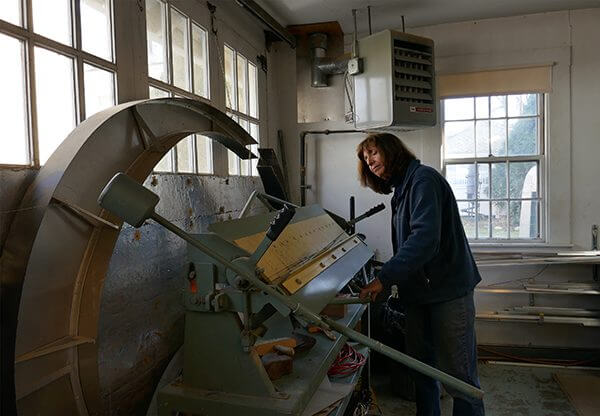 She primarily works with aluminum and copper sheet metal, with structural metal armatures integrated in the pieces' designs. She lays the four-by-twelve-feet metal sheets on the floor, separated by cardboard. The twelve-foot structural metal, such as angle, channel, and bar stock, are stored stacked on wall brackets.
In her studio, she constructs her abstract sculptures with basic metal fabrication techniques. She uses an electric metal shear, a sheet metal brake, a table saw, drill, rivet gun, and a variety of hand tools and clamps. For some projects, she depends on a tungsten inert gas (TIG) welder as well.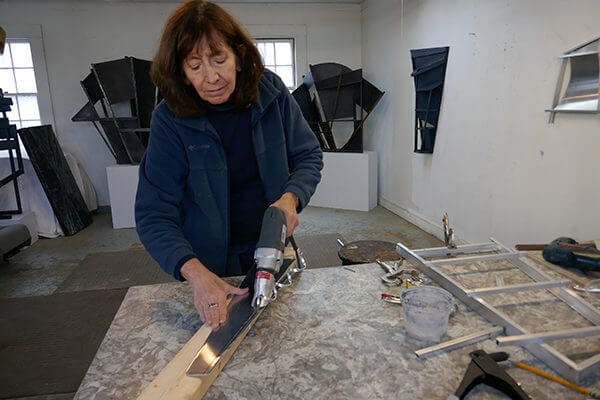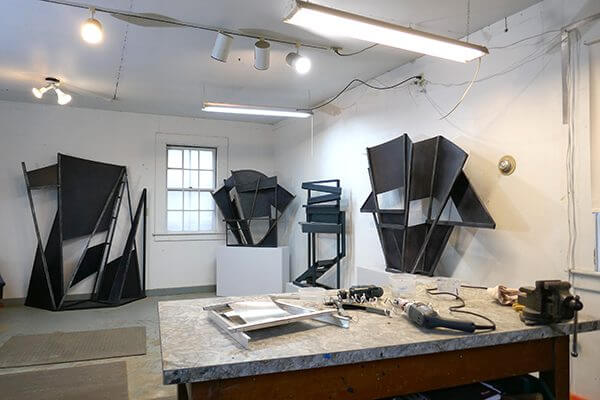 "As a life-long artist, the most important function of my studio has been providing me with a place to focus and work on my own. It has been an anchor in a busy life with a full-time job and family."
Copyright 2018 Woven Tale Press LLC. All Rights Reserved.