---
"I think of media as different games—
one might be bridge and one, chess."
Interview by Jennifer Nelson, WTP Guest Writer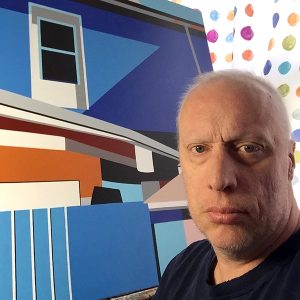 Gordon Leverton is a self-taught Canadian artist who was awarded honorable mention at the 2014 Juried Toronto Outdoor Art Exhibition. He received first place awards in the Junction Juried Art Exhibition and the Riverdale Art Walk in Toronto. His work is in corporate and private collections of Dr. Ivan Selin, founding chairman of the National Museum of American History; C.C.H. Pounder, actress; and the city of Toronto. He recently completed an ad campaign for FirstOntario Credit Union, in which his work was prominently featured in the bank's thirty-four branches. Press coverage includes spots on CBC Nightly News and Global News at 6, as well as in the newspapers The Hamilton Spectator and The Globe and Mail. He lives in Hamilton, Ontario, with his wife and two children.
Nelson: How did your upbringing in Chatham, a farm-belt community in Ontario, inform your artwork?
Leverton: I grew up in a rural community—not quite farmland, but very close to it. Not many people around or other kids to play with. When I had a chance to go to a big city like Toronto or Detroit, I was captivated by the buildings and factories. That planted the seed for what would come later through my art.
Nelson: How did your previous work as a writer, entrepreneur, and musician impact your decision to focus on artwork of urban landscapes and architecture?
Leverton: I always joke that my previous jobs prepared me for a life as a starving artist! But I've always been attracted to the creative field because you can always find that Zen state, whether it's practicing scales or reading a good book—time stands still.
Nelson: Works such as "Cross Currents" from your series Sight Lines feature colorful, geometric shapes and playful shading of buildings from a bird's-eye point of view. How did you come to working with this kind of perspective?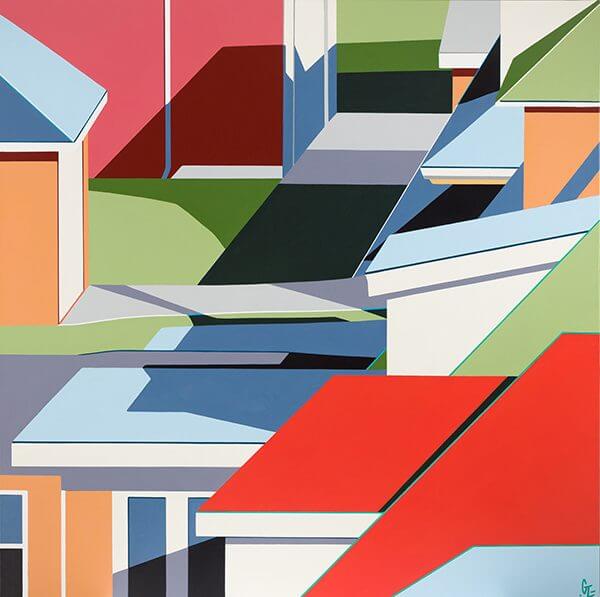 Leverton: In 2015, I underwent treatment for lymphoma and was in and out of the hospital for a period of time. The cancer hospital in Hamilton is located on the brow of the Niagara Escarpment, which affords a beautiful panorama of the lower city. This vista inspired the Sight Lines series, which is really a statement on connectivity. The bright lines are conduits; the streets and lanes, wires and pipes that lead through our neighborhoods; the oxygen masks and IV lines at the hospital that lead out to the greater world; even our own bodies with their myriad of veins and electrical impulses.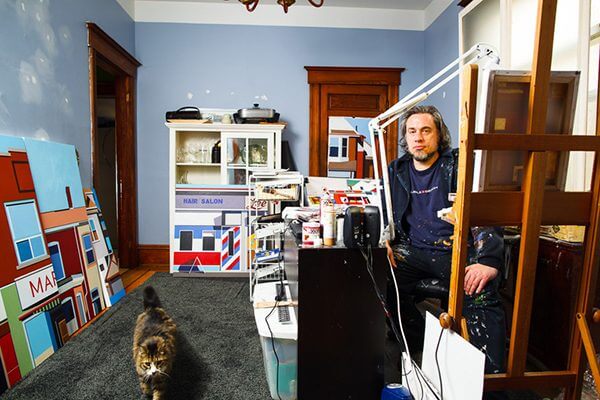 Nelson: Can you talk about your use of pastel in your earlier works, and then later acrylics? What's particularly interesting is that they seem to be used to similar effect, yet there must be differences, however subtle, as they are quite different mediums.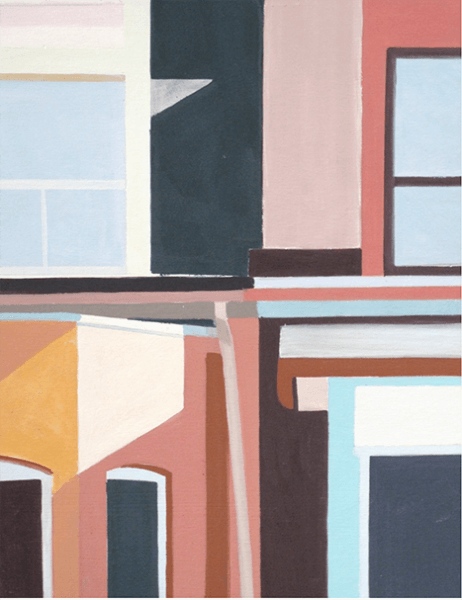 Leverton: Each medium has its challenges, and you're right when you say they are quite different. Using pastels for me at least requires more pre-planning, as it's difficult to erase a mistake, and you have to keep the light areas clean. Acrylics are more forgiving—I can always paint over a color that doesn't work—but because I paint so flatly, I have to be careful not to leave ridges and unwanted brush strokes. I think of media as different games—one might be bridge and one, chess.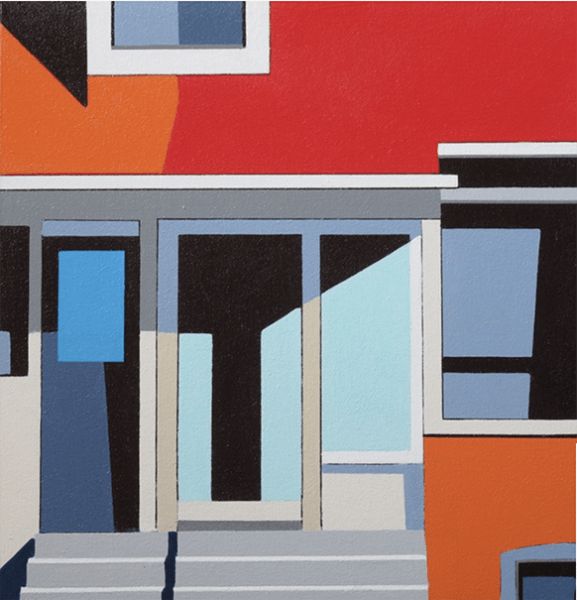 Nelson: Certain Terms examines the hot real estate market using wood, plastic, and metal assemblage to form faux-house facades. How did you come to this series, and to these materials for this series?
Leverton: Certain Terms is a work in progress. I'm still gathering materials and thinking through the process, but I'm eager to make a statement on the current real estate bubble in Hamilton and how it's pushing out people with more modest incomes. The creative sector is greatly affected by gentrification.
Nelson: How do you balance your time between your commercial and personal work?
Leverton: Most of my studio time is dedicated to personal work. I didn't train as a graphic artist, but I do take on occasional commercial work. More frequently, I do commissions for clients of their home or business and enjoy the challenge. It takes me outside of my comfort zone, even though it's strictly "my style," and clients understand this going in.
Nelson: How do you see your art evolving in the future?
Leverton: Art goals are nebulous. You can say, "Well, in five years, I'd like to expand my studio and hire an assistant," but you can't say, "In five years, I'd like to be X amount better." If I see progression in the quality of work, whether I choose to paint more abstractly or realistically, or change mediums completely, I'll be content.
See Leverton's work in WTP Vol. VII #1.
Copyright 2019 Woven Tale Press LLC. All Rights Reserved.