---
Fiberverse: Quilted Paintings
By Richard Malinsky, Arts Editor
The first paragraph of Cindy Rinne's artist statement is a quote by Josef Albers: "To experiment is at first more valuable than to produce; free play in the beginning develops courage." For over thirty years, Cindy Rinne has embraced that philosophy in her mixed-media fiber work, by drawing with thread, and painting, burning, and bleaching various new and repurposed fabrics, reassembled to tell new stories. 
Her website, www.fiberverse.com, features an extensive variety of "Quilted Paintings," collage compositions of both exotic and local fabrics collected over the years. Clearly inspired by history and nature, Rinne delights in embellishing her collages with vintage laces, buttons, Japanese fabrics, and other various textural elements. The mythical imbues her works, as seen in "Garden Path" from her Nature Series.
Her mythical stories are conceived out of her research of goddesses and their environments within a myriad of cultures: "I create new myths or discover myths of the past and combine these with present experiences." Memories seem stitched into her textile collages, which contain intimate, rich tactile surfaces that draw the viewer into her compositions. You can feel the connectivity of individual elements, as in "Cassiopeia" from the A Constellation of Galaxies series: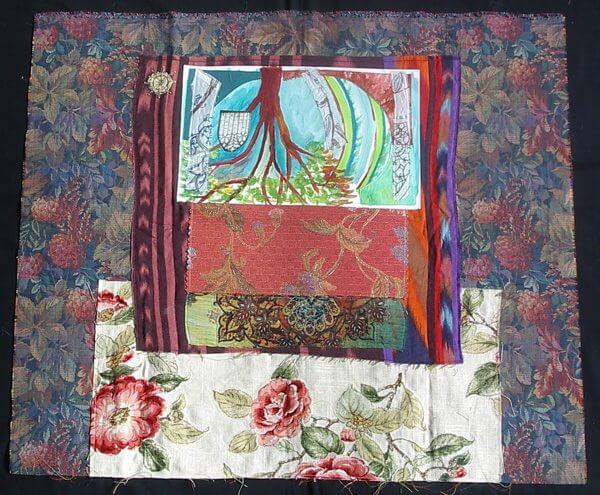 Rinne isn't a slave to a pre-conceived design plan and frequently works on several pieces at once. Each piece will have its own experimentation and unique fabrication—like paper stitched to fabric and the quilting of multiple layers. I was particularly drawn to the series Tapestry Sculptures, where her compositions move away from the wall and are suspended like tapestries on a freestanding structure. Her multi-level surfaces work very well in this new three-dimensional environment. Even though "Floating Lily Pads" is relatively small, it has a monumental quality in relation to the space surrounding it. I imagined this as a dressing screen or room divider: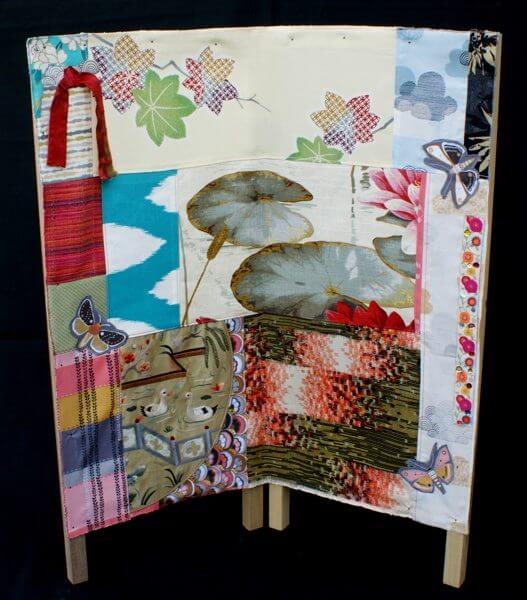 It's important to note that Rinne is also an accomplished poet. Her lyrical verse and "quilted" compositions are conceptually inseparable. In the Verse section she presents separate samples of poems as well as a series of "quiltings" titled Poems on Fabric. This series includes "The Breath," which clearly fuses the two disciplines together as one. The verse is written on a swatch of fabric and stitched into the work as a compositional element.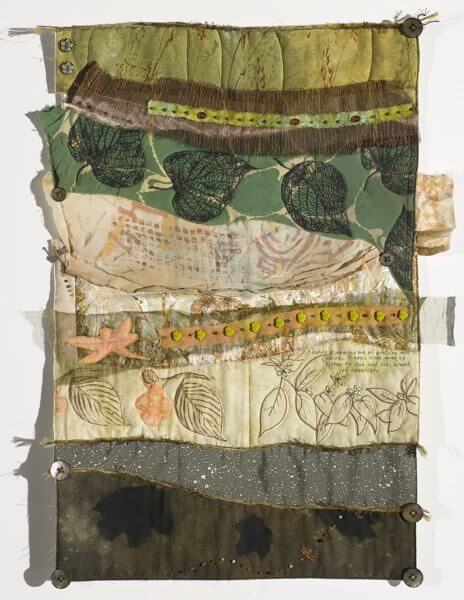 Rinne is a graduate of the University of Missouri and has an extraordinary exhibition list throughout the United States. She was recently featured in "100 Vibrant Artists at the Neutra – Guest Artist," Los Angeles, CA, 2018.  Her work over the years has blurred the boundaries of craft and fine art.
Copyright 2019 Woven Tale Press LLC. All Rights Reserved.