"It is my firm belief that having a film background
is a great advantage working in digital photography."
Interview by Jennifer Nelson, WTP Feature Writer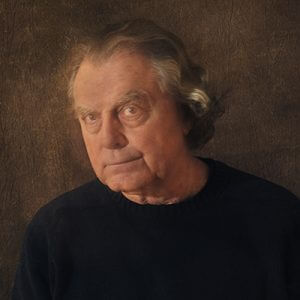 Ken Collins is a professional photographer and artist in New York City. His work has appeared in numerous publications, including American Theater, New York Magazine, The New York Times, ARTnews, Newsweek, Orion, and Lenswork. Umbrage Books published his award-winning portrait series, In Their Company: Portraits of American Playwrights. His work has been shown at solo and group exhibitions and included in private and public collections. He teaches at the International Center of Photography in New York. He graduated with a BFA in Photography from the Art Center College of Design in Pasadena, California.
Nelson: You've been a photographer for fifty years. Can you reflect on this journey as an artist, including how you have evolved and how the medium has changed?
Collins: I began my photographic career in the Navy in 1969. It was at the Naval School of Photography and that moment that they handed me that first camera, I discovered the magic of photography, which still holds today. After the Navy, I continued my studies, much of it in art history and film history at San Francisco City College. From there, I went on to study at The Art Center College of Design, which was very influential in my formal approach to photography. Most of my career to date has been analog photography, working with silver-based film and chemicals. As the digital technology has become ubiquitous, so has the photographic image in our culture. It is my firm belief that having a film background is a great advantage working in digital photography. For example, when working in Adobe Photoshop, when you click on hue and saturation or color balance, you understand what that means. I embraced digital late but now I see it as another remarkable tool we photographers have to express ourselves. That being said, photographs reveal a truth not the truth, but the technology is taking us further from that to what has been termed "post-photographic," even though there has always been some manipulation in photography. What a photograph is and what a photograph means has changed dramatically in the twenty-first century.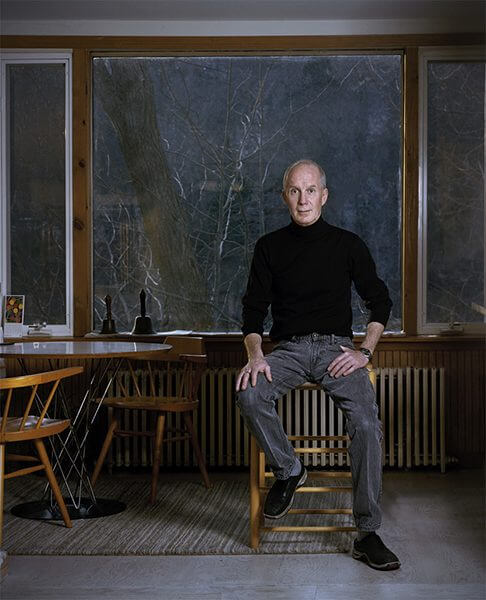 Nelson: Your portraits give a sense of person's personality and profession through the use of props, a particular setting, and the person's stance. How do you decide what to use to stage these portraits, and get the person to act in such a way that will reveal who they are?
Collins: When I work outside the studio, the environment becomes a part of the composition and it is all about directing the subject in that environment. The subject is the first read and the elements in the environment are the second and third read. This creates the narrative in the image. I believe that part of the process of a photographic portrait is a collaboration with my subject and partly manipulation to get the photograph that I want. As the pose is a combination of the subject both revealing and protecting themselves, it is a push and pull between me and my subject. The end result is photograph that becomes "internal, external and eternal document." 
Nelson: The portraits that appear in The Woven Tale Press this month are in color. Yet the color is minimal—they seem a bridge between your true color and your black-and-white portraits. Can you talk about this approach, why it seems to have been important to this series?
Collins: In my typical minimal approach, the face is the focus in this series because I do not want to distract the viewer with too much color. With minimal color, the reaction to the image is to the life lived in the face.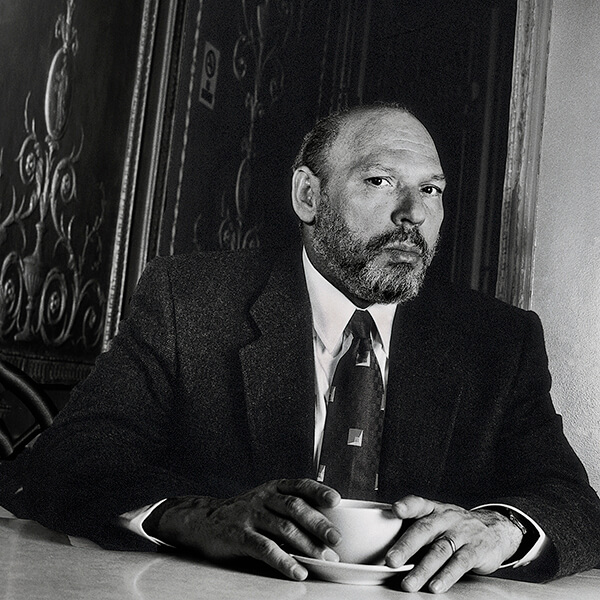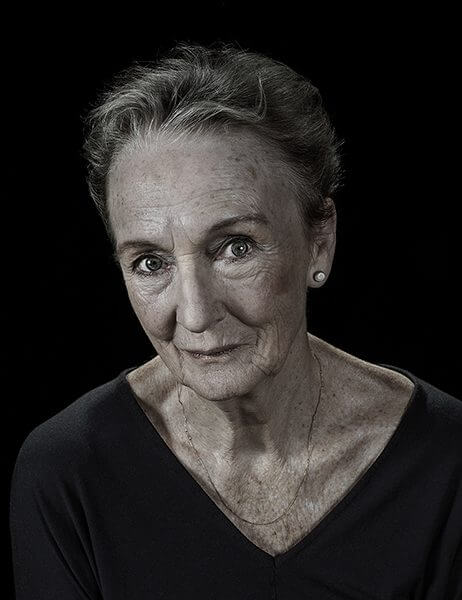 Nelson: How did you get interested in taking photos of playwrights for your book published in 2006, In their Company, Portraits of American Playwrights?
Collins: The book In Their Company, Portraits of American Playwrights is purely a labor of love and my passion for the theater. Plays tell stories and photographs tell stories. The words the playwright has written come alive onstage in real time with real people and the audience has an intimate experience. Photography works the same but in the opposite direction—capturing real people in real time the image creates an intimate experience for the viewer. As soon as the photograph is taken that moment has passed, and when the performance of a play is over those moments have passed.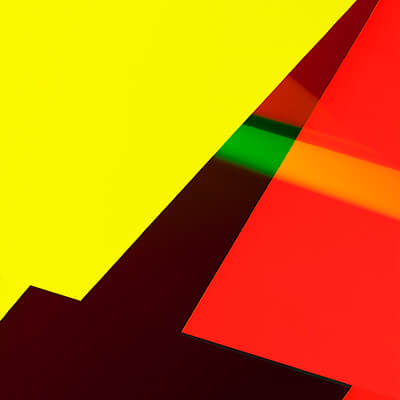 Nelson: Can you talk about your Photo-Graphics? How you came to this vibrant and abstract series, quite a departure from your other works?
Collins: Photo-Graphics series examines the idea of making images devoid of references to reality. These images began as digital photographs. As the process evolved through digital manipulation they became less and less photographic and more visual puzzles of geometric form and color. While portraiture is a very complex process, my work in the abstract is about the challenge of creating compelling images with as little as possible using basic elements of light, shape, form, line, and color relationships.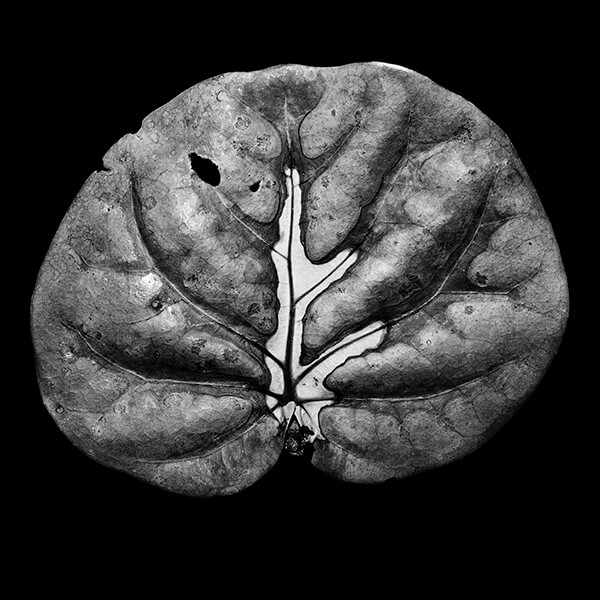 Nelson:  For me, the photos in the series Seagrapes & Sacred Geometry resembled brain scans from a MRI with six panels, though in reality they are of leaves. Was it your intention to create images that are left up to interpretation? Why did you decide to take pictures of nature, and what techniques did you use to create these photos?
Collins: In most of my work I prefer to leave the interpretation up to the viewer. I'm using these simple three-dimensional objects, leaves, a sphere, to create an alternative two-dimensional object, a photograph. For both these series, I brought natural elements into my studio then with artificial light and film allowed the beauty of these simple objects to speak for themselves.
The familiar begins to feel unfamiliar. With Seagrapes and After the Fall, discarded leaves are photographed to reveal their beauty, evoking uncomfortable intimacy with decay, and the cycles of nature. The viewer experiences the literal and the imagined.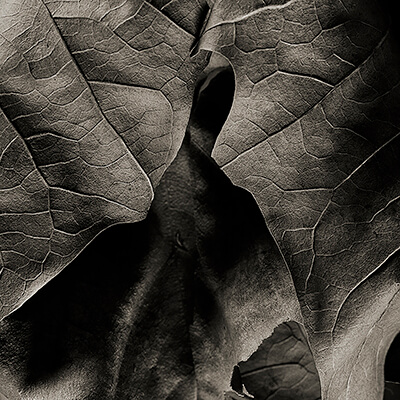 With Sacred Geometry, a simple sphere is photographed within a square with artificial light. The two basic elements that Malevich called "sacred geometry." The circle represents change, movement; the square represents solidity.
Conflicting experiences of the psychological and visual fascination drive my work. I seek to inspire prolonged viewing that invites contradictory readings of the typically seen. My purpose is to extend the act of viewing and seeing. To invite discovery of the multiple and contradictory perceptions of an image, I continue to explore the possibilities of abstract imagery with traditional photography, work that blurs the distinction between realism and abstraction, seeing beyond the literal.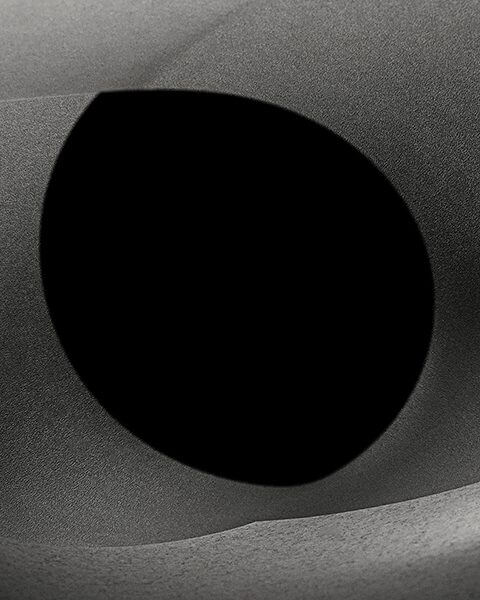 Nelson: How has teaching photography impacted your creative work?
Collins: I actually never intended to teach, that being said I find it rewarding and it keeps me on my toes creatively. By that I mean as you mentor and guide students it pushes me to think about my own creative practice and what direction I want to go with it.
Nelson: How do you see your photography changing in the future?
Collins: I will continue to pursue new ideas and projects as I always have, but as technology has had an effect on my recent work, that will continue. As I learn more how to use these digital tools that will certainly influence the type of work I do, but I will always maintain what I call an analog approach to making images.
Copyright 2019 Woven Tale Press LLC. All Rights Reserved