See McTague-Stock's work in WTP Vol. VII #1
Inside the Studio offers a behind-the scenes peek into the work environments of WTP artists, as well as insight into their creative process within these resonate spaces.
By Jennifer Nelson, WTP Feature Writer
Nancy McTague-Stock has worked in various studios, both here and abroad, including in an old castle in the Champagne-Ardenne region of France last October. She received the Denis Diderot grant, which funded part of her stay, in a tiny village surrounded by green fields and forests. There, working in a small studio, she was inspired to work on small photographic pieces and works on paper instead of large paintings as she would back in her Connecticut studio.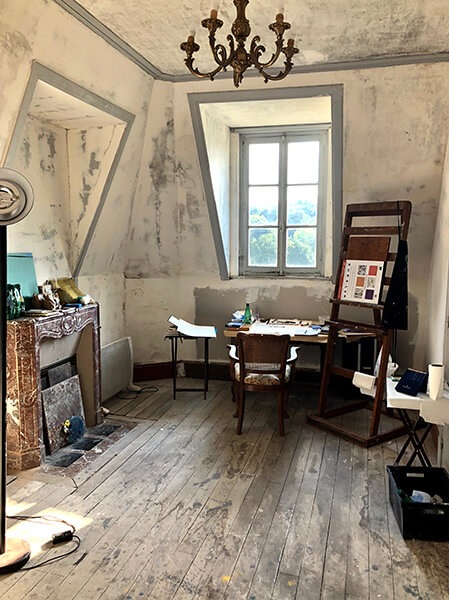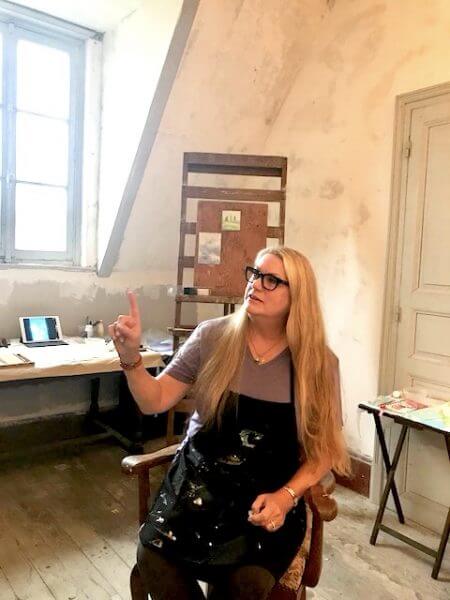 The studio at Chateau d'Orquevaux was furnished with a sturdy table, easel, chair, lights, and small side tables to hold supplies. Great morning natural light flooded through a small window in the castle from the late 1800s. She brought her own drawing materials, watercolors, gouache, paper, Ipad, ear buds, and camera. With its original plaster walls, wooden floorboards, and marble fireplaces, the studio had charm and nuances that she ended up using in her work. This contrasted sharply with her modern, renovated studio at the Wilson Avenue Loft Artists (WALA) in South Norwalk. "It was perfect for what my needs were at the time," she said. "It was comfortable with amazing natural light and a good night lamp. There was a clean-up sink right outside my door, so it was perfect."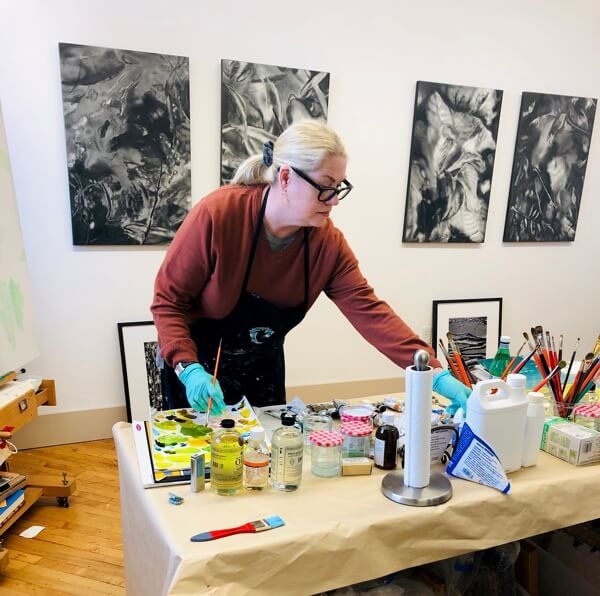 Back at home, she works in a bright, second-floor studio in a converted warehouse run by WALA, which rents out studios to fifteen artists and provides a gallery where they can show their work at an annual open studio event. She loves her studio's natural light—critical for daytime painting—and excellent color-correct overhead lights for night painting. "The larger space with high ceilings gives me contemplative room to breathe and think without bumping into an easel or flat files," she said.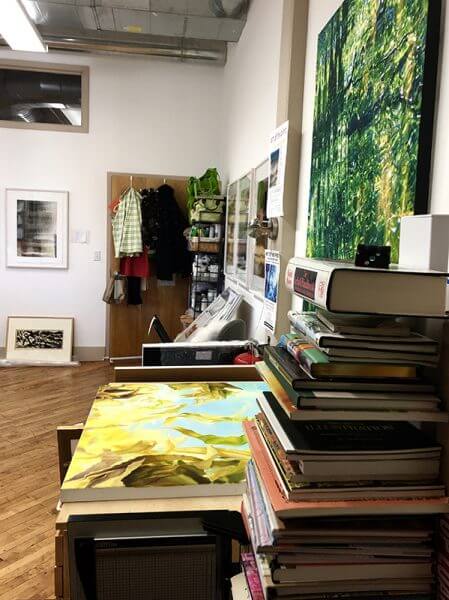 She's also pleased that she can keep in one place her favorite book and materials. In her studio, she stores her painting, printmaking, and photographic materials in Elfa rolling drawers—which she loves—flat files, and painting racks. The space is large enough to accommodate an intaglio printing press, two large easels, an Epson printer, and many six-by-eight foot folding tables, where she can lay things out when she's printing. She believes in keeping her studio organized. "I hate wasting painting time looking for something! Once I arrive in the studio, I can just make some coffee and get to work."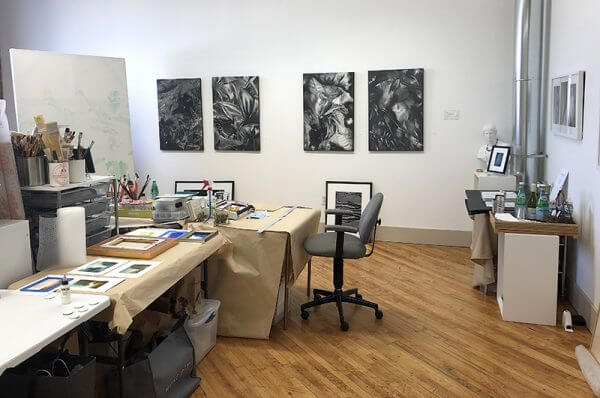 Her workday begins between 8 and 9 a.m. and ends between 3:30 and 4:30 p.m. On Monday mornings, she and fellow artists use the gallery space to practice qi gong, a type of martial arts. The goal: To get the week off to a great start.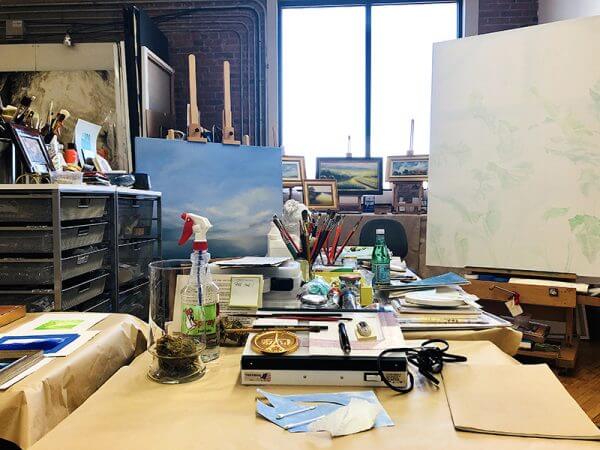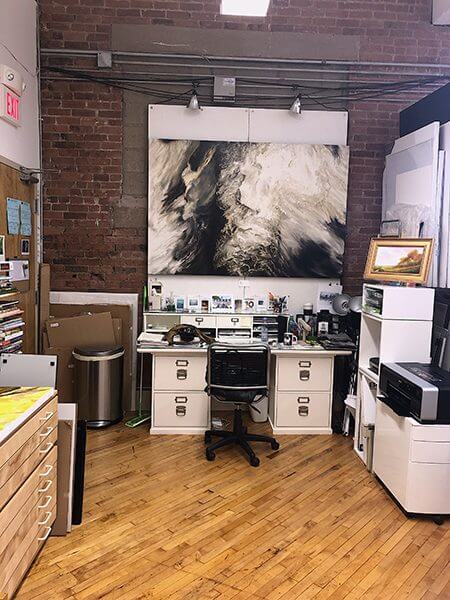 The first half hour, she spends making coffee and looking at the art she created the previous day. Then, she gets down to work. For a new project, she spends a whole day or several days prepping canvases or paper, taking notes, and figuring out what she hopes to create and achieve. For a painting, her days are similar. She paints slowly, using a lot of glaze layers in oil, so it's almost meditative. Printmaking involves setting up inks, brayers, and plates, with everything in place before starting so there's no need to stop midway to mix colors.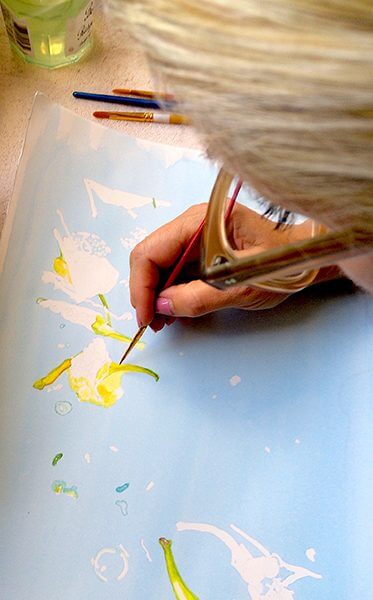 In between projects, she reads, contemplates, and does research—and goes to art shows in the city. She also spends a lot of time writing plans for a new series with ideas sparked from visual or sensory experiences, as well as news articles, travel, books, or a poem. "When the muse hits, I jot down thoughts in one of several notebooks…or take notes on my phone to come back to," she said. "Much like an actor who plays a wide variety of roles and does not wish to be pigeonholed into one life long character, I like to explore the many possibilities that exist."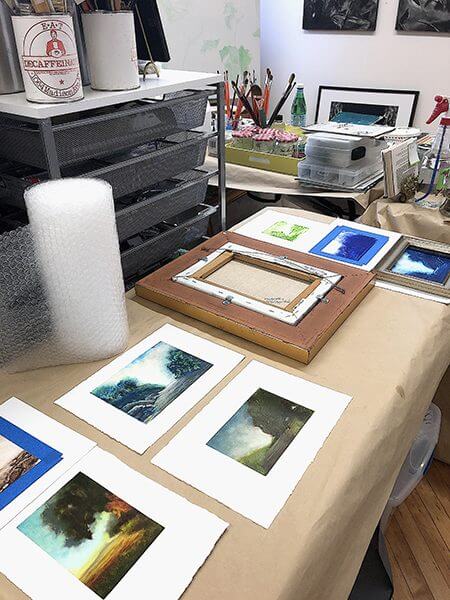 Copyright 2019 Woven Tale Press LLC. All Rights Reserved.