Winter 2018 Highlights
By John S. Berman, WTP Art Correspondent
Four times a year, WTP art correspondents from around the country will report back on the previous season, with images from exhibitions you otherwise might have missed, and their own insights into these varied venues.
Art shares a natural affinity with the world of science. Artists and scientists both engage in a process of invention and discovery that might begin with a concept, idea, or hypothesis but can sometimes lead to unexpected and surprising results. Artists are also born explorers and experimenters—trying out new methods of expression and often challenging the viewer to rethink preconceived notions and expectations.  And…when it comes to ecological stewardship, artists' transformative application of found objects, recycled materials, ephemera, and detritus that would otherwise be destined for toxic landfills, frequently positions them as allies and partners of scientists who have sounded the alarm about the immediacy of environmental degradation.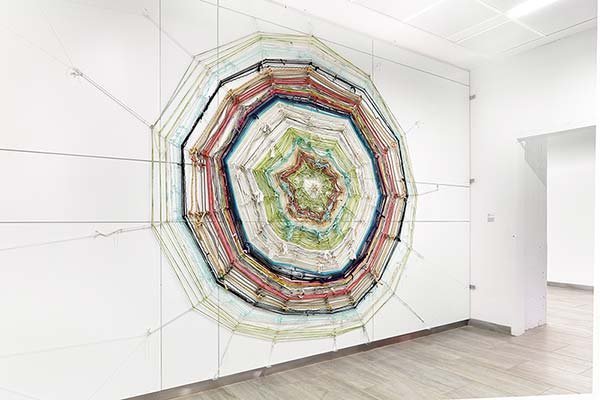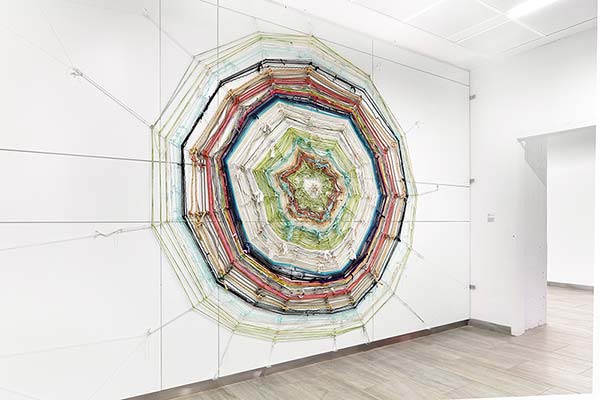 The symbiosis works in reverse, as well. There is a clear aesthetic realm in which science, when it is most compelling, communicates its message to the observer. Many of us remember, as children, those exciting trips to the planetarium when we learned about the solar system, the stars, and the galaxy through dazzling light shows, where it felt as if the universe was moving around us and we were flying through the sky. What can sometimes feel like the driest, most wonky research findings can spring to life when presented through art—as something that we directly engage with and that engages our sense of wonder and curiosity.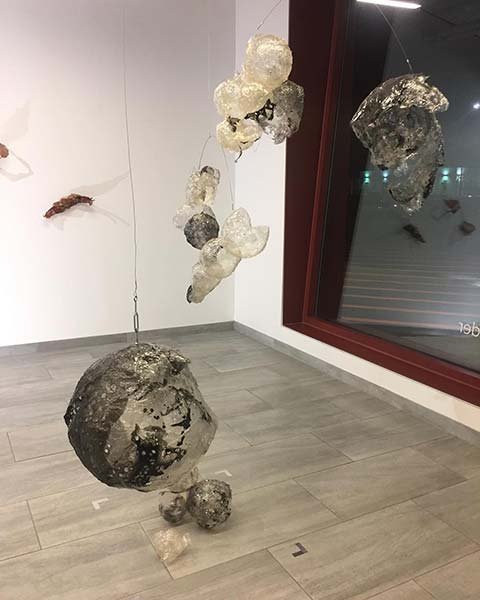 Enter the spacious new BioBAT Art Space, opened in early January, which sits on a desolate, windswept corner on the southwest tip where Sunset Park and Bay Ridge converge, at the edge of the Brooklyn Army Terminal (hence the BAT acronym in the name), steps away from the East River ferry pier. This is not exactly "the main drag." In fact, to enter the gallery, you have to drive or walk through a security checkpoint, unless you are coming in by water taxi from Manhattan.
BioBAT bills itself as the "first exhibition space in New York City that is entirely dedicated to the intersection of Art and Science…a not-for-profit corporation formed by the New York City Economic Development Corporation and the Research Foundation for the State University of New York." The gallery is situated around the rather intimidating and expansive BioBAT building complex, initially renovated to house a major biotech industry center in Brooklyn more than a decade ago. Although this process evolved slower than anticipated, BioBAT is now growing rapidly—providing significant space to an increasing number of science and technology-based research, manufacturing, and media firms. In addition, several arts organizations and food and fashion businesses also call the massive five hundred thousand square foot "campus" their home, as does a New York City public Pre-K program. 
Fittingly, the curators build on the often-used acronym STEM (Science, Technology, Engineering, and Math) to embrace the broader concept of "STEAM" education, which adds "art" as the core component to support the other four categories. "We believe," they write, "that the arts can be used to enhance creative and critical thinking, make connections across disciplines, and nurture future generations of innovators."
It's a tall and ambitious order but also a tremendously exciting one, that has already generated enormous buzz, despite BioBAT's difficult-to-access location. The gallery's inaugural show, Spontaneous Emergence of Order, curated by visual artists Jeannine Bardo and Elena Soterakis, showcases the work of four decidedly interdisciplinary artists, Tanya Chaly, Magdalena Dukiewicz, Richelle Gribble, and Tarah Rhoda, who incorporate scientific modalities—research, observation, exploration, and experimentation—to connect the viewer to the natural world and to ask questions about the relationship between that world and the often chaotic intrusions on it, which the curators refer to as "the messiness of life." By juxtaposing the seemingly oxymoronic of "spontaneous" with "order," the artists attempt to explore how the two concepts merge and complement each other in the realm of science and technology.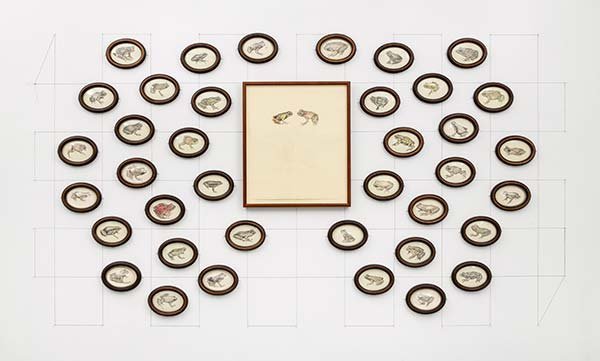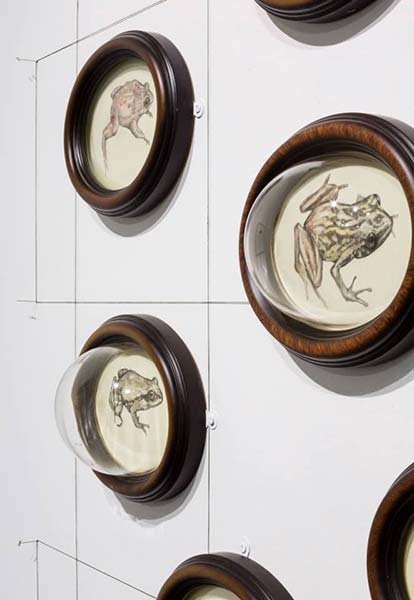 Australian-born Tanya Chaly's multifaceted paintings, drawings, and installations connect the sometimes difficult-to-measure deleterious impact of human activities on birds and amphibians experiencing rapid population decline without sufficient public awareness. Her display consists of a series of oval paintings representing a variety of different frog species that resemble scientific specimen samples, perhaps from a high-end biology textbook. In the middle of the display sits a large rectangular work with two amphibians facing each other, as if in conversation. The overall effect of Chaly's exquisite painting is enchanting until we are confronted with the reality that these creatures are increasingly endangered.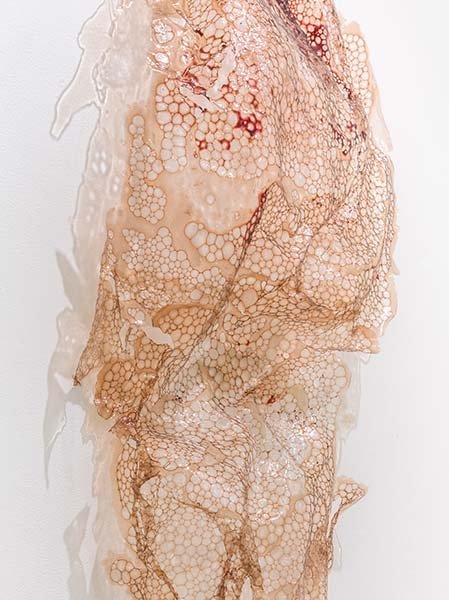 The ephemeral spiral of life illuminates Magdalena Dukiewicz's highly original installation, which resembles a miniature reproduction of the solar system, and at first glance, looks to be comprised of discarded plastic wrap. The surprise is that the material is actually hydrolyzed animal collagen and blood. As a result, viewers who visit the exhibition more than once can watch the piece literally decompose and disintegrate over time. Through this organic process, Dukiewicz brings us face-to-face with the reality of identity, evolution, and death.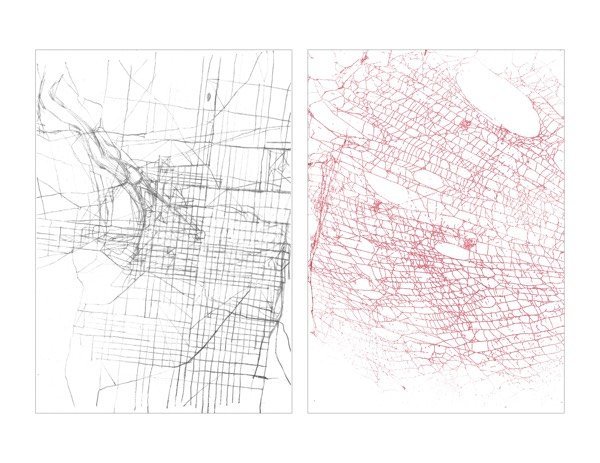 Richelle Gribble's mixed-media installation features real cobwebs augmented by red spray paint, to visually draw attention to interdependence of the structural patterns in our social, biological, and technological world, invoking the question of how the natural world influences our lives and our future. In contrast to Dukiewicz, whose work focuses on natural cycles at a microscopic level, Gribble takes the macroview. These large-scale works address changes in both landscapes and behaviors, reflecting the strange sense of order that can emerge in the midst of environmental upheaval.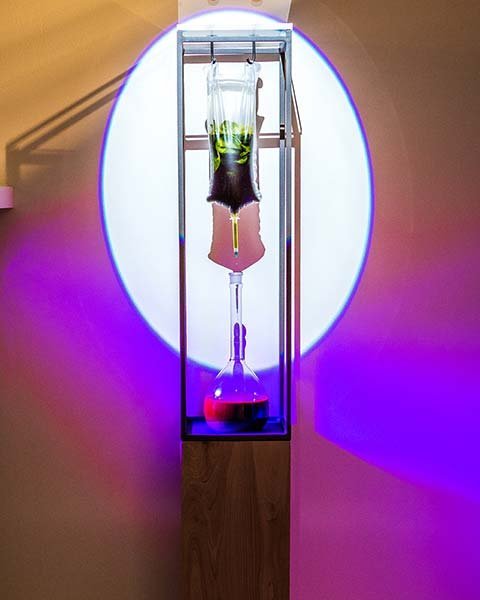 In her "Ourglass" sculpture, Tarah Rhoda graphically illustrates the interdependency between photosynthesis in plants and human respiration, in attempt similar to that of other artists in this show, to visualize the dynamic and sometimes challenging relationship between the environment and ourselves. By applying physiological features such as salt water from her own tears, mining her body as if it were an archaeological site, Rhoda documents in strong visual language the connection between human and plant life—hence the pun, "our" glass—to exemplify how the chemical processes that impact our ability to breathe (or curtail our breath) operate in the same manner for plants. Rhoda also serves as the manager of the Bio Art Lab at the School of Visual Arts.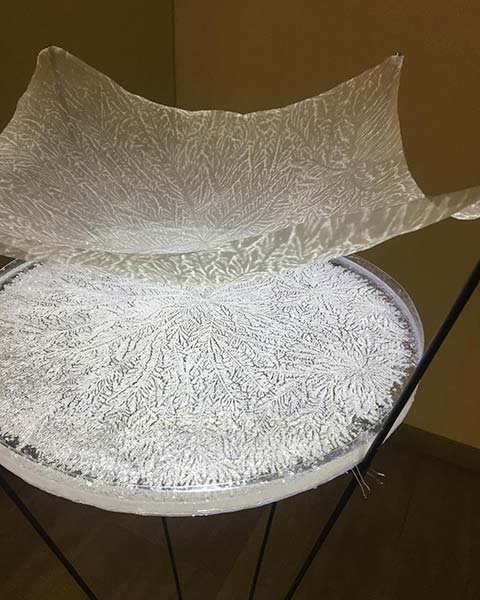 The Spontaneous Emergence of Order is the first of what curators Soterakis and Bardo hope will be a bright future for the gallery. The exhibition has drawn visitors from around the globe, witnessed an overflow crowd at the opening, and hosted a number of school groups. Major shows are already in the works for the next two years and it is intriguing to imagine the many possible dimensions for the art/science dynamic to explore. Both artists and audiences are hungry for more. BioBAT Art Space may well be a gallery whose time is now.
If you are interested in becoming an art correspondent for WTP, please inquire at wtp@thewoventalepress.net
Copyright 2019 Woven Tale Press LLC. All Rights Reserved.