"There are challenges to creating
modular paper sculptures that are like carving stone."
Interview by Jennifer Nelson, WTP Feature Writer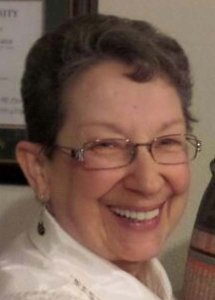 Francene J. Levinson, who was born in Brooklyn, is a digital artist based in Portland, OR. She has transformed modular, three-dimensional origami into fine art. She draws inspiration from nature, with series on birds, oceans, and plants. For fifteen years, she taught art in New York and Florida.
Levinson's paper sculptures have been exhibited at The Scripps Research Center, Jupiter, FL; the Boca Raton Museum of Art, FL; Fuller Craft Museum, Brockton, MA; and Art Rom Gallery, Rome, Italy. Her many art awards include: the Mastermind Art Grant for South Florida; First Place Award at the Boca Raton Museum of Art; Best in Show at Delray Beach "On the Avenue"; and The Art Craft Award for Sculpture, Rosen Gallery. Her paper sculptures were represented by Paseo Originals Art Gallery, in Oklahoma City and currently by Portland Art Museum Rental Sales Gallery, in Portland, OR.
Levinson received her Bachelor's in Fine Art and Master's in Art Education from Brooklyn College in New York. She also studied stone carving at Montoya Studios, Palm Beach, FL. These skills are the foundation of her new paper medium.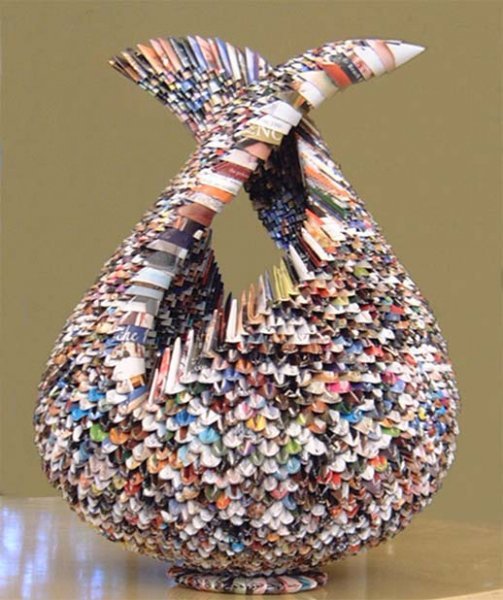 Nelson: How and when did you first become interested in the art of paper sculpture?
Levinson: After many years of teaching, two art degrees, and creating many stone sculptures, one of my middle school art students, a boy from China, shared what he had learned from his grandmother about a unique modular paper folding technique. It fascinated me so much that I researched it and began to explore its potential.
Nelson: How has Chinese folk art inspired your artwork?
Levinson: Chinese modular paper folding has been a great influence on my sculptural art because of its inherent potential for architectural design. It is modular and allows each small folded form to represent a point on a plane. Thus, when joined, it has a beautiful, textural, flowing, dynamic strength which I find inspiring. The technique itself has a special story behind it. This alone is what I as an artist related to best. Through my inquiries into this unique technique in 2002, I discovered that the Western world had not known of it until 1993. At that time there was great turmoil in China and many people left as refugees. In June 1993, the Golden Venture shipwrecked off the coast of New York City. Among the nearly three hundred passengers were many who had left their homes in China to make passage to the United States. Fifty-two of the refugees were sent to York County Prison in Pennsylvania and were held there for nearly four years. During their imprisonment, the refugees made more than ten thousand paper sculptures. Their art came to the attention of the public. These beautiful pieces were sold to raise money for their plea for freedom and asylum here in the United States. This quote of theirs inspired me. They wrote on their paper art: "Paper is as fragile as freedom and as strong as the desire for freedom when united as one."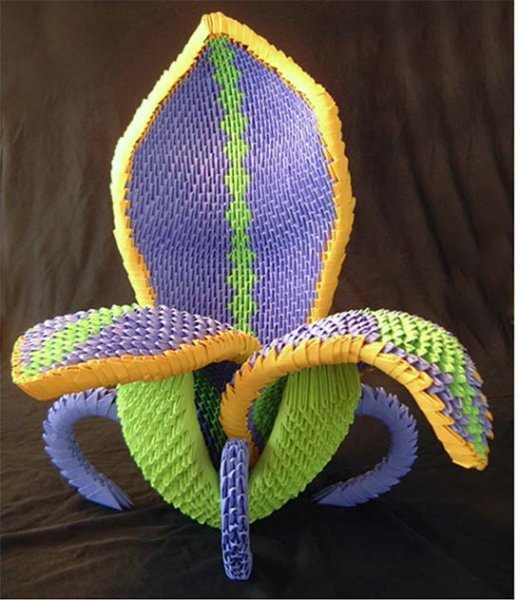 Nelson: Your paper sculptures can have as many as 3,500 pieces of folded paper. Can you talk a little about this process—what exactly is involved and what compels you to pursue an art form that must demand quite some dedication and patience—is it finally quite meditative a process?
Levinson: The process of creating fine art modular sculptures entails the need for many hundreds of pieces of paper all relative to the size of one module. Therefore, if a piece is to have a curve, it can only be achieved if all the same size modules are in relation to each other. Thus, my art grows as it needs to in order to create a composed structure. Each module is hand cut, hand folded, and individually glued to the next one. This creates an exceptionally strong form.
As a stone sculptor I was previously involved in a medium that demanded great patience, physical strength, and visionary planning. The hard work was the joy as the art was slowly revealed from the stone. It is the same for me as a modular paper sculptor. Modular sculpting is a slow, deliberative process that gives me time to judge the direction I want my new form to take. It is very much like meditation as one seeks to connect with the newly created shape and remain true to what it is trying to reveal. The world disappears for me. I end up working until I really can't fold or glue a single extra module. Then I begin again the next day.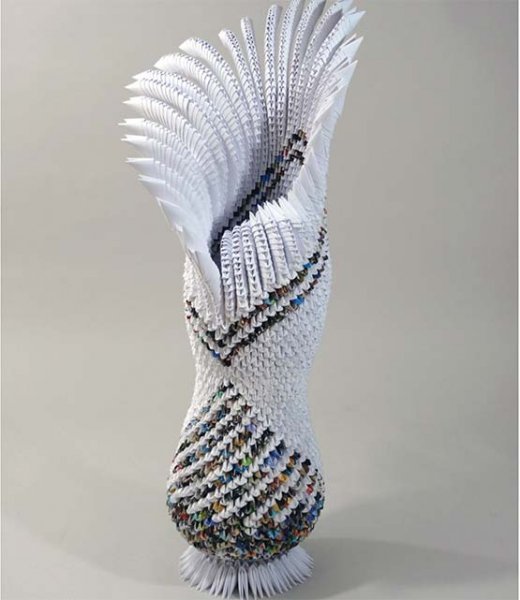 Nelson: What are the challenges of creating modular paper sculptures?
Levinson: There are challenges to creating modular paper sculptures that are like carving stone. The paper needs to be adaptive to manipulation by hand. I found out that the thickness of the paper is critical to the success of the art. Too thick and it can't be folded, too thin and it is structurally weak. Once glued it is set like stone and can not be altered unless destroyed. Preplanning by design sketching is important to determine the volume and dynamic flow. Yet, the material and its architecture often dictate changes in direction because of the geometry of the modules themselves. Each one has two pockets and two points. You can only move incrementally in the direction that the medium will allow. Yet, through all these limitations, my creative visions are realized and a new medium has revealed its strength.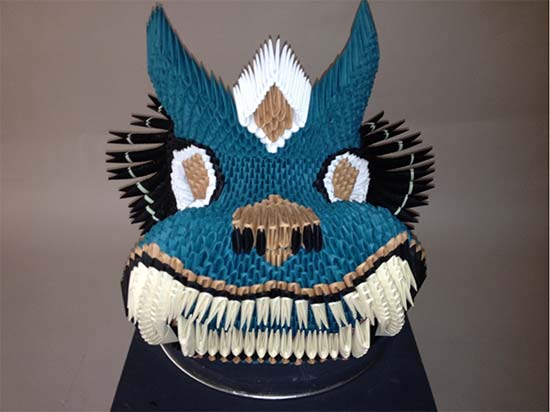 Nelson: Evidently, your first art exhibits were held in your mother's kitchen. What medium did you use as a child, and then later in young adulthood? How did your mother influence your decision to become an artist?
Levinson: My first memory as a four-year-old artist was creating an elephant out of soft plastilene clay. In order to preserve this masterful work, my mother decided it should reside forever in our refrigerator. I don't recall how long she kept it. But it was there as I grew up. My paintings were displayed on that very same refrigerator. My own little gallery. Later, as a high school student, I explored casting and mold-making right there in my mother's kitchen. She never said I could not try some messy technique. My freedom to create was nurtured by her. I always knew I would be involved in the arts forever.
Later, as an adult, I explored various mediums for sculpting. Plaster, clay, slate, and eventually alabaster were my mediums of choice. Alabaster interested me the most because of the new challenge it presented. It was hard rather than soft, permanent rather than temporary, with no need for casting. It had a unique surface that could be texturized and was three-dimensional. I eventually studied at Montoya Stone Studio in West Palm Beach for three years. They had guest instructors from all over the United States offer instruction that I found so valuable.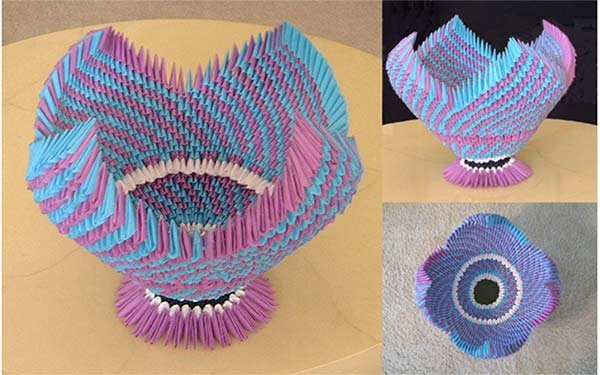 Nelson: You taught art to children for many years, and mention that they were your greatest teachers. Can you talk about this?
Levinson: The children I taught art were my greatest teachers. They came to art with no preconceived notions about what was art. The joy I saw in their discoveries through art kept my own spirit focused on why I still enjoyed this experience of exploring expression through art so much. These children came from all over the world. They shared their cultures in my art room and enlightened me to new and beautiful art forms. I turned their knowledge into my own and created many lessons based on their teachings. Feeling the freedom to share what we create, and have it valued, is the greatest gift we can give each other in an art room.
Nelson: How has membership in several organizations including Women in the Visual Arts (WITVA) and The Boca Raton Museum of Art Artists Guild influenced you as an artist?
Levinson: Women in the Visual Arts is an extraordinary group of women artists devoted to the advancement of art in education. We raised scholarship money through our own art exhibits which then provided awards for high school art students to exhibit their work. Much of our fundraising went toward scholarships for women college graduate art students. The need for support of women in the arts is great and being part of a philanthropic artist group gave me pride in my choice to become an artist.
The Boca Raton Museum Artist Guild gave me a professional platform to share my art. Knowing my paper sculptures had value encouraged me to continue exploring my newfound medium.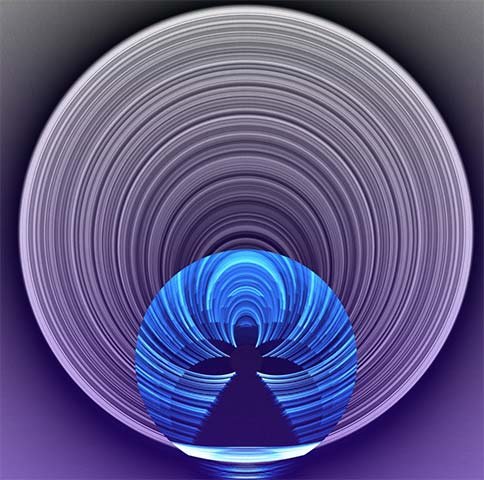 Nelson: How do you see your art evolving in the future?
Levinson: I hope that others will see the value of exploring new mediums like paper. My modular sculptures are inspired by the environment. The technique speaks of other cultures, their value, and the universal need to share our dreams. I would hope that other artists see my work as the beginning of exploration and take it even further to express what they are inspired by. Using new materials only unleashes new possibilities when an artist has a vision and the courage to try and make it come true. Paper can transform itself. It is fragile and strong. It is flat and three-dimensional. It creates form, holds color, is a substrate and a building block. I hope my art inspires.
Copyright 2019 Woven Tale Press LLC. All Rights Reserved