Inside the Studio offers a behind-the scenes peek into the work environments of WTP artists, as well as insight into their creative process within these resonate spaces.
By Jennifer Nelson, WTP Feature Writer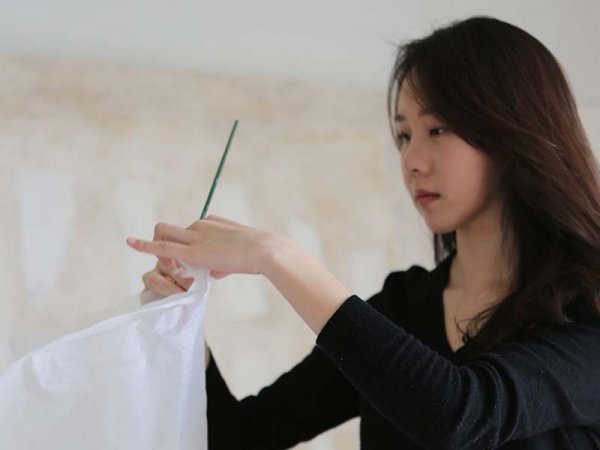 After graduating from the Rhode Island School of Design last year, Bo Kyung Kim was looking for a studio in Providence. She wanted a studio near her home or work since she didn't have a car and winters in that area can be quite cold. None met these requirements, so she decided to set up a studio at home. She's pleased that in her home-based studio, she can easily do the technique of layering and sealing using Hanji, traditional Korean paper. "Hanji appears most beautifully under sunlight," said Kyung Kim. "Warmth and sunlight coming through a big window creates a peaceful moment for me to meditate, which leads to the biggest inspiration of my work."
In her studio, she can delve into most art forms, except ceramics and oil painting because of an inadequate ventilation system. For her artwork, she collects sands, rocks, leaves, and dust. She seals these objects from nature. In Korean culture, imperfections in nature are embraced, as well as impermanence, a Buddhist idea that nothing on this earth is ever free, and everything changes and alternates. "The act of sealing the collected nature is a daily practice of meditation," she explains, "and each bookmark then becomes a daily record of my life to remember the moment of beauty I discover every day."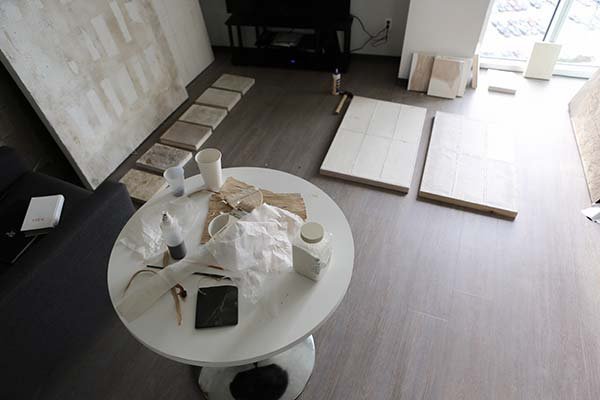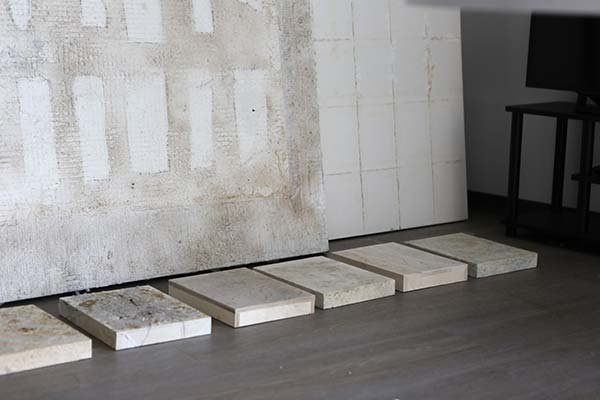 In her art, Kyung Kim seeks to provide relaxing and serious moments that promote meditation and introspection, maintaining a peaceful studio space, so that the energy can translate to her art, as well as to the viewer. "My work becomes a visual metaphor for my mind as it progressively searches for who I am, and thus achieves emotions such as serenity, relief, and peacefulness."
For her series Introspection, she formed an arena in which to observe herself. She created a space that combined diagrammatic, aerial, and linear perspectives, and planar structure. "Occupying the depth of field with the painterly activities of marking, repeating, erasing, and destroying, I created a 'charged energy cloud,' which is a visual metaphor for my mind—introspective, yet unable to hold everything in a constant manner, attentive but changeable."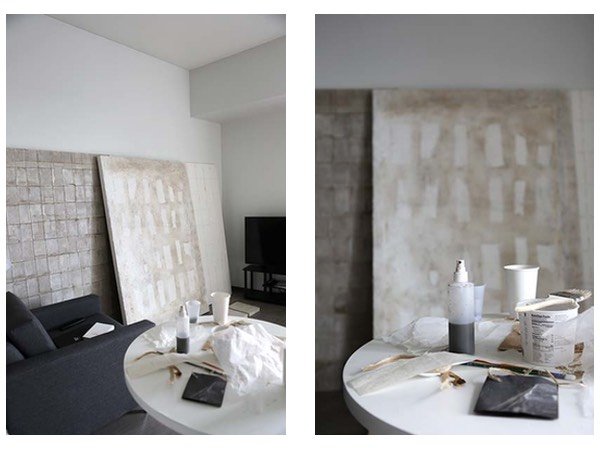 Mornings, she works part-time as an art teacher, then comes home to work in her studio while listening to music, or talks about Buddhism or artists. Before dinner, she'll go to the gym or do yoga. Around 8 p.m., she's back to work until bedtime. On weekends, she sometimes visits art fairs, galleries, and museums in New York City.
Currently, she's doing collaborative work with the textile artist Jane Park. They recently shared ideas and talked about their backgrounds, as they found differences and similarities between their lives as artists: "Her use of material has inspired me to have a new approach toward the subject."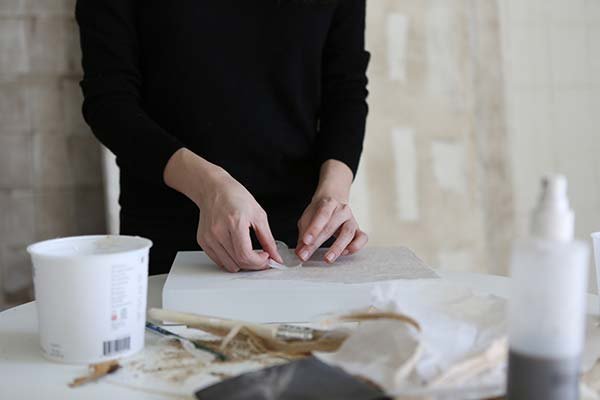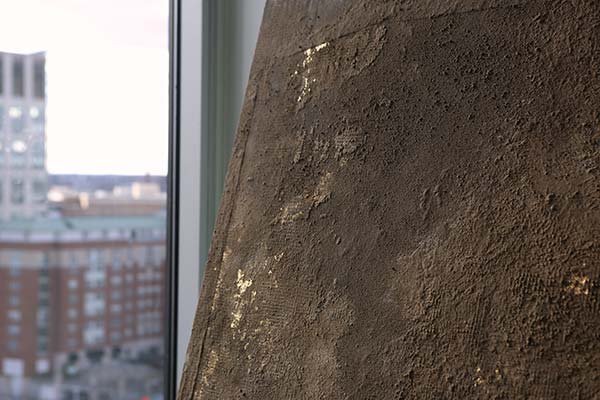 Copyright 2019 Woven Tale Press LLC. All Rights Reserved.