Exploring Light
See Bentley Meeker's work in WTP Vol. VII #5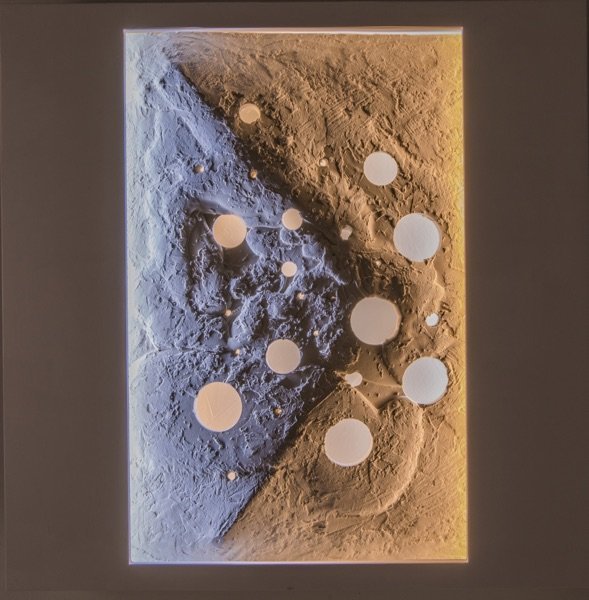 resin, birch, canvas,
3200K LED, and 5600 LED
40" x 40" x 8"
These meticulously constructed sculptures comment on the intersection of human culture and the natural world. Meeker's works scrape down our experience of artificial light to its rawest components. Using contrasting light frequencies and their resulting hues as observable springboards for contemplation, he nudges the observer toward a new awareness about our environment.
Based in New York City, NY, Bentley Meeker created "The 'H' in Harlem," a large-scale public art installation suspended under the 125th St and 12th Ave viaduct in Harlem in conjunction with the New York City Department of Transportation's art initiative and the 125th Street BID. He has been a multi-year featured artist at Burning Man festival in Nevada, creating the lighting for the Temples of Transition, Whollyness, and Promise. HIs installation "Weedworld," at Canada's Penticton Public Art Museum, paid playful homage to marijuana with four pot-leaf light painted walls and glass-etched dichroic filters through which light was projected to create an immersive and transporting experience for the viewer. Additionally, he was a featured artist twice at the Southampton Arts Center, NY, and has put up multiple solo shows at the National Arts Club, the CORE: club, as well as at galleries in Chelsea and SoHo.
Image courtesy of the artist and the Garvey|Simon Gallery.