Paintings That Speak to Women
By Richard Malinsky, Arts Editor
Raja Oshi is a Sudanese artist now living in South Africa. Her painting is clearly inspired by her life experiences and expresses the oppression, pain, and suffering of Sudanese women. Having grown up in a male-dominated culture of limited opportunities, poverty, and violent abuse of women and children, she is an artist largely inspired by her life context.
She was fortunate to be one of the few women permitted to attend art classes at the College of Fine and Applied Art at Sudan University of Science and Technology in Khartoum, Sudan, where she graduated in 1994. Armed with a broader vision of art, some technical training, and a passion to tell her story, she began seriously to paint.
Later that year, she and her family began a migration that took them through Norway, Wales, France, and Egypt, finally settling in Pietermaritzburg, South Africa, in 2004, where she completed a postgraduate diploma in Fine Art from the Centre for Visual Arts at the University of KwaZulu-Natal in 2006. Her site, rajaoshi.weebly.com, chronicles the evolution of her painting throughout this journey, and some early works of this period are abstracts charged with emotion, as can be seen in "Red." At first glance there is a quiet beauty to this this painting, but one suddenly interrupted by a red swash of protest.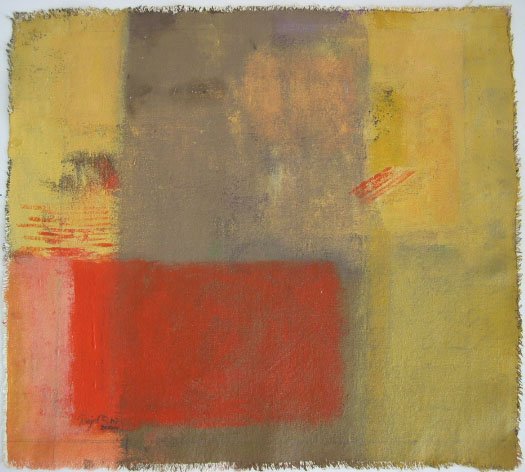 Just as Oshi's concepts and imagery began to crystalize, she introduced the figurative, in the painting "Deliberate," a haunting portrait of an isolated woman stripped of any personality.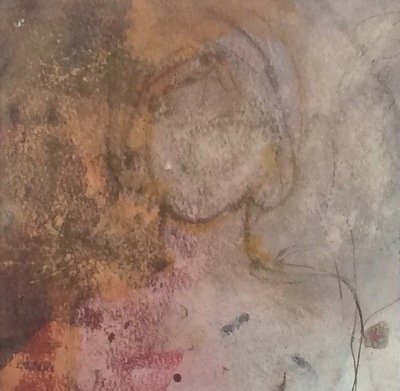 This addition of a figurative element was a breakthrough in her work; it freed her to communicate her story in a more direct, compelling way, to culminate in the powerful expressionist painting "Nora," which documents the violent sexual assault, by multiple assailants, of this married woman. This evolution in her work illustrates Oshi's mature talent as a fine art painter.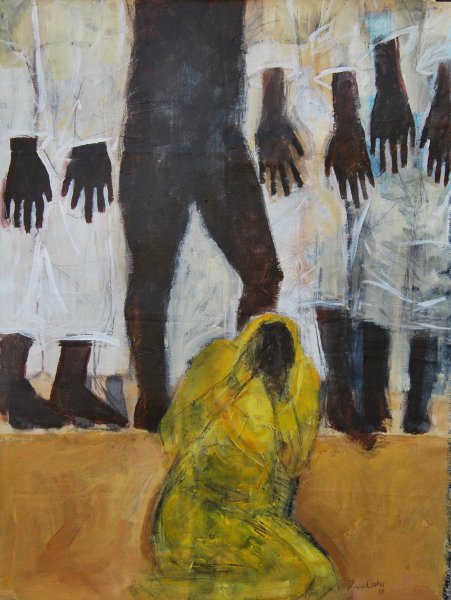 Oshi's recent work depicts a new moment. She describes herself as "emerging from the desert literally and figuratively." In her work, she is searching to expand different conceptual avenues of process and content: "to get away from the pain and to experience the joy in painting." This work explores a different compositional framework, color, line, and form, recalling the South African environment.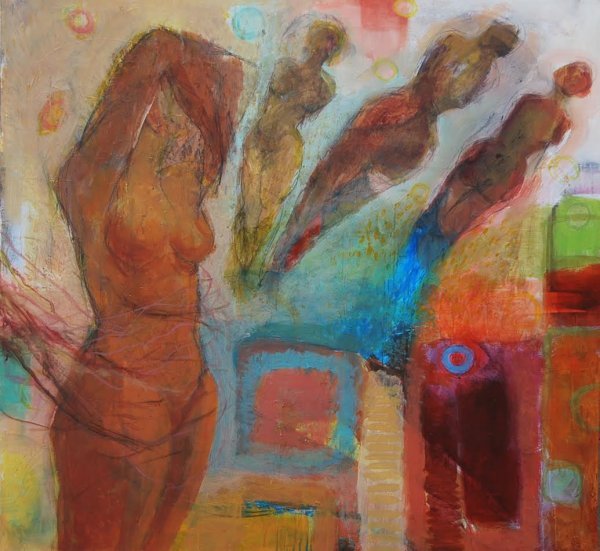 Raja Oshi's mission is for her work to speak to all women throughout the world, "In the hope they can think out of the box to free their mind and soul; to move outside of the boundaries of our lives." She drives that point home in the painting "Thinking Has No Boundaries," which features large female bodies crammed into a box-like composition representing the constraints in their lives.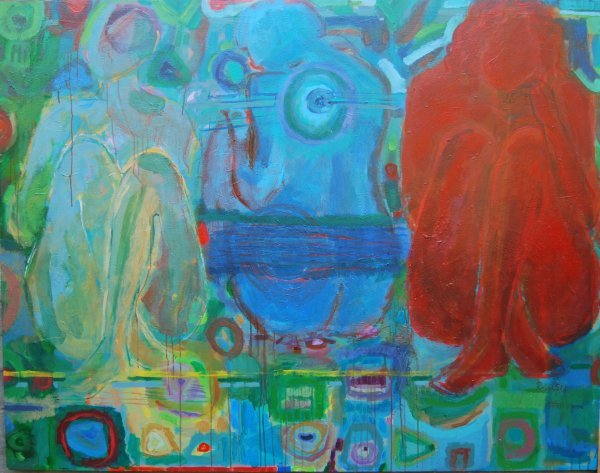 Copyright 2019 Woven Tale Press LLC. All Rights Reserved.