Eye on the Indies:


A Look at Indie Authors and their Publishers
By Lanie Tankard, Indie Book Review Editor
Termination Shocks by Janice Margolis (Amherst, MA: University of Massachusetts Press, April 14, 2019). 192 pages; $19.95, paperback original ISBN 978-1-62534-420-5.
"But how is it
That this lives in thy mind? What see'st thou else
In the dark backward and abysm of time?"
—Prospero to Miranda
William Shakespeare,
The Tempest (Act 1, Scene 2)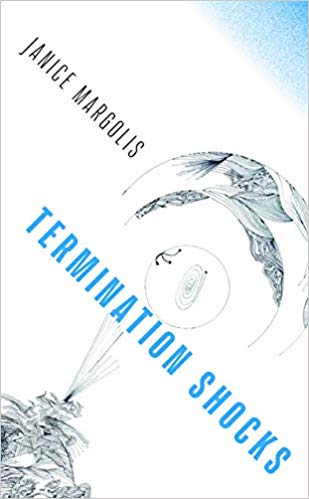 The five short stories by Janice Margolis in Termination Shocks are pulled straight out of thin air—the heliosphere. A termination shock is a boundary in the Solar System beyond which the Sun has no influence. The shock is located where the speed of solar wind becomes slower than the speed of sound. And indeed, shock absorbers are needed by some of the protagonists in these tales of termination. All deal in some way with death (hence, termination) and with events that are surprising or upsetting (hence, shocks).
The book won the 2018 Juniper Prize for Fiction. Each story's voice is distinct, wherever the setting: West Africa, Los Angeles, the Middle East, Germany, Detroit—or even Voyager 2. Themes are smartly unique: Ebola confinement, Tom Waits wandering LA, the Berlin Wall personified, refugees, the archaeology of family secrets, grief, women's roles, and cultural differences.
The first tale, "21 Days," was a runner up in the 2017 Mountain West Writers' Contest and appeared in Western Humanities Review. It's the feverish hallucination of a fifteen-year-old African girl quarantined in a Liberian hut where her mother has just died of Ebola (EVD). 
The story is based on the 2013–2016 outbreak in Guinea, Liberia, and Sierra Leone. It was the deadliest in history, with close to twenty-nine thousand cases and more than eleven thousand deaths. Isolating anyone exposed to the virus was crucial to stopping its spread—both then and now. For once again, Ebola has broken out, this time in the Democratic Republic of the Congo with a spillover into Uganda, lending even more power to the "21 Days" tale.
In the twenty-page fictional account, an unnamed teenager mourns as she sleeps next to the hole in the ground where her Mama's body had been. She worries about her six-year-old siblings, Obi and Esther, in the jungle with her uncle. Her father, in the mines, doesn't yet know about his wife's death. The window of the girl's hut is boarded up so she can't run away, but there's enough space for her to reach through into a blue bucket where a few people leave things. Her friend Hawa drops in rice, schoolbooks, a notebook, and pencils. Dwe, her boyfriend, leaves a coconut and a special stone. Her teacher, Miss Browne, puts in activities and clean dresses.
The country next door is full of Ebola, too. Soldiers patrol the roads in an attempt to keep the virus away. Since national exams are coming up soon, the girl's studies offer a seamless way for Margolis to weave in facts about Liberia's past. Written in poignant first-person, this story of a ninth-grader reading about slave ships in her history book while waiting for a fever to break is reminiscent of Homegoing by Yaa Gyasi.
"I Am Tom Waits" is an eighteen-page mashup of everything about Los Angeles and everything about Tom Waits, in whose first-person voice Margolis writes. He muses about his life while roaming LA. He hits Echo Lake Park, the La Brea Tar Pits, Griffith Observatory, the Troubadour, the Hollywood Bowl, and Forest Lawn. Enjoying a sunset near Vandenberg Air Force Base, he notices a white cluster overhead. Now here's a guy who def knows the diff between cumulus and a satellite launch gone awry.
Waits walks Sunset Boulevard wearing a sandwich board. He recalls a Jimi Hendrix poster that inspired him. Thinking about the Apollo 11 moon landing, Waits notices his headaches return during each solar eclipse. He details trembling that forced an end to his music and sent him into heroin addiction. He spends time in Uruguay—or is it Paraguay? He's not sure. He writes a rock opera and sprinkles arias throughout the story. He spends a week "bedding down" with the peacocks at the zoo, surprised to learn they sleep in trees. He wonders whether random people he encounters, such as lounging hipsters or Korean hikers, recognize him. Does anyone even know who he is?
Margolis lets this tango troubadour speak from the heart as if in a confessional memoir. The way she channels Waits reflecting on Allen Ginsberg is marvelous. William Burroughs also keeps appearing. So does a puma. This entire story is so spot-on intellectually witty.
"Little Prisoners," at 154 pages, comprises the bulk of Termination Shocks. Set in the Middle East, this Shakespearean novella ranges from Egypt to Syria to Lebanon. Decades also shift. The story opens in 1943, near where German Field Marshal Erwin Rommel, known as the Desert Fox for his surprise attacks, had been defeated in the Second Battle of El-Alamein. An American soldier named Aaron and his unit had trailed Rommel across the desert from Libya to Tunisia, and then went on to Egypt. Now in Alexandria, Aaron meets Farah in a bookstore when she translates a question for him. Amidst an air raid, the soldier invites her to dinner. Afterward she invites him home. He stays a week, and then sails away with his unit.
Fast forward to 1975 in Damascus, where Alexandra Pierce has come from the United States as a museum intern to decipher Ebla clay tablets from the Bronze Age. She's staying at the Collinwood Arms, a rooming house with colorful global residents: British, Lebanese, French. A doctoral student in archaeology at Berkeley, she's proficient in reading Akkadian and ancient Hebrew, yet the interim museum director, Harun Lakosh, does not seem particularly thrilled to have her there. Letters from his mother, who is dying of breast cancer in Alexandria, flesh out his background.
Mikha'il Arman, overseeing Alexandra's work, asks her for help practicing English. She agrees, if he will reciprocate with Arabic. Sayeed, a mysterious figure who also works at the museum, is part of a film group rewriting The Tempest as a political fable. Alexandra finds herself telling him she hasn't spoken to her father in seventeen years. Sayeed and Alexandra come under scrutiny. Could they be Lebanese spies?
Margolis highlights cultural aspects such as women's invisibility or the proper way to drink arak. She notes differences between westerners living in the Third World and the opposite.  She offers survival tips, such as how to disguise one's religion or not appearing to notice anything unusual that happens in public. She mentions refugees, fleshing out the history of many lingering resentments that fuel current squabbles among nations.
The archaeology group travels to the crossroads of Aleppo, the setting of Shakespeare's Othello. They discuss the play. Remember Iago's warning: "I am not what I am" (Act 1, Scene 1). Characters are arrested. Foreign relatives arrive. Mysteries are unlocked. The Bard would be proud.
"The Wall's Requiem — Opus 1," the shortest story at seventeen pages, is a marvelously inventive elegy voiced in first-person by the Berlin Wall incarnate. For twenty-eight years, from 1961 to 1989, this obstacle divided the city into zones—the East being Soviet and the Allied West being British, US, and French. Built to stem the tide of migration that had followed World War II, the Wall prevented escape from a Communist system.
In the Margolis parable, the Berlin Wall talks about what it sees while patrolling its perimeter, observing both sides as if strolling atop the Great Wall of China. Muttering to itself, the Berlin Wall meanders around Falkensee, Kronenstraße, Checkpoint Charlie, Schilling Bridge, Dreilinden/Drewitz, Potsdam, Schönefeld Flughafen, Kiev—and then back around again.
The electricity keeps going out. Leni Riefenstahl appears. The Wall ponders Time, worries that Halley's Comet might return, wonders where God has gone, briefly considers whether the Wall itself is actually God, and has an identity crisis: Am I a monstrosity…or just a folly? Flailing desperately for self-worth, the Wall looks to Voltaire, to Schiller, to Puccini for validation—finally bemoaning the angst of never having known love.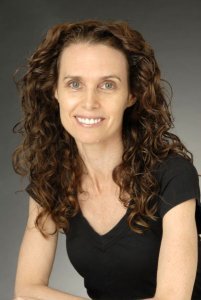 This Wall's ability to speak is unparalleled, yet suggestive of other books that employ inanimate elements as speakers. For example, think of Death as narrator in The Book Thief (later a movie) by Australian novelist Marcus Zusak, and in Death with Interruptions by Portuguese writer José Saramago. Or the clay baby as storyteller in CoDex 1962 by Icelandic writer Sjón. And consider The Bridge on the Drina by Yugoslav author Ivo Andrić, with the bridge bearing witness (albeit silent) to four centuries of legends—from its construction in the Ottoman Empire to its partial destruction during World War I.
Margolis develops her own unique and witty Germanic voice for the Berlin Wall in her novella. It, too, bears witness to the events it causes, and it's anything but silent. In this operatic requiem, the Wall mourns its own demise as it's chipped away by gleeful East German citizens on November 9, 1989—but, um, whoa, wait just a minute here, the shocked Wall inquires, how did segments of me end up all the way over at the Wende Museum in Los Angeles???
And yet perhaps, we might reply today, perhaps the City of Angels is actually a fitting and timely place to memorialize some of those concrete blocks topped with coils of barbed wire. Let them remind us halfway around the world that barriers on borders eventually become Walls of Shame. Margolis penned a symbolic work of lasting allegory in this story, and her Berlin Wall performed the aria as a coloratura soprano. Richard Wagner himself would surely applaud. Brava!
The final story, "Termination Shocks," is next to the longest at thirty-six pages. Set both in Detroit and aboard Voyager 2, it's several evocative tales woven into one.
The narrator is an unnamed woman, referred to only as X in an algebra problem of grief. A now-grown daughter, X replays her three-year-old self as she watches her mother dying. X speaks as her father (Z), her mother (Y), herself, and Death. She's reminded of the past while going through boxes of old papers in her guardian's house. The woman who raised her after her mother's death has now died. X unearths photos and drawings and notebooks she created as she grew up.
Grief can play havoc with a survivor's mind. This forty-five-year-old daughter recalls a scene from when she was seventeen with her boyfriend. She now lives with a man from Peru, who is patient as she grieves.
X imagines her father's desperation as he watched her mother dying of a brain tumor. He had no money. X now realizes the concerns he must have had, such as paying for the grave and his daughter's education. X reduces her family to a math problem, but she's unable to solve it. A Greek chorus arrives.
X writes short stories. The Peruvian reads over the drafts to offer feedback. One tale tells of a teenager quarantined in a hut after her mother dies of Ebola (circling back to "21 Days," the first story in this collection). Thoughts of writer Andre Dubus II and his tragic accident begin to haunt her. Premonition shock, she wonders? What else could possibly happen? And then it does.
Margolis here depicts the ripple effect of X's grief as PTSD, still occurring years after the traumatic events. Envision memories ricocheting around the woman's mind as if they were space debris— the hundreds of thousands of fragments flitting about in space, some as tiny as a paint chip and others as large as a school bus. It's a vivid mental portrayal.
Termination Shocks is a thought-provoking debut collection. One hopes for more from such an original voice.
Janice Margolis is a writer, choreographer, and filmmaker in Los Angeles. She has been assistant professor of film at the University of Texas at Austin, and artistic director and choreographer of Semaphore Dance Theater of Boston. Margolis earned an MFA in film from California Institute of the Arts.
The script for her screenplay Charlotte, based on the work and life of German Jewish artist Charlotte Salomon, was a Creative Europe regional winner and also won an Irish Film Board grant. The film is currently in production. Lorna Doone by Margolis was a quarterfinalist in the 2015 Cynosure Screenwriting Awards. She has also received a grant from the Massachusetts Artists Foundation.
Publisher: University of Massachusetts Press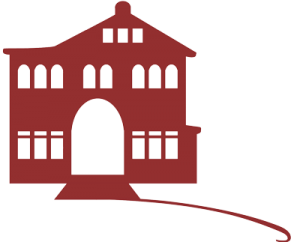 The University of Massachusetts Press (UMP) in Amherst began fifty-six years ago as the book-publishing arm of the University of Massachusetts, overseen by a faculty committee. With an editorial office in Boston, UMP today has over a thousand titles in print, with sales of two million volumes.
The Bright Leaf imprint publishes books about New England for a popular audience, highlighting "the history, culture, diversity, and environment of the region." Tagus Press, of the UMass-Dartmouth Center for Portuguese Studies and Culture, publishes translations of works in Portuguese literature, history, and culture. UMP formed a new partnership with the University of New Hampshire Press at the end of last year to distribute and market UNH titles.
Leone Stein, UMP founding director, was an English instructor and one of the first editors of the Massachusetts Review. She edited Biodegradable Man, a collection of essays by Milton Mayer. Stein served as UMP director from 1963 to 1982, when Bruce Wilcox took the helm. He had previously worked at the University of Washington Press. Wilcox was 1994–1995 president of the Association of American University Presses. He retired from UMP after thirty-two years in 2014.
Mary Dougherty, his successor and current UMP director, had been textbook publisher for history at Bedford/St. Martin's Press when she succeeded Wilcox. Dougherty holds a PhD in American literature from Rutgers University.
Executive Editor Matt Becker started at UMP in 2015, having been senior acquisitions editor at the University of Nevada Press before. He also worked at Wayne State University Press and the Minnesota Historical Society Press. Becker earned a PhD in American Studies at the University of Minnesota.
Termination Shocks is the fifteenth recipient of the Juniper Prize for Fiction, established in 2004 by UMP in collaboration with the UMass Amherst MFA Program for Poets and Writers. Presented annually for an outstanding work of literary fiction, the prize is named in honor of poet Robert Francis, who lived at Fort Juniper in Amherst. UMP also awards the Juniper Prize for Poetry, as well as the Grace Paley Prize in Short Fiction. Submission guidelines for all three prizes may be found on the UMP website, along with information on the types of manuscripts sought by the press.
Maple Press in Madison Heights, Michigan, printed and bound Termination Shocks, with design by Sally Nichols.
Copyright 2019 Woven Tale Press LLC. All Rights Reserved