Fallen Soldier Sheltering Juvenile Planet
See Chehalis Hegner's work in WTP Vol. VII #6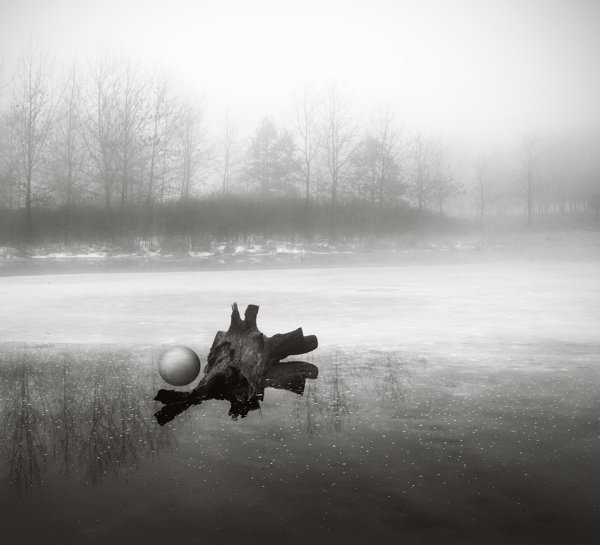 editioned print, available in various sizes
archival inkjet print on museum grade cotton rag paper
"Twenty years ago, I lost the use of my left eye due to an infection. Doctors said I might lose sight in my right eye, too. Grasping what had happened, a switch flipped in me. Priorities shifted. Within a matter of weeks, I left my life as a professional musician and refocused my attention on seeing everything I could while I still could.
"Paradoxically, blindness set me on a course of looking at the world in a way I had never experienced before. My right eye enables me to see the external while my blind eye reveals things hidden within. I sometimes develop these ideas into constructed realities and other times I simply photograph real life as it unfolds.
"[For the Source Code series], Catalyzed by my desire to connect with my late father by going for long foggy walks in the forest of trees he planted, these photographs present the purity of spheres in an organic, mysterious, and sometimes haunting landscape. I'd like to bring you into my world and drop you off here for awhile. I invite you to wander, dream, and discover within yourself whatever is real for you."
For the 2018 Julia Margaret Cameron Awards, Chehalis Hegner won in two categories, and in 2010, she was awarded the Gjion Mili Photography Prize, Kosovo. Her portraits have been featured in both Christie's and Phillips auction catalogs. She has exhibited in solo and group exhibitions in the United States and Europe, including at The Griffin Museum, Photographic Resource Center, and Art Institute of Boston, MA; Maryland Art Place, MD; St. Gauden's National Historic Site, NH; and The Cultural Center, Italy.