Forest
See Jo Stealey's work in WTP Vol. VII #6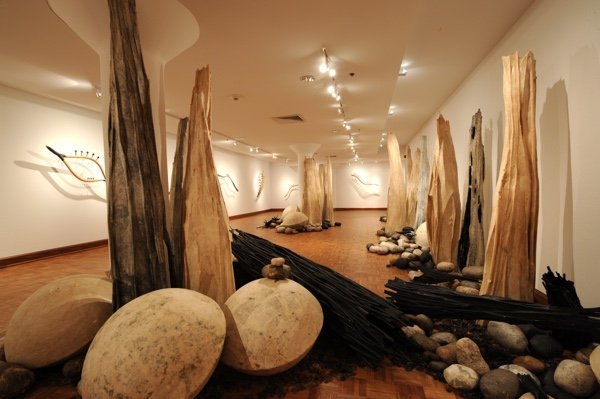 Currently "Forest" is comprised of more than fifty trees and tree parts and more than 750 cast paper rocks. It includes handmade paper, river willow, and pigment.This site-specific installation has been shown at a variety of venues. At each venue some elements are removed, others added to further suggest a living world constantly in a state of becoming.
"This piece developed out of my relationship with nature and reverence for the environment and its natural cycles. From my point of view, nature is the source of all life. Man has strayed from living within the balance of the natural world and altered it through technology. The result of this intervention is an imbalance. We have tipped the balance to the point that we are on the brink of environmental destruction. Fittingly, the structures are made of handmade abaca and flax paper, a bi-product from plants, viewed as ethereal yet common and ironically, tough and long lasting. River willow is used as the armature for the structures. The forms themselves appear alive and in various stages of life and decay. The skin-like surface of the paper seduces and sometimes repulses, creating a tension. These elements work together to provide visual clues and layers of meaning. It is my intention that viewers walk through the forest in order to envelop themselves in the environment and ponder the role of nature in our lives. Like the forest in a state of constant change, elements are modified, added, or removed as the installation is shown at various venues."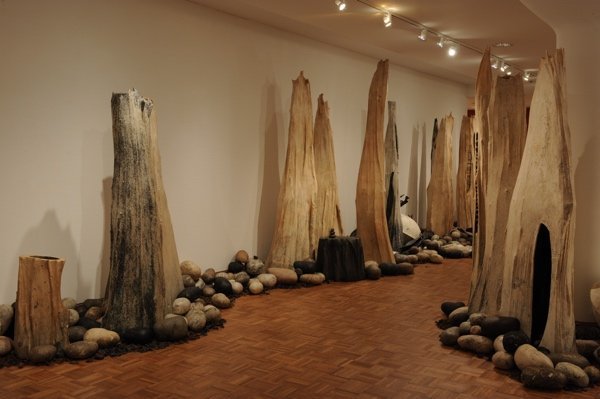 Jo Stealey is a nationally recognized artist known for her mixed-media sculpture and collages utilizing handmade paper. Her work is exhibited nationally and internationally, appearing in many private and public collections, including the National Portrait Gallery at the Smithsonian American Art Museum. She is a contributing author for the International Surface Design Journal and the National Basketry Organization's Quarterly Review. She teaches workshops, curates exhibitions, and lectures on contemporary fiber art. Most recently she co-curated Rooted, Revived, Reinvented: Basketry in America, traveling the country 2017–2020. She is a professor of art at the University of Missouri, where she currently serves as the founding director for the School of Visual Studies. She draws much of the inspiration for her work from the mid-Missouri rural environment where she lives.