"
I was concerned…that these were the only poems I'd ever write."
Interview by Sara London, WTP Poetry Editor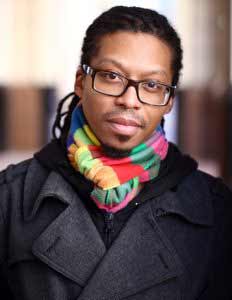 Nathan McClain is the author of Scale (Four Way Books, 2017) and a recipient of fellowships from the Sewanee Writers' Conference, The Frost Place, and the Bread Loaf Writers' Conference. Currently, he teaches at Hampshire College in Amherst, Massachusetts, as Visiting Assistant Professor of Creative Writing & African American Literary Arts. He has previously taught creative writing at Seton Hall, Drew University, St. Joseph's College, and for the Cave Canem Foundation. His poems and prose have recently appeared or are forthcoming in Poem-a-Day, West Branch Wired, The Common, upstreet, Foundry, and Matter, among others. He was born and raised in Southern California.
Read his work in WTP Vol. VII #7. 
London: Gerald Stern once referred to the father, in another poet's work, as "the critical event, the critical 'myth.'" I thought of that when I was reading your book, Scale, which begins with a poem about a Chicago bakery fire, in which the speaker has misread "fire" as "father":  "The entire building // will have to be demolished / because the father took hours / to finally be put out." Beneath the flickering irony is a deeper sense of loss: the father's absence haunts this book. But the speaker's own parenting places him into that father-myth continuum. Loss, sorrow, longing—these emotions persist at a low burn in your poems. And an unvanquished kind of love persists: "Because who hasn't done that— / loved so intently even after everything / has gone?" Has being a father altered your "vision"? How have your writing impulses changed over time? 
McClain: Thank you for such a close and generous reading of my work. Vision seems like a term to apply quite liberally, so I will. Short answer: absolutely. Being a father has absolutely altered how I encounter the world and how I figure it; I certainly don't think Scale would be the book it is if I were not a father. I wouldn't have nearly the same fears or concerns or regrets. And the book may not have had nearly the kind of nuance available to it. It wasn't until writing the poem "Consolation," a later poem both in the collection and in composition, that I had a real sense of what the book was actually about, that it was a book in fact.
With regard to your second question, about my writing impulses, I was concerned—I'd imagine many poets before me have been—that these were the only poems I'd ever write, only circling the same subject matter, which I'm sure I could, for the rest of my life. In fact, after I'd finished all my tinkering, after I had sent the final edits of the book, I found that I was still writing these poems that explored fatherhood and the relationship with my own father(s); that terrified me. How would I ever shift away from this, or would I? I wasn't entirely confident, though in time I did. And while I may still write those poems from time to time, I have learned how important it is to vary the approach to the material. Currently, I find myself exploring more overtly political material, which isn't a direction I anticipated for my work (though how could one not?). I spent two weeks on jury duty in Brooklyn last summer and I've been exploring that experience since. I'm excited to see what comes of these poems and how they'll speak to earlier work.
London: I think for many of us, early subject matter can echo back in poems over many years, even as we experience significant personal change. The shifting social and political environment often complicates that creative pulse—and more explicitly for some. You teach a course at Hampshire College called "The BreakBeat Poets: The Next and Now Movements in American Letters." Could you share a bit about the influence of Hip-Hop on poetry today? And who are some of the poets you highlight in the course?
McClain: I loved teaching the "BreakBeat" course, and my students responded well to the materials. The Artist's Statements that I included enlightened and enlivened the poems for students, and they loved exploring poems with roots in Hip-Hop. The anthology (The BreakBeat Poets: New American Poetry in the Age of Hip-Hop) poses the question, what does Hip-Hop have to do with poetry, and answers, well, everything. One of the editors, Nate Marshall, offers a blueprint for BreakBeat writing, which can be found on the Poetry Foundation's website, and he's far more thorough than I am here. (There's also an entire issue of Poetry, a few now, devoted, to the BreakBeats). But suffice it to say, Hip-Hop falls, as Marshall writes, "at the intersection of musical form and political/poetic speech because much of the music is especially text heavy." Hip-Hop heavily influences diction, the possibilities of the lyrical mode, rhythm, syntax, music, form, and so forth. Tradition frequently meets innovation in these poems and poets. Some of the poets I highlight in the course, and there are so many, are the aforementioned Nate Marshall, Mahogany L. Browne, Fatimah Asghar, Willie Perdomo, Douglas Kearney, avery r. young, Adam Falkner, and more. If you don't know their work, you absolutely should.
London: Great to have these recommendations. And poetry's innovations can so powerfully reflect the shifting cadences of a cultural era. Right now we're in a particularly anxious moment of American history, with our nation's ugly legacy of racism and bigotry exacerbated by the Trump administration. What happens to the creative imagination in times like these? Has working with young writers been a hopeful exercise for you? (I know, too, that Hampshire College is presently experiencing severe financial challenges; the school's very future is uncertain, and it's been an especially emotional time for students and faculty. Has this additional dimension of anxiety affected your classroom experience? Or your writing?) 
McClain: You're absolutely right about the times in which we find ourselves. It's terrifying outside, I'll say that, and our minds want to try to make some sense of our world. I can't speak for everyone's imagination, but mine has certainly seized upon our current state of affairs. And I wouldn't consider myself someone who writes overtly political poems! In fact, I actively resisted writing overtly political poems, largely because I felt, as a Black poet, it was somehow expected of me, and I don't like simply conforming to some outside expectation. The Trump Administration, coupled with my recent stint on jury duty, couldn't help but preoccupy my mind, and I've written, for the first time in my life, poems I might definitely categorize as political, at least more overtly so.
Working with my students has absolutely been invigorating. Hampshire's financial challenges, especially as we first learned of them, caused many of my students to throw themselves even more deeply into their work, and I have some incredibly promising young poets whose work I'm excited to watch develop. I certainly think we're all feeling and experiencing the anxiety, particularly as word begins to travel about faculty and staff reductions (voluntary and otherwise); students are certainly concerned, but they're working well, maintaining focus, possibly as a form of distraction.
London:  Who are some of the poets you turn to for inspiration, and/or the poets you most often reread? And who are some newer discoveries you'd recommend?
McClain: Poets I most often reread? Elizabeth Bishop, Larry Levis, Carl Phillips, Ellen Bryant Voigt—to name a few. These poets never cease to wow and challenge and reinvigorate me. Newer discoveries of late would include Jane Huffman (Jesus—where was she hiding?!), who is interrogating the possibilities of received forms, the sestina in particular, in such surprising ways. Also Justin Danzy is writing excellent poems. I wasn't familiar with Jessica Jacobs, who certainly isn't a new poet, simply new to me, but she's writing beautiful poems. And it's been lovely to discover other local poets, too, yourself included! Matt Donovan, John Hennessy, Shayla Lawson, Kirun Kapur, Leslie Marie Aguilar, Arda Collins. So many!
Copyright 2019 Woven Tale Press LLC. All Rights Reserved.